Fantasy Cricket Tips
WLP vs PNJ Dream11, MPL, My11Circle Fantasy Cricket Prediction, Team News, and Top Picks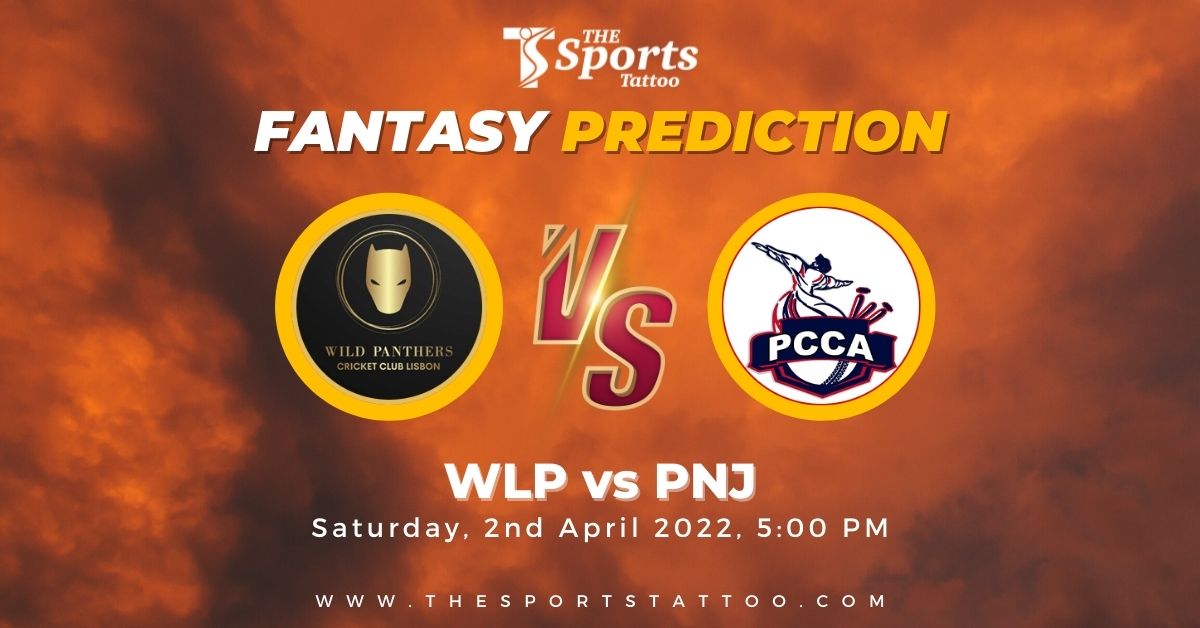 WLP vs PNJ Dream11 Prediction: Wild Panthers will take on Punjab CC in the 23rd and 24th match of today's FanCode ECS T10 Cartaxo 2022 fixtures. Both teams belong to Group B and are going to play their first game of the tournament.
The previous season for Wild Panthers wasn't something they want to remember. They are a strong team and have made some significant changes in the squad this season. They are now looking forward to a fresh start and performing really well in today's game.
On the other hand, Punjab CC is one of the weakest teams in this tournament. They have a young and inexperienced squad. It will be interesting to see, how are they going to perform in today's game. Let's take a look at the WLP vs PNJ Dream11 Match Prediction and Dream11 team for today match.
WLP vs PNJ Dream11 Today Match Prediction Details
FanCode ECS T10 Cartama 2022
Wild Panthers vs Punjab CC
Date: Saturday, April 02, 2022
Time: 5:00 PM
Venue: Gucherre Cricket Ground, Albergaria
Follow the Live Cricket Scores on the Sports Tattoo
Wild Panthers vs Punjab CC match will be streamed online on the Dream11 sponsored FanCode app. Viewers can also watch live scores on the Sports Tattoo.
WLP vs PNJ Dream11 Prediction Today – Team News
Wild Panthers Squad (WLP):
Akhil Varghese, Akshar Patel, Anupkumar Shrivastav, Arslan Naseem, Azhar Andani, Dharm Patel, Dhaval Patel, Dikshit Patel, Hardik Parekh, Hardik Patel, Javad Kallookkara, Jaydeep Patel, Krishna Neupane, Manjeet Singh, Mayank Raval, Md Omar Faruk, Mitul Patel, Parth Patel, Rahul Bhardwaj, Rahul Hudda, Raj Gulati, Sarath Sasi, Sarvesh Kumar, Shayaddur Rahman, Shiv Singh, Sunil Patel, Vishalkumar Patel.
Punjab CC Squad (PNJ):
Abdul Qazi, Abu Sufyan, Ahsan Raza, Ali Raza, Amit Datta, Arslan Ahmad, Bilal Naseem, Bilal Nasir, Jabran Gulzar, Mehtab Qayyum, Muzamal Abbas, Parveen Singh, Qaisar Ilyas, Rana Sarwar, Rao Imran, Sadam Hussain, Shafaqat Ali, Syed Ali Naqi, Umair Sarwar, Umar Muhammad, Usama Ali.
WLP Probable11:
Sunil Patel, Azher Andani, Md Omar Faruk, Dikshit Patel, Dhaval Patel, Arslan Naseem, Rahul Hudda, Shiv Singh, Parth Patel, Sarvesh Kumar, Akshar Patel.
PNJ Probable11:
Sufyan Mayo, Bilal Nasir, Arslan Ahmad, Mehtab Qayyum, Parveen Singh jr, Umar Muhammad, Rana Sarwar, Qaisar Ilyas, Syed Ali Naqi, Umair Sarwar, Imran Rao.
WLP vs PNJ Team News:
Wild Panthers Team News – Not Available
Punjab CC Team News – Not Available
WLP vs PNJ Dream11 Top Picks & Key Players
Wild Panthers-
Azhar Andani – 295 runs and 6 wickets in the 13 games
Md Omar Faruk – 63 runs and 5 wickets in 10 games
Rahul Bhardwaj – 19 wickets in 14 games
Punjab CC-
Parveen Singh – 156 runs and 8 wickets in 11 games
Rana Sarwar – 134 runs and 11 wickets in 13 games
Rao Imran – 313 runs and 5 wickets in 151 games
WLP vs PNJ who will win today match?
As per our Dream11 expert today, the Wild Panthers is expected to win this game. However, the results can be different as both teams are equally good.
WLP vs PNJ Dream11 Team for Today
Wicketkeeper:
1) S Patel
Batsman:
2) A Andani
3) A Ahmad
4) M Omar Faruk
5) B Nasir
All-rounder:
6) A Naseem
7) P Singh Jr
8) U Muhammad
Bowler:
9) P Patel
10) S Kumar
11) U Sarwar
Dream11 team shown here is only a match before the team and the original team can be different after the release of lineups.