HS vs GR Dream11 Prediction: Helsingborg Stars will take on Goteborg Royals in the 1st and 2nd match of today's FanCode ECS T10 Landskrona 2022 fixtures. Both teams are playing their first game of the tournament and u
Helsingborg Stars is one of the strongest teams this season. Abinash Panda and Suhas Shetty are expected to open the inning for the team while Pramod Chandrasekaraiah and Davinder Singh are expected to handle the middle order. Sachin Shetty and Madhan Prabu Raman are expected to lead the pace attack of the team.
On the other hand, Goteborg Royals has many experienced players in the squad. Sabtharishiwaran Natarajan and Bharat Konka are expected to open the inning for Goteborg Royals. Bharath Subramanya and Nishith Arra are expected to handle the middle order while Abhishek Patel and Rajiv Saha are going to lead the pace attack. Let's take a look at the HS vs GR Dream11 Match Prediction and Dream11 team for today match.
HS vs GR Dream11 Today Match Prediction Details
Fancode ECS T10 Landskrona 2022
Helsingborg Stars vs Goteborg Royals
Date: Monday, May 02, 2022
Time: 2:30 PM
Venue: Landskrona Cricket Club in Sweden
Follow the Live Cricket Scores on the Sports Tattoo
Helsingborg Stars vs Goteborg Royals match will be streamed online on the Dream11 sponsored FanCode app. Viewers can also watch live scores on the Sports Tattoo.
HS vs GR Dream11 Prediction Today – Team News
Helsingborg Stars Squad (HS):
Abinash Panda, Suhas Shetty(WK), Chandru Ganesan, Davinder Singh, Kirthan Duttulur, Madhan Prabu Raman, Pramod Chandrasekaraiah(WK), Phani Pramod Kompella, Sachin Shetty, Santosh Marathe, Satish Kunjir, Muhammad Choudary, Sebastian Luczak, Chandresh Rewal, Ganesh Krishnamoorthy, Rahul Trineth, Ravi Rajendiran, Rohit Saproo, Ali Hassan, Dina Karan, Jaikishan Choudhrani, Parth Chougule(WK), Advait Guhagarkar, Avinash Kumar.
Goteborg Royals Squad (GR):
Sabtharishiswaran Natrajan(WK), Bharat Konka, Ravi Bakka(WK), Bharath Subramanya, Nishith Arra, Vinoth Tamilselvan, Vilas Hegde, Raghul Subramanian, Rajiv Saha, Nikhil Joy, Abhishek Patel, Anand Rajamani, Siva Vennapusa, Vignesh Palanisamy, Divyansh Khunteta, Vivek Sharma, Rohith Rohan Shaik, Balaji Gajula, Thaneem Shaik, Chandan Murthy, Chandu Jha, Ananthu Saseendran, Raheem Shaik, Sachin Pawar, Subash Palanisamy, Vinod Malliboyana(WK), Sibi Balusubramanian(WK), Vamsi Krishna(WK).
HS Probable11:
Sebastian Luczak, Avinash Kumar, Muhammad Choudary, Kirthan Duttulur, Davinder Singh, Satish Kunjir, Parth Chougule, Advait Guhagarkar, Chandru Ganesan, Santosh Marathe.
GR Probable11:
Vilas Hegde, Sachin Pawar, Siva Vennapusa, Raheem Shaik, Ravi Bakka, Bharat Konka, Subash Palanisamy, Anand Rajamani, Raghul Subramanian, Vignesh Palanisamy.
HS vs GR Team News:
Helsingborg Stars Team News – No injury updates available
Goteborg Royals Team News – No injury updates available
HS vs GR Dream11 Top Picks & Key Players
Helsingborg Stars-
Chandru Ganesan
Madhan Prabu Raman
Sachin Shetty
Phani Pramod Kompella
Santosh Marathe
Abinash Panda
Davinder Singh
Goteborg Royals-
Nikhil Joy
Rajiv Saha
Vilas Hegde
Bharat Konka
Nishith Arra
Vinoth Tamilselvan
HS vs GR who will win today match?
As per our Dream11 expert today, the Helsingborg Stars is expected to win this game. However, the results can be different as both teams are equally good.
HS vs GR Dream11 Team for Today
Wicketkeeper:
1) P Chandrasek…
Batsman:
2) S Marathe
3) D Singh
4) V Tamilselvan
5) N Arra
All-rounder:
6) B Konka
7) P Pramod Ko…
Bowler:
8) S Shetty
9) R Saha
10) A Patel
11) C Rewal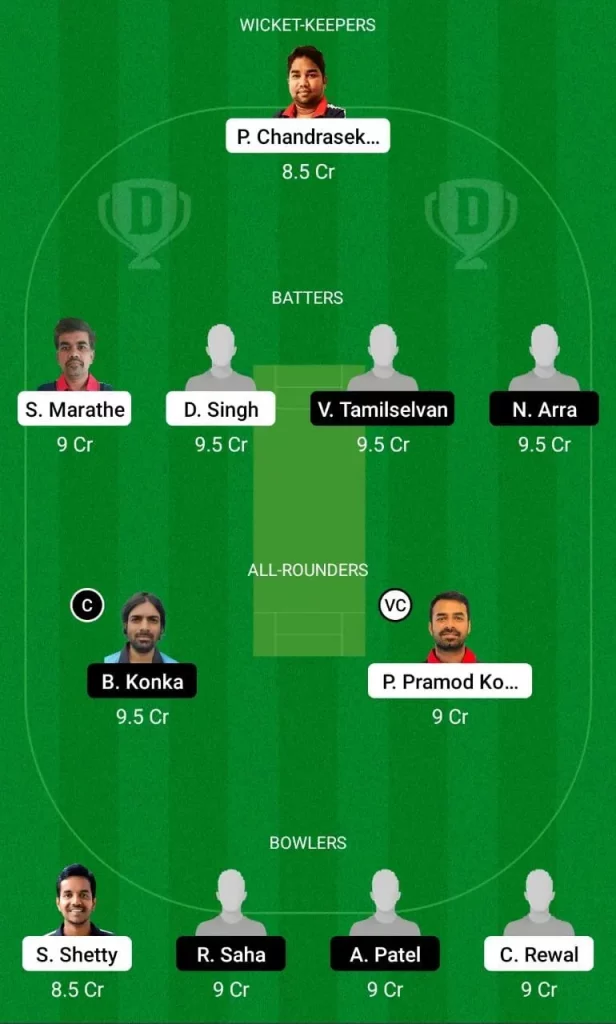 Dream11 team shown here is only a match before the team and the original team can be different after the release of lineups.