Fantasy Football Tips
DLN vs HN Dream11 Football Prediction Today Match – Chinese Super League – Fantasy Football, Top Picks, Predicted XI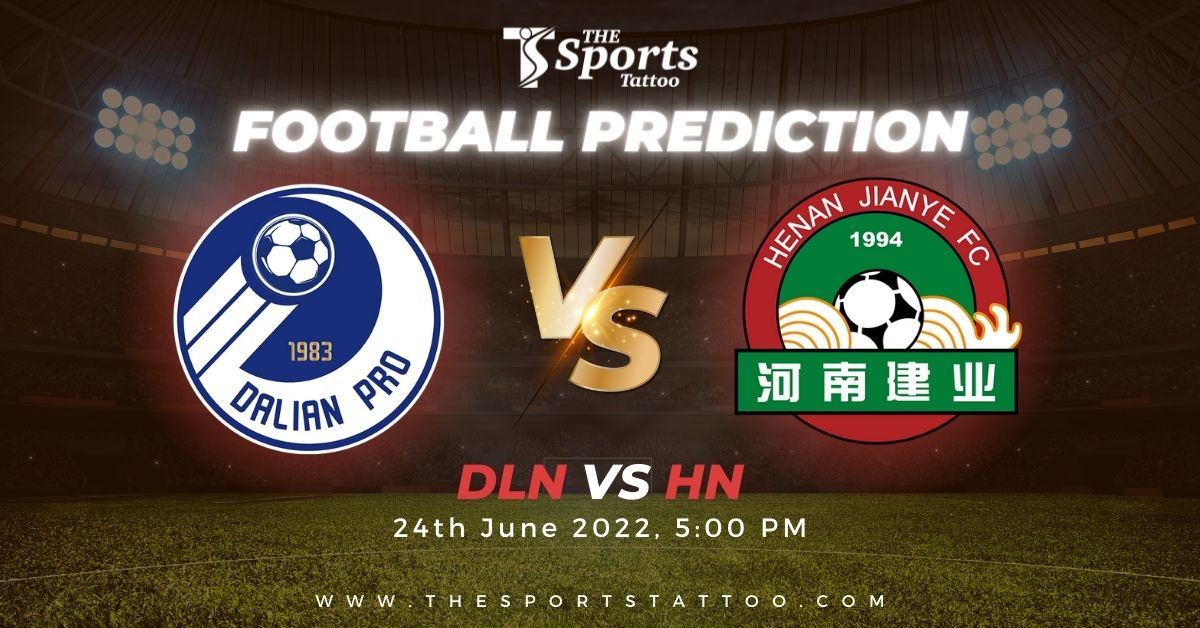 DLN vs HN Dream11 Prediction for Today match | Dalian Professional will take on Henan Jianye in the first match of today's Chinese Super League fixtures. Both teams have already played plenty of games in the tournament.
Dalian Professional has managed to register only one win and three draws out of the five games they had played this season. They lost their last game against Shandong by 3-0 and are now placed at the 9th position in the league standings with 6 points in their account. They are now looking forward to making a strong comeback in today's game.
On the other hand, Henan Jianye has managed to register three wins and two draws out of the five games they had played this season. They drew their last game against Changchun by 0-0 and are now placed at the 4th position in the league standings with 11 points in their account. Take a look at DLN vs HN Dream11 Football Prediction we have discussed here.
DLN vs HN Match Details:
Chinese Super League
Dalian Professional vs Henan Jianye
Date: Friday, June 24, 2022
Time: 5:00 PM
Venue: Dalian Sports Center Stadium, Dalian
DLN vs HN Broadcast Details:
Live streamings for the Henan Jianye vs Henan Jianye match are not available in India. However, you can watch live scores on the Sports Tattoo.
DLN vs HN Key Players:
Dalian Professional-
Zhang Chong
Shang Yin
Lin Liangming
Yan Xiangchuang
Sun Guowen
Henan Jianye-
Luo Xin
Shangyuan Wang
Wang Guoming
Toni Sunjic
Henrique Dourado
DLN vs HN – Recent Form
Dalian Pro: D W D D L
Henan Songshan Longmen: D W W W D
DLN vs HN Squads:
Dalian Pro (DLN):
Ming'an Cui, Zhenao Wang, Chong Zhang, Qianglong Tao, Pengfei Shan, Yupeng He, Kudirat Ablet, Sam Larsson, Marcus Danielson, Jiahui Huang, Jailson Siqueira, Wei Wu, Long Zheng, Hui Cheng, Jiamin Xu, Xuri Zhao, Bo Sun, Shuai Li, Jinshuai Wang, Liangming Lin, Emmanuel Boateng, Tong Lei, Jinxian Wang, Guowen Sun, Yanfeng Dong, Yaopeng Wang, Huanhuan Shan, Xianjun Wang.
Henan Songshan Longmen (HN):
Shaocong Wu, Tong Wang, Ziming Wang, Wu Lei, Guan He, Jiaqi Han, Long Tan, Tianyu Guo, Pengfei Xie, Dinghao Yan, Xin Xu, Tianyi Gao, Dabao Yu, Shenchao Wang, Tyias Browning, Shenglong Li, Tsun Dai, Jingdao Jin, Chenjie Zhu, Liyu Yang, Linpeng Zhang, Xiang Ji, Hanwen Deng, Ke Shi, Lei Li, Zhifeng Wang, Xizhe Zhang, Fernandinho, Xinli Peng, Shenglong Jiang, Shihao Wei, Alan, ): Aloisio, Binbin Liu, Dalei Wang, Zhongguo Chi, Xi Wu, Ang Li, Sen Hou, Wei Zhen, Ruofan Liu, Junmin Hao, Hongbo Yin, Shangyuan Wang, Yuning Zhang, Dianzuo Liu, Shuai Li, Elkeson, Yang Liu, Honglüe Zhao, Zheng Zheng, Junling Yan.
DLN vs HN Predicted XI
Dalian Pro: Liangming Lin, Guowen Sun, Sam Larsson, Long Zheng, Huanhuan Shan, Xuri Zhao, Jinxian Wang, Zhenao Wang, Bo Sun, Qianglong Tao, Wei Wu.
Henan Songshan Longmen: Xin Xu, Pengfei Xie, Wu Lei, Tong Wang, Ziming Wang, Long Tan, Jiaqi Han, Tianyu Guo, Shaocong Wu, Guan He, Dinghao Yan.
Also Check: GZC vs CHYT Dream11 Football Prediction Today Match – Chinese Super League – Fantasy Football, Top Picks, Predicted XI
DLN vs HN: Today Match Prediction
On the basis of the current performance of players and head-to-head records, Henan Jianye will win this match by 1-0. However, both teams are equally good and the results can be totally different.
Dream11 Team for today's match:
Goal-Keeper
1) Z Chong
Defender
2) T Sunjic
3) Y Shuai
4) S Guowen
5) T Lei
Mid-Fielder
6) A Mierzejewski
7) P Lu
8) Y Fei
Forward
9) F Karanga
10) L Liangming
11) Y Xiangchuang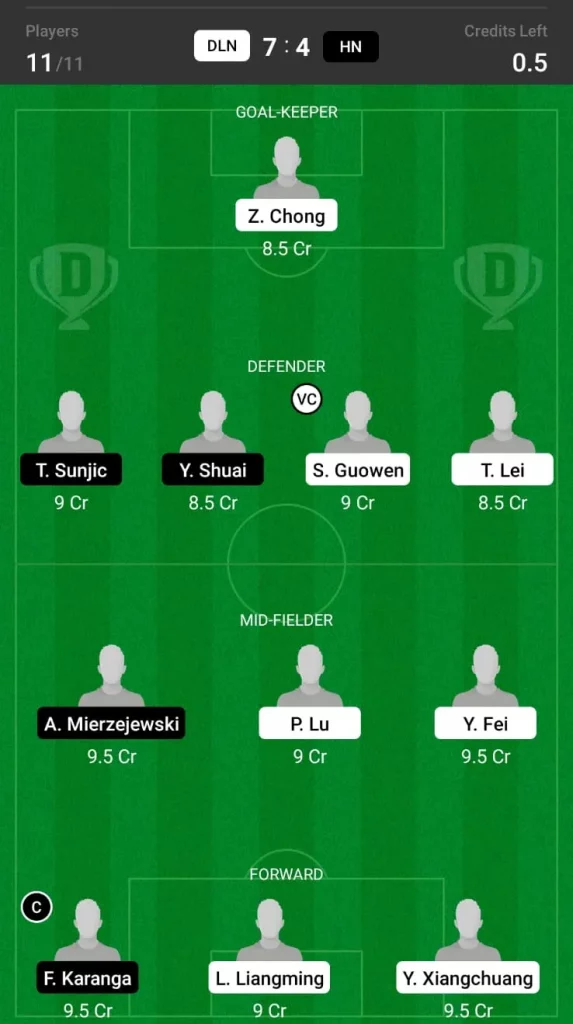 The dream11 team shown here is only a match before the team and the original team can be different after the release of lineups.