Cricket
Cricket News
Aakash Chopra comments on whether Yashasvi Jaiswal and Rinku Singh will get their India cap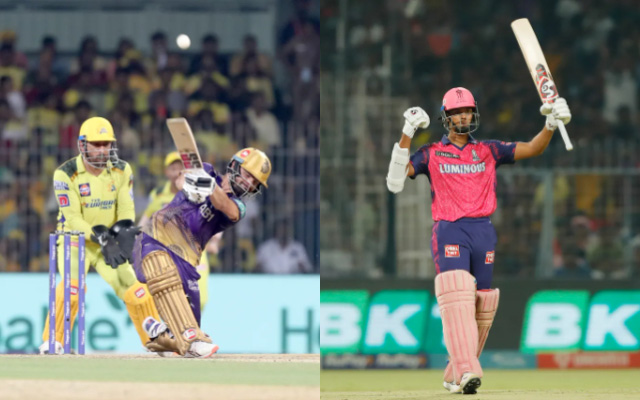 Yashasvi Jaiswal, a young opener for the Rajasthan Royals, has been on fire so far in the IPL 2023, amassing 575 runs in 13 games. Former India opener Aakash Chopra thinks the 21-year-old might make his India debut soon since he has been among Mumbai's runs on the local circuit.
Chopra continued by saying that Rinku Singh is another promising prospect that might soon be seen on the national squad. The middle-order batsman for the Kolkata Knight Riders went on to score over 400 runs this season, which he credited to the fact that he hit five sixes against Yash Dayal earlier in the season.
Meanwhile, both Jaiswal and Rinku face steep odds in their quest to reach the IPL playoffs. Both the Rajasthan Royals and the Kolkata Knight Riders are tied for third place in the league with 12 points after 13 games; however, the net run rate will determine the final standings. On the current IPL points table, RR is in sixth place while KKR is in seventh.
Aakash Chopra comments on whether Yashasvi Jaiswal and Rinku Singh will get their India cap
"I have, in fact, kept a timeline for Yashasvi. In the next 90 days, I think he will be on the Indian team. I think Rinku Singh is the other one, and it's time to take him much more seriously. It wasn't a fluke that he got five sixes. He has scored at least 400 runs, and at the strike rate at which he has scored them, there is no other option from that batting position," Chopra told the Hindustan Times.
"Don't forget that these two aren't just a T20 thing. Rinku has a first-class average of 60, and in his short home career so far, Yashasvi has scored more than 1000 runs. So they have been doing well in other forms as well. It's just that when it happens in the IPL, the world likes to pay more attention to a player," he added.
In other news Zaheer Khan heaps praise on Suryakumar Yadav after he hits his first IPL century