Football
Grateful to Real Madrid: Achraf Hakimi opens up on the Real Reason why he had to leave the La Liga giants – Relationship with Mbappe, Playing with Messi and more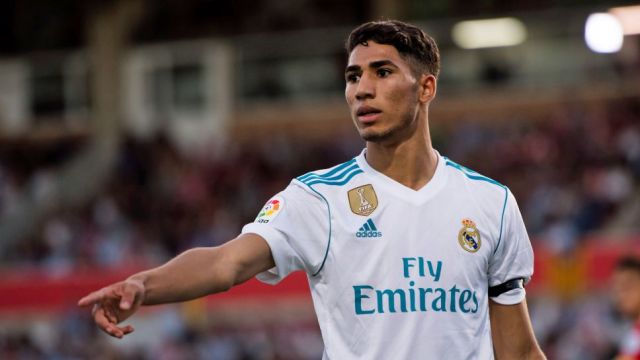 Achraf Hakimi Interview: Ligue 1 side Paris Saint Germain have had quite an astonishing summer transfer window this year. Their 2021 summer transfer window is being called arguably the best ever in football history and there is sufficient reason for that. Afterall we do not see a club bagging players like Lionel Messi, Sergio Ramos and Gianluigi Donnarumma in the same transfer window. One of the most 'effective' and smart players that PSG bought this summer, however, is Moroccan right back Achraf Hakimi.

The financial nuances at Serie A side Inter forced them to sell out their best players in Achraf Hakimi and Romelu Lukaku and PSG's project and offer happened to attract Hakimi the most. PSG thus secured his signatures until 30th June 2026 at a whopping transfer fee of €70 million.

However, all this would never have been possible if Real Madrid would not sell Hakimi to Inter for €40 Million back in 2020. Achraf Hakimi is a Real Madrid academy product and it was his dream to play for his childhood club. However, that was not to be as in 2020 he was offloaded as the club had just started to go into debt due to the poor financial conditions after the Coronavirus.
You may also like:
Today, almost 2 years after his departure from Real Madrid, Achraf Hakimi opened up about the true story of why he had to leave Real Madrid.
Achraf Hakimi's Interview
Here goes the interview that he gave to spanish news publication Marca:

His chat with Zidane when he left Madrid: "(His first call) He was with some friends, sitting on a bench in front of the house chatting and there the phone rings and it is … Zidane! He tells me I'm going to play and I didn't expect it. (His departure from Madrid) I learned a lot from him. What happened in 2020 has nothing to do with him. These are other aspects linked in particular to Covid and Real Madrid that made me leave. At that moment I had a conversation with him that will remain among us. He thought differently."

PSG and its relationship with Mbappé: "We are young, we have many things in common, we enjoy the same things. This friendship makes us better and helps us to be complementary in the countryside. I received the offers from PSG and Chelsea and I had the intuition that I had to come to Paris, that here I was going to be happy. A few years ago Pochettino already loved me at Tottenham."

Playing with Messi: "That Messi left Barça, like everyone else, didn't expect it. I have played with many great players, but I was missing Messi. A dream for me. I was surprised by the way he behaves, it's simple, quiet."

The decision to play with Morocco: "My culture is Moroccan: at home we speak Arabic, we ate Moroccan food, I am a practicing Muslim. I watched the games in Morocco with my father, who told me a lot about the great players in the country. The first call with Morocco came when I was 14, I didn't have much to think about. Later there were contacts with Spain but I always liked playing with the Moroccan national team. There I am very well received, I feel good there. One of the reasons I came to Paris is the Arab Muslim community here. I knew culturally that I was going to feel at home."

His childhood and a photo with Abdel Barrada: "I had a happy childhood, I never lacked affection but there were difficult times. My parents struggled to give the best to us, my brother, my sister and I. They left Morocco to live in Spain, they had to learn a new language. I spent my life playing underneath from my house in Getafe and we always had a ball on our feet. I was crazy about soccer, the players, I still am. I was going to the Getafe training camp to ask the players for photos or their shoes. One year, there was a Moroccan named Abdel Barrada. I have a picture with him, he is in his car and I'm at the door next door, a child, delighted. This photo marked me because I loved him, played in the national team, it was spectacular."

The teachings of Madrid: "Real Madrid is the club of my childhood, it is thanks to the one I am here today. I was there for more than twelve years, I have a lot of thanks to this club. At the moment, I have not had the opportunity to succeed there, you never know what the future will be like."