Fantasy Cricket Tips
AMB vs PEA Dream11 Prediction Today Match – KCA Pink T20 Challengers, 2021 – Live Score, Team News, Top Picks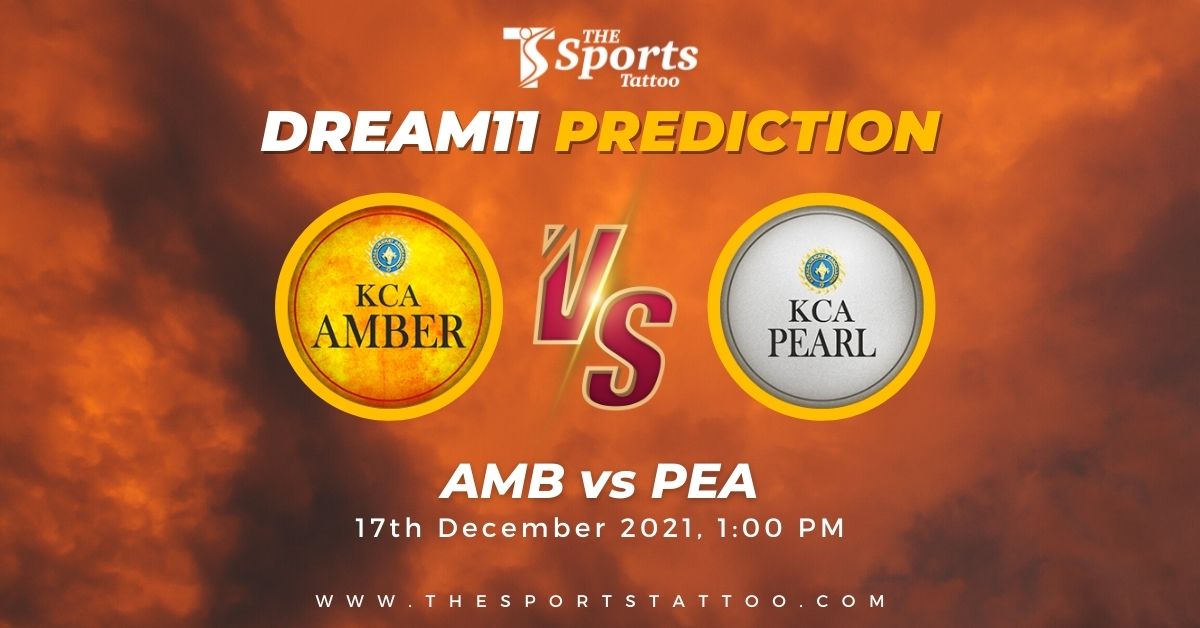 AMB vs PEA Dream11 Prediction: Amber will take on Pearl in the second match of today's KCA Pink T20 Challengers, 2021 fixtures. Both teams are playing their first game of the tournament and are unaware of the pitch conditions.
Both teams are now looking forward to kick-starting this tournament with a victory in their first game. Let's take a look at the AMB vs PEA Dream11 Match Prediction and Dream11 team for today match.
AMB vs PEA Dream11 Today Match Prediction Details
KCA Pink T20 Challengers, 2021
Amber vs Pearl
Date: Friday, December 17, 2021
Time: 1:00 PM
Venue: Sanatana Dharma College Ground, Alappuzha
Follow the Live Cricket Scores on the Sports Tattoo
Amber vs Pearl match will be streamed online on the Dream11 Sponsored FanCode app. Viewers can also watch live scores on the Sports Tattoo.
AMB vs PEA Dream11 Prediction Today – Team News
Amber Squad (AMB):
Aneena Mathews, Bhoomika Umbarje, Gayathri S, Jincy George (c), Ragi Mohan, Saraswathi Unni Amit, Aparna K K, Devisree Hari, Sandra Suren, Sourabhya P Balan, Jayalekshmi Jayachandran (Wk), Nithuna K R (Wk), Reshmi C (Wk), Sneha K R (Wk), Aksa Siju, Aswathy M, Jisha Jaimon, Malavika Sabu, Mrudhula Suresh.
Pearl Squad (PEA):
Akhila Ponnukuttan, Bettina Babu, Divya Ganesh, Gopika Gayathri Devi, Jisna Joseph, Anju Rajan, Anusree Anilkumar, Athira Sanal, Sruthi T Pradeepkumar, Akshatha (Wk), Aswathy Babu (Wk), Aswathy C B (Wk), Maria George (Wk), Aleena Shibu, Bhadra Parameswaran, Keerthi James (c), Keziah Miriam Sabin, Nithya Loordh, Sreekrishna Haridas.
AMB Probable11:
Dev Jayalekshmi, George Jincy, H U Bhoomika, S Gayathri, Mathew Aneena, Suren Sandra, K K Aparna, P Sourabhya, M Aswathy, Sabu Malavika, V S Mrudhula.
PEA Probable11:
Aswathy Babu, Joseph Jisna, Ganesh Divya, Akhila Ponnukuttan, Gopika Gayathri Devi, Bettina Babu, Rajan Anju, Sanal Athira, James Keerthi, Sabin Miriam Keziah, Loordh Nithya.
AMB vs PEA Dream11 Top Picks & Key Players
Amber-
D Jayalekshmi
HU Bhoomika
G Jincy
S Sandra
K K Aparna
S Malavika
Pearl-
J Jisna
G Divya
R Anju
J Keerthi
S Miriam Keziah
AMB vs PEA who will win today match?
As per our Dream11 expert today, Amber is expected to win this game. However, the results can be different as both teams are equally good.
AMB vs PEA Dream11 Team for Today
Wicketkeeper:
1) A Babu
Batsman:
2) G Jincy
3) J Jisna
4) M Aneena
5) G Divya
All-rounder:
6) S Sandra
7) R Anju
8) K K Aparna
Bowler:
9) S Malavika
10) L Nithya
11) J Keerthi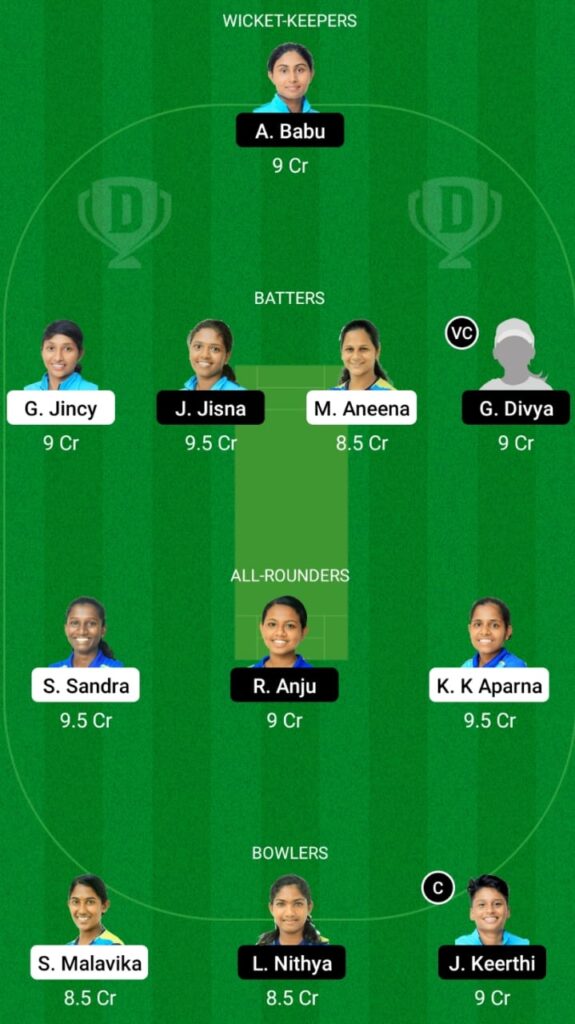 Dream11 team shown here is only a match before the team and the original team can be different after the release of lineups.