Football
I wouldn't look for excuses: Atletico Madrid boss Diego Simeone opens up after dropping first point of the League season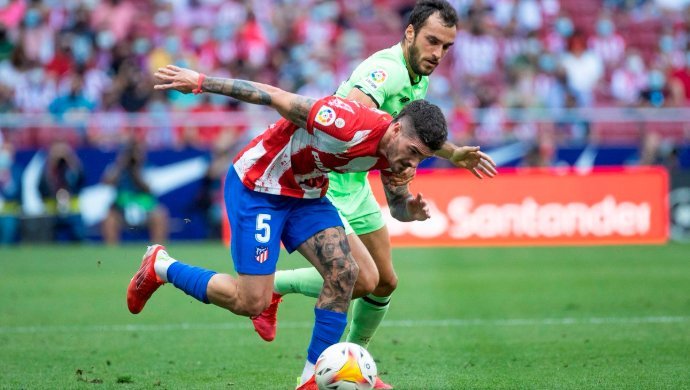 La Liga defending champions Atletico Madrid have dropped their first point of the ongoing league season and their head coach Diego Simeone has no excuses. While attending the Press conference, he openly admitted some of the mistakes he made.
You may also like:
Atletico Madrid winger Joao Felix received marching orders during the game which hugely affected it's fate. However, the Argentinian coach feels that the youngster will only learn from his mistakes and that there is not much to talk about regarding that as the damage has been done.

Here are the most important anecdotes from the press conference.
Atletico Madrid head coach Diego Simeone's Press Conference
João Félix faces a sanction.

I haven't seen it. I have no doubt that he entered the game very well, he was with a good rhythm, he had made a move where he leaves his hand behind, he is reprimanded and he had entered as we want him on the field and it is the good part for when he returns.

Why aren't there opportunities? Is it because of the state of form?

I wouldn't look for excuses, it's soccer. It can happen and I trust the team and the players we have and we will work so that these names do what they always did, which are goals.
They add 24 yellow and two red in five games.

Yes, these numbers are many yellow. You also have to look for the sensitivity of the yellow moment, I don't think they are all, because you can talk with respect, education, look for what is happening and it is not yellow to ask or discuss a situation.

What would you say to João Félix?

I did the same episode a moment of times and I was not in consequence of what the game asked for and I understood it over time. It is an episode that happens to any soccer player, the referee understood that he had to expel him, surely if the gesture is made by another soccer player would not understand the same.

The end was whistled in a clear counter of Carrasco.

I understand that the corner had to be thrown away because it is part of the action, the head-to-back descent had to be cut and the backlash as well. If the regulation is like this, it should have ended in the first header.

What do you keep in the game?

I really liked the team, although we didn't have so many occasions. De Paul was growing, Lodi was improving, Kondogbia is settling down, although he suffered a blow, we stayed with one less and the team did not resign. These are the steps to follow for what is coming. Today we are facing a team that will be the protagonist in the League, has been demonstrating it all season and the second half was very good until Llorente's stick. Then they had Williams' chance and I keep the best, speed went up, we defended very high in front of a fast team against the contras and to continue working and improving.

What did you talk about during the game with Gil Manzano?

I told him to be calm, he told me that I can't tell him to be calm because he is calm. Jesus is a great referee, last year we made games with him and the sensitivity according to the day generates occasions as seen.