Fantasy Cricket Tips
AUT vs ITA Dream11 Prediction Today Match – Dream11 ECC T10 2021 – Live Score, Team News, Top Picks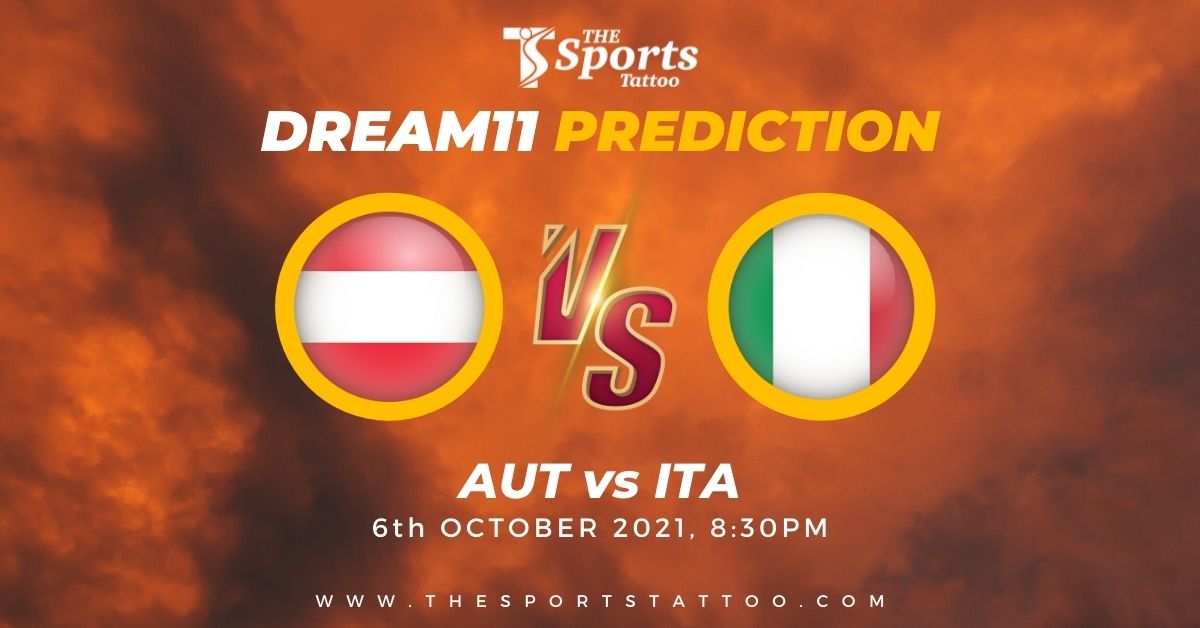 AUT vs ITA Dream11 Prediction: Austria will take on Italy in the 15th match of today's Dream11 ECC T10 2021 fixtures. Both teams have already played plenty of games in the tournament and are aware of the pitch conditions.
Austria started this season with a defeat in their first game. However, they made a great comeback and registered back-to-back wins in their previous two games. Their last win came against Spain by 7 wickets. They are now placed at the 4th position in the points table with 4 points in their account.
On the other hand, Italy started this season with back-to-back defeats in their first two games. However, they made a really good comeback and registered a 96 runs victory in their previous game against Spain. They are now placed at the 5th position in the points table with 2 points in their account. Let's take a look at the Dream11 Match Prediction and Dream11 team for today match.
AUT vs ITA Dream11 Today Match Prediction Details
Dream11 ECC T10 2021
Austria vs Italy
Date: Wednesday, October 06, 2021
Time: 8:30 PM
Venue: Cartama Oval, Cartama
???? Championship Week | Day 3 ? PREVIEWS ? https://t.co/FvmCjpU8vG@Dream11 European Cricket Championship ????

— European Cricket (@EuropeanCricket) October 5, 2021
Follow the Live Cricket Scores on the Sports Tattoo
Austria vs Italy match will be streamed online on the Dream11 Sponsored FanCode app. Viewers can also watch live scores on the Sports Tattoo.
AUT vs ITA Dream11 Prediction Today – Team News
Austria Squad (AUT):
Mirza Ahsan, Abdullah Akbarjan, Abrar Bilal, Aqib Iqbal, Razmal Shigiwal (c), Mark Simpson-Parker, Umair Tariq, Iqbal Hossain, Mehar Cheema, Sahel Zadran, Noor Khan, Zabiullah Ibrahimkhel, Zeeshan Goraya, Shahil Momin, Ahsan Yousuf, Bilal Zalmai.
Italy Squad (ITA):
Amir Shaif, Adnan Muhammad, Janaka Wass, Ammad Khan, Jaspreet Singh, Damith Kosala, Muhammad Imaran, Irfan Shaikh, Ravi Paul, Baljit Singh, Manoj Tharindu, Hassan Ahmad, Simranjit Singh, Jorawar Singh, Nisar Ahmed.
AUT Probable11:
Abrar Bilal, Mehar Cheema, Iqbal Hossain, Razmal Shigiwal (c), Mirza Ahsan, Ahsan Yousuf, Zeeshan Goraya, Bilal Zalmai I. Aqib Iqbal, Sahel Zadran, Shahil Momin.
ITA Probable11:
Ammad Khan, Irfan Shaikh, Jaspreet Singh, Ravi Paul, Damith Kosala, Janaka Wass, Manoj Tharindu, Jorawar Singh, Simranjit Singh, Hassan Ahmad, Amir Shaif. Внести деньги на счет в казино Pin Up в Казахстане можно разными способами. Это банковские карты, интернет-банкинги, электронные кошельки. Казино принимает как обычную валюту, так и криптовалюту. На баланс средства приходят на протяжении 1-5 минут. Вывести выигрыш из онлайн Пин Ап казино онлайн в Казахстане следует тем же методом, который применялся во время пополнения баланса. Игрок может использовать карту банка или кошелек, которые оформлены на его имя. Деньги выводятся быстро, но только при условии верифицированного аккаунта и отыгрыша бонусов, которые получал игрок.
AUT vs ITA Dream11 Top Picks & Key Players
Austria-
Iqbal Hossain – 74 runs in the first two games, failed in last game
Razmal Shigiwal – 78 runs in the first game, failed in last two games
Italy–
Amir Sharif – 396 runs and 17 runs in the tournament
Baljit Singh – 258 runs and 10 wickets in the tournament
AUT vs ITA who will win today match?
As per our Dream11 expert today, Austria is expected to win this game. However, the results can be different as both teams are equally good.
Also Check: ENG-XI vs AUT Dream11 Prediction Today Match – Dream11 ECC T10 2021 – Live Score, Team News, Top Picks
AUT vs ITA Dream11 Team for Today
Wicketkeeper:
1) N Ahmed
Batsman:
2) I Hossain
3) R Shigiwal
4) M Ahsan
5) D Kosala
All-rounder:
6) B Singh
7) A Sharif
8) B Zalmai-I
Bowler:
9) S Zadran
10) A Iqbal
11) S Momin
The dream11 team shown here is only a match before the team and the original team can be different after the release of lineups.