Trending
Axar Patel's controversial runout against Pakistan lefts Twitterati in shock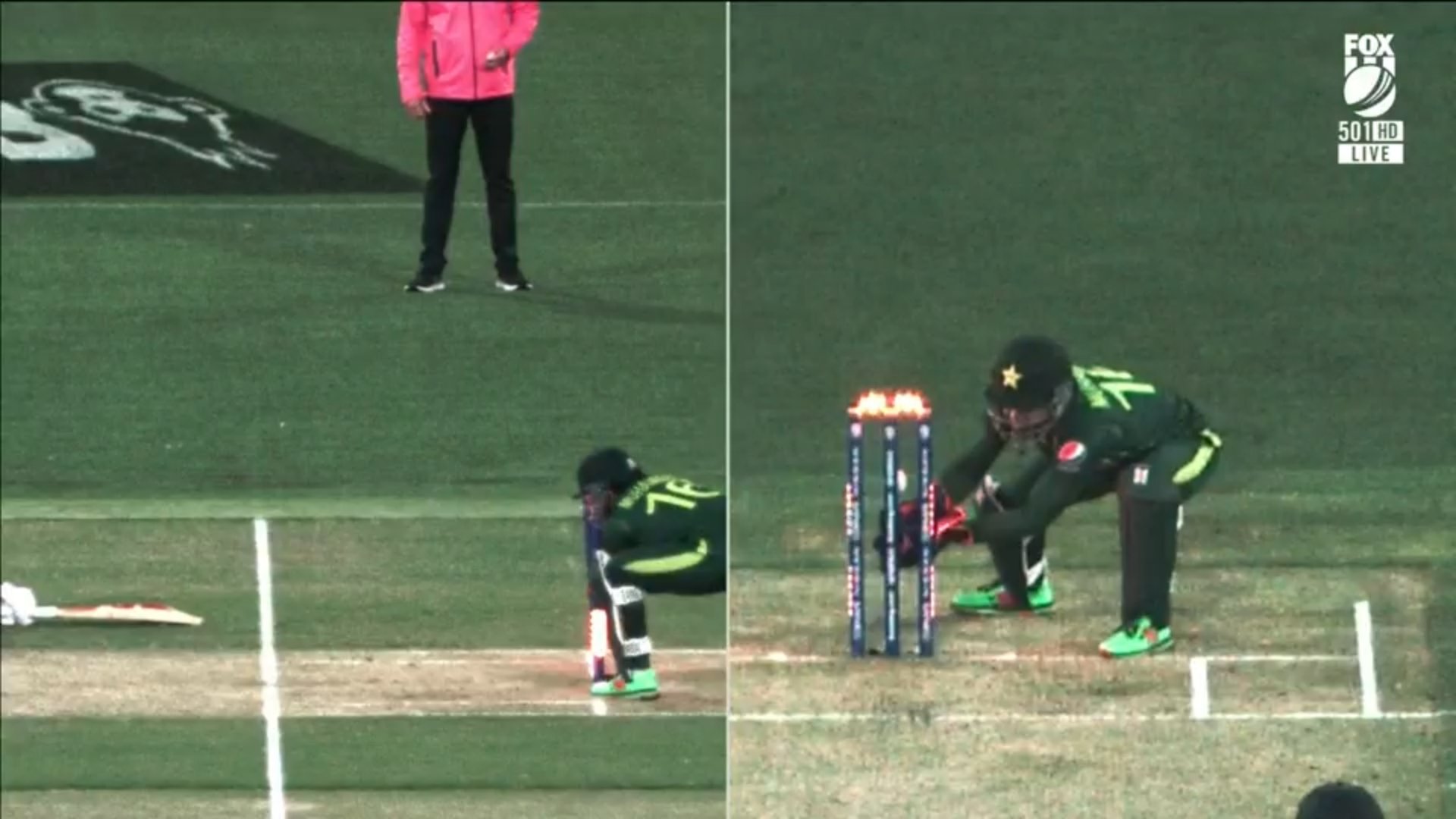 Axar Patel's runout in the 7th over left Twitterati in shock after the controversial decision of the third umpire. IND vs PAK is being played at the Melbourne Cricket Ground today in front of more than 1 lac fans.
Pakistan scored a total of 159 runs in the first inning of the match. Shan Masood and Iftikhar Ahmed scored back-to-back fifties for Pakistan while Arshdeep Singh and Hardik Pandya took 3 wickets each for Team India.
However, the Indian team is struggling at the moment with 45/4 after 10 overs. The last wicket for India was Axar Patel, whose controversial runout left fans in shock.
Also Check: AMR vs QUT Dream11 Prediction, Fantasy Cricket Tips, Dream11 Team, My11 Circle, Pitch Report, News, Top Picks, and Injury Update – Oman D10
Axar was trying to get a single on the first ball of the 7th over. However, Virat Kohli denied this and he was returning back to the crease. In the meantime, Pak fielders were quick to throw the ball to the keeper and Rizwan even broke the bells. However, it was seen that he didn't have the ball in his hand when the bells were removed. After taking a long time, the third umpire also declared this as a runout.
Twitterati shocked after Axar Patel's runout
You are the third umpire. Was Axar Patel out?#INDvsPAK #T20WorldCup

— Santadeep Dey (@SantadeepDey) October 23, 2022
In that Axar Patel's runout, nobody from Pakistan's team appealed. Why did the umpires go for a review then ? 🤔#INDvPAK #T20WorldCup

— Jagat Kumar (@JagatK_) October 23, 2022
It is exciting to see how brainless our .@BCCI cricket team is to send #axarpatel at 3 down in the 6th over. Whoever thought he was a batsman, and the one who could steady the innings! #T20WorldCup2022 #IndvsPak

— RR (@RichieRego) October 23, 2022
Axar Patel's run out 3rd umpire decisions correct 🤔🤔 felt ball was not in keeper's hands, dubious decision

— Srikanth (@JayaHoIndia) October 23, 2022
100 toppo ki salaami usko jisne Axar Patel ko bheja Pandya n DK se pehle 🤣🤣🤣🤣 #INDvsPAK

— Lord Voldemort (@Smart_Ladka) October 23, 2022
Virat Kohli it is your fault, Axar Patel get run out.#INDvsPAK #T20WorldCup2022

— Flick of Wrist (@flickk_of_Wrist) October 23, 2022
A miscommunication and Axar Patel is RUN OUT. India loses 4th wicket, wicket is falling like a pack of cards.
Pakistan dominating this game all over India.#INDvPAK | #indiaVsPakistan | #CricketTwitter | #T20worldcup22 | #T20WorldCup2022

— Paritosh Kumar (@ParitoshK_2016) October 23, 2022
Out or Not Out?#Cricket #INDvPAK #T20WorldCup    #India    #AxarPatel #MCG #Melbourne pic.twitter.com/oknUiI5IYn

— Jega8 (@imBK08) October 23, 2022
7th Over by Shadab Khan

Axar Patel – W

Hardik Pandya – 0 1 0

Virat Kohli – 0 1

IND Score : 33/4(7)#INDvPAK #INDvsPAK #T20WorldCup #T20WorldCup2022 #T20WC2022 https://t.co/9Zs9dZOALS

— sudharshan sridharan (@sudharshansrid1) October 23, 2022
It seems luck is with #Pakistan today. First Babar fumbles in picking the ball cleanly then Rizwan doesn't collect the throw in his gloves but even then they somehow manages to run Axar Patel out.#PakVsInd#ICCT20WorldCup2022 #T20WorldCup #PakistanZindabad

— TaHa Khan (@tahakhan_mtk) October 23, 2022