Fantasy Cricket Tips
AZA vs AMR Dream11 Prediction, Fantasy Cricket Tips, Dream11 Team, My11 Circle, Pitch Report, News, Top Picks, and Injury Update – Oman D10
AZA vs AMR Dream11 Prediction: Azaiba XI will take on Amerat Royals in the 19th match of today's Oman D10 fixtures. Both teams have already played plenty of games in the tournament and are well aware of the pitch conditions.
Azaiba XI has managed to register only one win out of the three games they played this season. Their previous defeat came against Qurum Thunders by 7 wickets. They are now looking forward to making a strong comeback in today's game.
On the other hand, Amerat Royals is one of the strongest teams this season. They have managed to register back-to-back wins in all three games they had played. Their previous win came over Darsait Titans by 4 wickets and they are now placed at the top of the points table. Let's take a look at the AZA vs AMR Dream11 Match Prediction and Dream11 team for today match.
AZA vs AMR Dream11 Today Match Prediction Details
Oman D10
Azaiba XI vs Amerat Royals
Date: Wednesday, October 19th, 2022
Time: 10:00 PM
Venue: Gaddafi Stadium, Lahore
Follow the Live Cricket Scores on the Sports Tattoo
Azaiba XI vs Amerat Royals match will be streamed online on the Dream11-sponsored FanCode app. Viewers can also watch live scores on The Sports Tattoo.
AZA vs AMR Dream11 Prediction Today – Team News
Azaiba XI (AZA):
Aqeel Muhammad(WK), Sufyan Yousuf(WK), Hammal Abdul Wahab, Mehedi Hassan, Mansoor Ali(C), Yasir Dur, Sagheer Ahmed, Rao Waqar Ahmed, Waseem Akhtar, Jasim Illahi Nasir Ali, Haythim Bahar, Sami Wahid Baksh, Imran Muhammed, Rana Naeem, Shezad Ikhtiyar, Asif Al Balushi, Saheem Bashir.
Amerat Royals (AMR):
Pratik Athavale(WK), Jitenkumar Ramanandi, Yasir Ali-II, Karan Sonavale(C), Bilal-Khan, Manish Rawat, Rafiullah-M, Vinayak Shukla, Mohit Patel, Faisal Shah, Shahrukh Khan-I, Hemal Tandel, Sankata Prasad, Shahbaz Anwar(WK), Sparsh Tewari, Aflal Kariapper, Vinay Khandelwal.
AZA Probable11:
Jasim Illahi, Rao Waqar, Hammal Abdul Wahab, Waseem Akhtar, Aqeel Muhammad, Haythim Bahar, Yasir Dur, Sagheer Ahmed©, Mehedi Hassan, Mansoor Ali, Sufyan Yousuf(wk).
AMR Probable11:
Karan Sonavale©, Pratik Athavale(wk), Shahrukh Khan, Vinayak Shukla, Yasir Ali, Rafiullah, Jiten Ramanandi, Manish Rawat, Faisal Shah, Bilal Khan, Mohit Patel.
AZA vs AMR Team News:
Azaiba XI Team News – No injury updates are available
Amerat Royals Team News – No injury updates are available
AZA vs AMR Dream11 Top Picks & Key Players
Azaiba XI–
Hammal Abdul Wahab
Haythim Bahar
Rao Waqar Ahmed
Waseem Akhtar
Mansoor Ali
Sagheer Ahmed
Amerat Royals –
Vinayak Shukla
Bilal-Khan
Jitenkumar Ramanandi
Karan Sonavale
Rafiullah-M
AZA vs AMR who will win today match?
As per our Dream11 expert today, Amerat Royals is expected to win this game. However, the results can be different as both teams are equally good.
Also Check: DAT vs QUT Dream11 Prediction, Fantasy Cricket Tips, Dream11 Team, My11 Circle, Pitch Report, News, Top Picks, and Injury Update – Oman D10
AZA vs AMR Dream11 Team for Today
Wicketkeeper:
1) P Athavale
Batsman:
2) H Bahar
3) K Sonavale
4) M Ali
All-rounder:
5) Rafiullah-M
6) J Ramanandi
7) H Abdul Wah…
Bowler:
8) F Shah
9) M Patel
10) W Akhtar
11) J Illahi Nasir…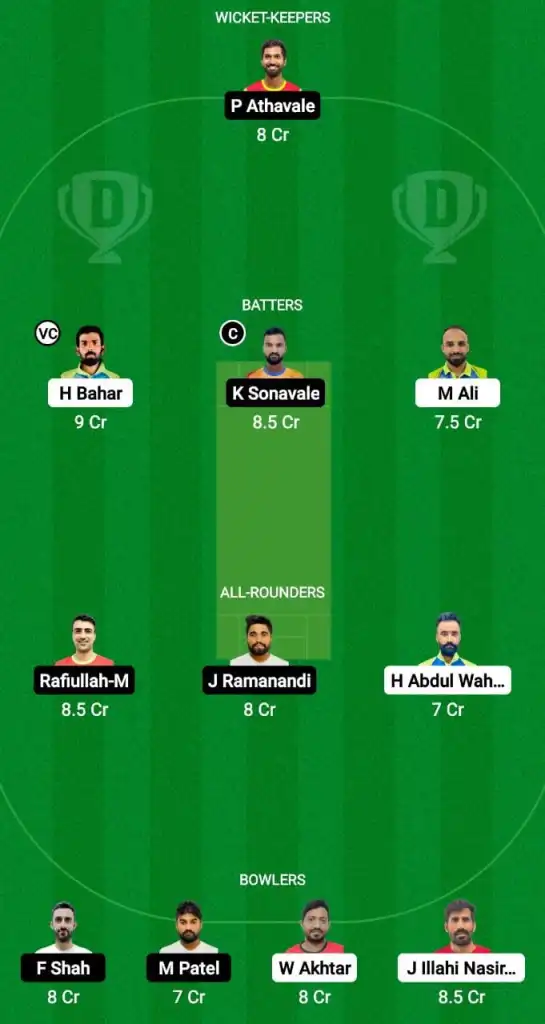 Dream11 team shown here is only a match before the team and the original team can be different after the release of lineups.