Newcastle United midfielder Bruno Guimaraes has emerged as a target for European powerhouses Barcelona and Liverpool, according to a report from Goal Brasil. The Brazilian midfielder has been attracting attention with his impressive performances for Newcastle United since joining the club. Guimaraes' skill set and versatility have caught the eye of top clubs across Europe, who are now closely monitoring his progress.
Barcelona and Liverpool, known for their astute transfer dealings, see Guimaraes as a potential key addition to strengthen their midfield options. The Catalan giants, Barcelona, are in search of midfield reinforcements to revitalize their squad and reclaim their dominance in Spanish and European football. Liverpool, on the other hand, is looking to add depth and quality to their midfield as they aim to compete at the highest level domestically and in European competitions.
Guimaraes possesses the qualities desired by both clubs, including his technical ability, tactical intelligence, and ability to contribute in both the attacking and defensive phases of the game. Newcastle United, aware of the growing interest in their talented midfielder, will be determined to retain Guimaraes and build their team around him.
YOU MAY ALSO READ:
The Battle for Bruno Guimaraes: Barcelona and Liverpool Eye Newcastle United Midfielder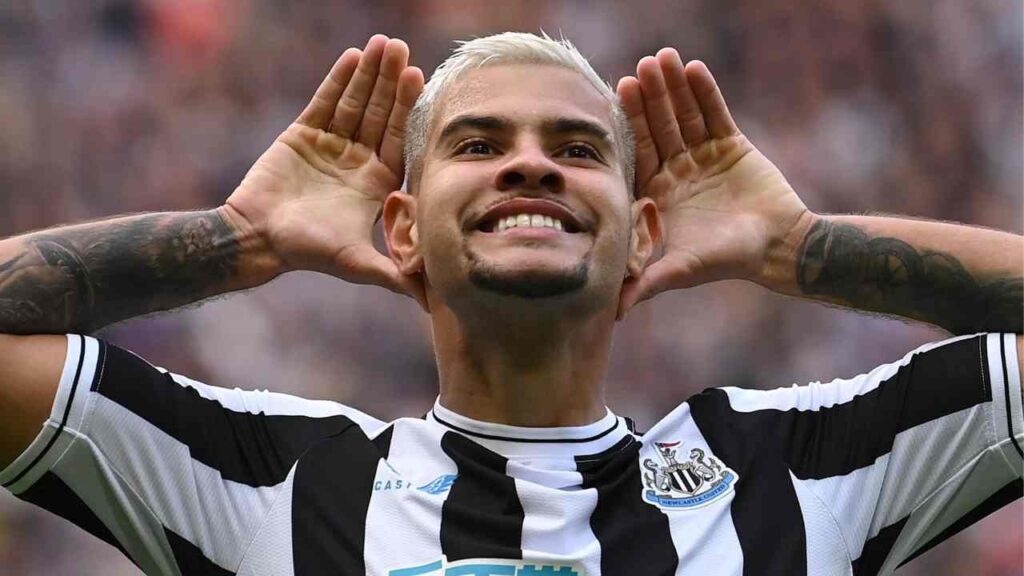 However, the allure of playing for Barcelona or Liverpool, two of the most successful clubs in recent years, could be hard to resist for the Brazilian. The opportunity to compete for major honours and showcase his talent on the biggest stages could sway Guimaraes' decision if concrete offers are made. The reported interest from Barcelona and Liverpool is a testament to Guimaraes' rising stock in the footballing world.
His performances in the Premier League have not gone unnoticed, and it is no surprise that clubs of such calibre are monitoring his progress. Newcastle United, meanwhile, will face a challenging task in holding onto their prized asset amidst the interest from European giants. The club's ambitions to compete at the highest level could play a crucial role in convincing Guimaraes to stay and be a central figure in their future plans.
Ultimately, the decision will rest on Guimaraes' shoulders, as he must weigh the potential for success and development at Newcastle United against the allure of joining Barcelona or Liverpool. The coming months will provide more clarity on Guimaraes' future as negotiations and discussions progress between the player, his representatives, and the interested clubs. Regardless of the outcome, Bruno Guimaraes' talent and potential have firmly placed him in the spotlight, attracting the attention of some of Europe's elite clubs.