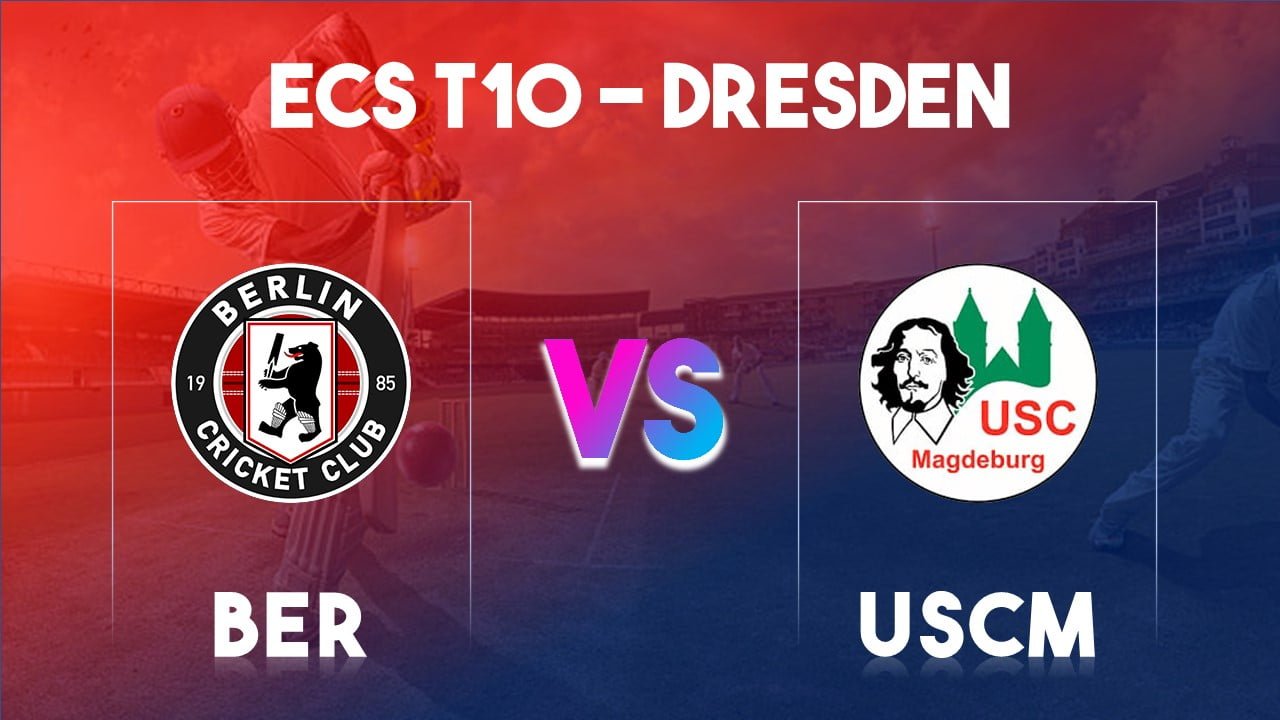 BER vs USCM Dream11 Prediction: Berlin CC will take on USC Magdeburg in the 39th and 40th match of ECS T10 Dresden. Both teams have already played plenty of gams in the league and established themselves.
After registering a 23 runs victory over USG Chemnitz, Berlin CC lost their second game by 5 wickets. However, they have managed to register 3 victories in the last 5 games they had played and one of them has no result. Berlin CC is now looking to make a comeback in today's games.
On the other hand, USC Magdeburg is yet to win a game this season. They have lost all the six games they had played till now. Their previous defeat came against USG Chemnitz by 5 runs. They are now looking to register their first win of the season today. Let's take a look at BER vs USCM Dream11 Match Prediction for this ECS T10 Dresden fixture.
BER vs USCM Dream11 Today Match Prediction Details
Fancode ECS T10 Dresden – Match 39 and 40
Berlin CC vs USC Magdeburg
Date: Thursday, 26 August 2021
Time: 4:30 PM, 6:30 PM
Venue: Rugby Cricket Dresden eV, Dresden
?? Day 10 ? PREVIEWS ? https://t.co/QKDzuzYFfm @FanCode ECS Germany Dresden ?? @Dream11 @Cricket_Germany

— European Cricket (@EuropeanCricket) August 25, 2021
Follow the Live Cricket Scores on the Sports Tattoo
Berlin CC vs USC Magdeburg match will be streamed online on the Dream11 Sponsored FanCode app. Viewers can also watch live scores on the Sports Tattoo.
BER vs USCM Dream11 Prediction Today – Team News
Berlin CC (BER):
Saddam Gill, Nick Kraiger, Nagapratap Mahanandhi, Mani CS, Reuben Davies, Awais Zafar, Gaurav Kaduskar, Ivan Doubell, Rohit Grover, Aarij Qureshi, Ata Ahmad, Manish Tiwari, Alex Smith, Anas Sherwani, Sahil Lal, Asad Baig, Karan Singh, Abhilash Anantharam, Makarand Parab, Imran Bukhari, Vimal Marripeddi.
USC Magdeburg (USCM):
Sreekanth Kunchapu, Rahul Movva, Rakesh Jogi, Maqsood Mohammed, Hari Patel, Sahil Sethi, Veer Akula, Krishna Budireddy, Girish Tangirala, Raj Kumar, Vinod Reddy Budati, Farhad Billimoria, Ranadheer Podishetti, Taimoor Khalid, Shafiq Gulzai, SaiVivek Jeevangekar.
BCC Probable11:
Karan Singh, Makarand Parab, Manish Tiwari, Abhilash Anantharam, Mani CS, Ata Ahmad, Imran Bukhari, Ivan Doubell, Reuben Davies, Saddam Gill, Awais Zafar.
USCM Probable11:
Maqsood Mohammed, Sreekanth Kunchapu, Raj Kumar, Rakesh Jogi, Hari Patel, Sahil Sethi, Veer Akula, Girish Tangirala, Krishna Budireddy, Taimoor Khalid, Rahul Movva.
BER vs USCM Dream11 Top Picks & Key Players
Berlin CC-
Nick Kraiger – 95 runs and 9 wickets in 5 games
Rohit Grover – 182 runs and 2 wickets in 5 games
Saddam Gill – 16 runs and 3 wickets in 2 games
USC Magdeburg-
Sahil Shetty – 34 runs and 5 wickets in last 5 games
Ranadheer Podishetti – 46 runs and 7 wickets in last 4 games
Rahul Choudary Movva – 30 runs and 3 wickets in last 2 games
BER vs USCM who will win today match?
As per our BER vs USCM Today Match Prediction, Berlin CC is expected to win both games.
BER vs USCM Dream11 Team for Today
Wicketkeeper:
1) A Anantharam
Batsman:
2) K Singh
3) R Choudary Movva
4) R Podishetti
5) R Grover
All-rounder:
6) I Bukhari
7) S Gulzai
8) K Budireddy
Bowler:
9) A Zafar
10) S Sethi
11) N Kraiger
Dream11 team shown here is only a match before the team and the original team can be different after the release of lineups.