Uncategorized
BRE vs JIB Dream11 Prediction Team – ECS T10 Brescia, 14 April 2021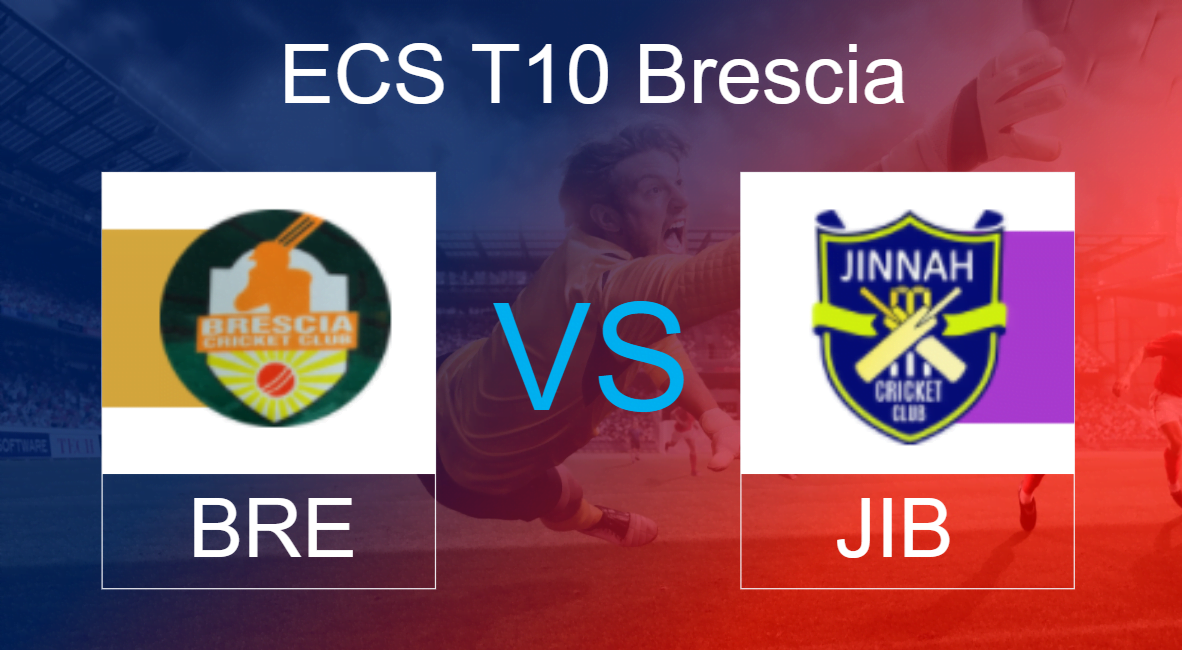 BRE vs JIB Dream11 Prediction Team
Two top sides are all set to collide in the ongoing ECS T10 Brescia as Brescia CC and Jinnah Brescia would go toe-to-toe twice in the day on Wednesday. Both sides have been unbeaten in the competition so far and T10 fans are in for a treat. Bresica CC are sitting at the top of the table after winning 2 games out of 4 scheduled fixtures. Their two games were washed out because of rain.
Jinnah Brescia, on the other hand, are 2nd in the points table after winning both of their first 2 games. Both teams now would try their best to keep up their unbeaten streak. Let's take a look at BRE vs JIB Dream11 Match Prediction for this ECS T10 Brescia fixture.
BRE vs JIB Dream11 Match Details
ECS T10 Brescia – Match 12
Brescia CC vs Jinnah Brescia
Date: Wednesday, 14 April 2021
Time: 6:30 PM IST
Venue: JCC Brescia Cricket Ground, Brescia
Check the Live Scores – CLICK HERE
BRE vs JIB Dream11 Prediction Team News
Brescia CC Squad:
Atta Ullah, Babar Hussain, Rizwan Muhammad, Ali Raza, Aliraza Qaisar, Basharat Ali, Faisal Shah, Imad Khan, Naveed Chaudhary, Qulb Sajjad, Ranjah Hammad, Muhammad Iqbal, Muhammad Jafri, Zai Mushtaq, Zain Haider, Shadnan Khan, Ahsan Akbar, Naseer Hussain, Ammad Khan, Anwar Attieq, Imran Naveed, Javed Muhammad, and Yasir Nawaz
BRE Playing 11 (Probable):
Atta Ullah, Babar Hussain, Yasir Nawaz, Ammad Khan, Shadnan Khan, Imran Naveed, Javed Muhammad, Naseer Hussain, Qulb Sajjad, Imad Khan, and Basharat Ali
Jinnah Brescia Squad:
Atif Mehmood, Ahmed Rukhsar, Muhammad Rizwan, Ahmed Nisar, Muhammad Sajjad, Harsha Wass, Muhammad Imran, Janaka Wass, Abrar Bilal, Faheem Nazir, Nawaz Sharukh, Hussain Abubakar, Shahrukh Butt, Charith Fernando, Azhar Hussain, Humza Ishtiaq, Sukhwinder Singh, Ghulam Farid, Ahmad Hassan, Hasnat Ahmed, Hasan Ali, Arsalan Shahid, and Mirza Ahmed.
JIB Playing 11 (Probable):
Ahmed Abrar Bilal, Hasnat Ahmed, Ahmed Nisar, Nawaz Sharukh, Ahmad Hassan, Muhammad Rizwan, Muhammad Sajjad, Ghulam Farid, Muhammad Imran, Faheem Nazir, and Ahmed Rukhsar
BRE vs JIB Dream11 Key Players
For Brescia CC –
Imad Khan
Muhammad Jafri
Faisal Shah
For Jinnah Brescia –
Hassan Ahmed
Muhammad Imran
Janaka Wass
BRE vs JIB Dream11 Team Prediction – Fantasy Team
WK: H Ahmad
BAT: J Wass, I Khan (C), B Hussain
AR: A Attieq, M Amir Jafri (VC), A Raza Islam
BOWL: M Imran, F Nazir, R Ahmed, F Shah