Cricket
WATCH: Jarvo 69 gets arrested after invading the India vs England test for the 3rd consecutive time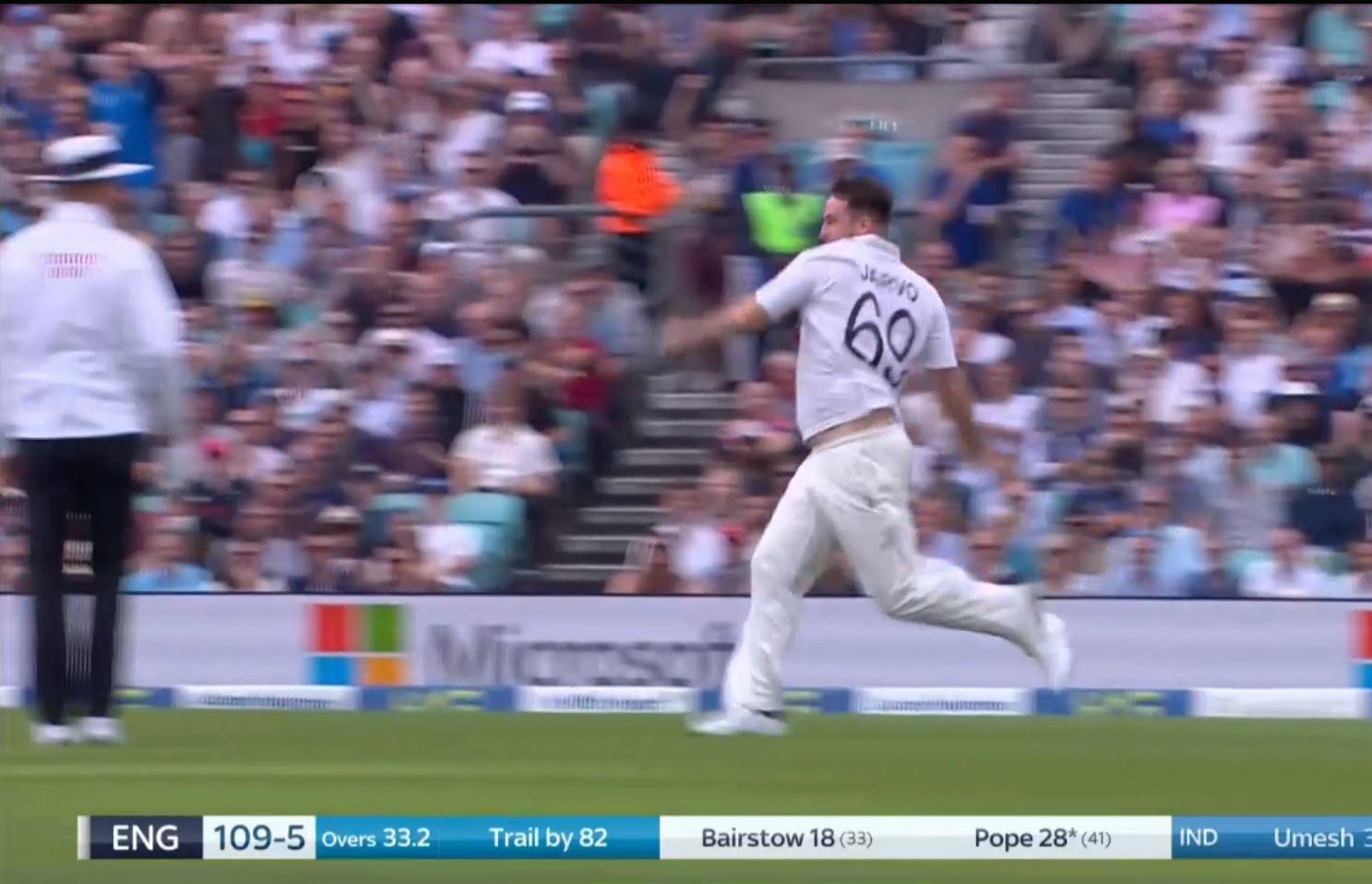 Pitch Invader Jarvo 69 has finally been arrested under suspicion of assault after he collided with Jonny Bairstow, the English batsman who was standing at the non-striker's end, while invading into the field during day 2 of the fourth test between India and England. Jarvo had done the exact same thing on two previous occasions, during the second and the third test respectively, and he tried to repeat it in the fourth test. He was successful on all three occasions but unfortunately he had to face a brutal punishment this time for his prank.
Also Read:- WATCH: Jarvo 69 invades the pitch again dressed as a batsman in the 4th test between India and England

Jarvo 69 is actually a youtuber or a prankster who uploads prank videos on the platform to gain views. That was exactly what led to him invading the Lord's cricket ground during the second test between India and England shortly after lunch and he acted as a comic element in between the intense matchup. His plan was successful and the fans loved him on that occasion.

When he started gaining some followers after that first prank, he tried to repeat it in the third test as well and this time, the prankster entered the field all padded up and ready (with helmets on) to bat for team India. He was soon escorted out by the stewards and was issued a lifetime ban from the Headingley stadium.

However, that was evidently not enough for the clout-chaser and he repeated the act in the fourth test as well. However, by this time, it had become annoying even to the fans who were initially finding it to be funny.
Also Read:- WATCH: Rohit Sharma plays a beautiful Uppercut for a six off Ollie Robinson

He has now been arrested but it is not because of the invasion. As mentioned earlier, Jarvo collided with Jonny Bairstow while running inside the pitch and it was for this reason that the police arrested him.

The met police also released a statement which said, "A man has been arrested on suspicion of assault following an incident at the Oval Cricket Ground on Friday, 3 September. He remains in custody at a south London police station."

England batsman Ollie Pope has given his opinion on the pranks that Jarvo is pulling off in each and every test and the player seems really annoyed. "It got a few laughs the first time round," Pope said of Jarvis' appearances throughout the series. "But it stops play for five minutes. There's nothing to be gained from it. It does disrupt you but you've got to try and block it out."
Also Read:- WATCH: Jarvo enters the field once again to play for India in the middle order !