Fantasy Cricket Tips
DHA vs JAM Dream11 Prediction Cricket – Jharkhand T20 – 2nd Semifinal – Live Score Team News Captaincy Picks & Stats, 1 August 2021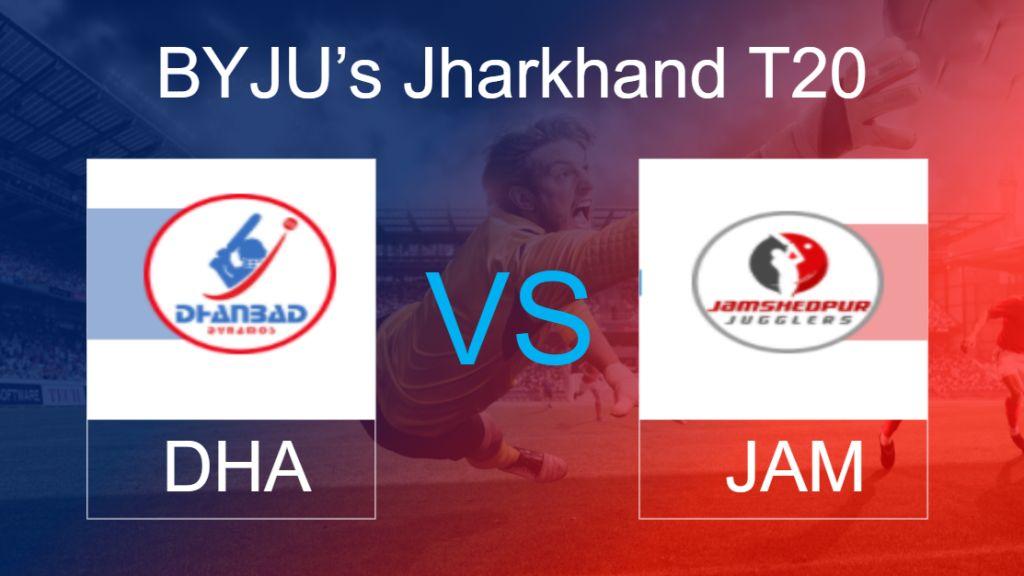 DHA vs JAM Dream11
To book a place in the grand finale, Dhanbad Dynamos and Jamshedpur Jugglers will lock horns in the 2nd semifinal of the Jharkhand T20 League on Sunday. Both teams had a mixed run in the league and there was little to separate the two sides. Both teams managed 5 wins and 4 losses alongside a washed-out game in their respective 10 matches. However, the Dynamos managed to finish above the Jugglers in the point table, courtesy of a better net run rate.
The Dynamos defeated the Jugglers twice during the league stage by 8 wickets and 10 wickets respectively. They will be eyeing the hattrick of wins over their opponents. The Jugglers, at the same time, will try to avenge their losses by winning this vital clash. Let's take a look at DHA vs JAM Dream11 Team Prediction for this Dhanbad T20 fixture.
DHA vs JAM Dream11 Today Match Prediction Details
BYJU's Jharkhand T20 – Semifinal 2
Dhanbad Dynamos vs Jamshedpur Jugglers
Date: Sunday, 1 August 2021
Time: 1:00 PM
Venue: JSCA International Stadium Complex, Ranchi
Check the Live Scores – CLICK HERE
DHA vs JAM Live Streaming: Fancode
DHA vs JAM Dream11 Prediction Cricket – Team News
Dhanbad Dynamos Squad:
Nazim Siddiqui (C), Jai Prakash Yadav, Kumar Ankit, Satya Setu, Aryan Hooda, Abhishek Choudhary, Yuvraj Kumar, Kaushal Singh, Sahil Raj, Abhishek Yadav, Anirban Chatterjee, Vikash Kumar, Shakti Singh, and Vijay Jena
DHA Playing 11 (Probable):
Sahil Raj, Anirban Chatterjee/Prem Kumar, Md Asif Mansoori, Abhishek Yadav, Kaushal Singh, Satya Setu, Nazim Siddiqui (C), Aryan Hooda, Yuvraj Kumar, Vikash Kumar, and Jai Prakash Yadav
Jamshedpur Jugglers Squad:
Rahul Prasad (C), Arvind Kumar, Mithun Kumar, Rahil Khan, Atul Surwar, Rajandeep Singh, Vishal Singh, Sankat Mochan, Ashish Kumar, Vivek Kumar, Jaskaran Singh, Umang Sethi, and Shresth Sagar
JAM Playing 11 (Probable):
Shresth Sagar (WK), Atul Singh Surwar, Ashish Kumar, Rahul Prasad (C), Rajandeep Singh, Rahil Khan, Arvind Kumar, Vishal Singh, Vivek Kumar, Prakash Seet/Sankat Tripathi, and Tannay Khandelwal
DHA vs JAM Dream11 Captaincy Picks and Stats
Dhanbad Dynamos –
Satya Setu – 231 runs in 9 matches
Nazim Siddiqui – 182 runs in 9 matches
Sahil Raj – 11 wickets and 67 runs in 9 matches
Jamshedpur Jugglers –
Vishal Singh – 256 runs in 9 matches
Ashish Kumar – 11 wickets in 9 matches
Arvind Kumar – 162 runs in 8 matches
DHA vs JAM who will win today match?
As per our DHA vs JAM Today Match Prediction, Dhanbad Dynamos are expected to win this match.
DHA vs JAM Dream11 Team for Today Match
WK: S Sagar
BAT: N Siddiqui, K Ankit, S Setu
AR: A Singh Surwar, Y Kumar, S Raj (C), V Singh (VC)
BOWL: A Kumar, S Tripathi, A Yadav