The Chelsea Update- Leroy Sane finally move to his dream destination and back to his homeland Germany. This was after finalizing a reported £54.8m switch to Bayern Munich from Manchester City. However, it seems that he will block a possible move of one of his teammates in his current team. The former Schalke man is sure to shake up Bayern's attack, gunning for more silverware in future. This is with stars like Serge Gnabry, Kingsley Coman and, of course, the evergreen,  Robert Lewandowski leading from the front.
Bayern was sensational to watch this season post-Nico Kovac. Under now permanent manager Hansi Flick, the German giants once again looked the real deal upon securing their 8th straight Bundesliga title and the DFB Cup. Champions league is also very much in the horizon after the side took a step forward to the next round, beating Chelsea 3-0 away with the second leg still to be played after the competition resumes in the month of August.
Their dominant display is all because of veterans Robert Lewandowski and Thomas Muller playing their best and breaking records even at the age of 30. Along with their prudent attack, their defence had been uncompromised for the most part of the season. After a dodgy start to the season with mismanagement and injury to Nicolas Sule, Jerome Boateng and most significantly David Alaba slotted into an unorthodox centre-back role.
The Austrian versatility in playing anywhere on the pitch paid off as he became a rock for the Bavarian. His strong link up with the back four allowed Bayern to only let 32 goals in 38 game league season, the best in the league.
Rumour has it that Alaba is linked with a move to England. Interested party? Manchester City.
Pep Guardiola's side hasn't been at their level best this season with Aymeric Laporte's injury costing them the season. With inactivity in the transfer market to secure a defender signing after club captain Vincent Kompany's departure going wrong, City fell way beyond champions Liverpool in the title hunt.
Now, to get back to the level they belong, City are finally making up their mind to get a defender in their stride. With ban over Champions league football now overturned by CAS, they are also free to spend as usual in this summer window.
Securing David Alaba's service will also clear out City's long-standing left-back issues. The likes of Benjamin Mendy and Zinchenko haven't been at their par that is demanded from Guardiola proved by the former deployment of Fabian Delph in that position in previous seasons. With Alaba primarily playing position being a left-back and his capability to slot anywhere in the defence will lessen City's concern. Also, his experience of playing at the highest level is a big boost. Moreover, Alaba will quickly set into Guardiola's tactics after receiving his guidance when the manager was at Bayern's helm.
However, now it seems that the man who made a move out of the club is insisting his teammate to not listen to the demands of his former friends.
A star winger himself who contributed in big times for Manchester City. However, he denied a contract extension by not getting so well with his Spaniard boss. Eventually, he took a different route to continue his progress in his career. He feels that Alaba is a crucial member of the squad and still a lot to offer in future.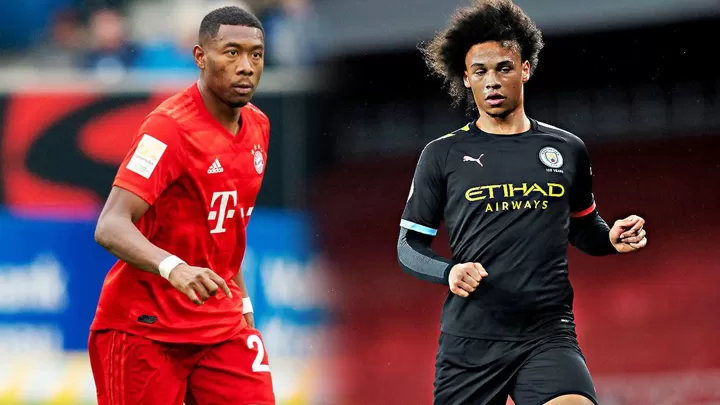 What Sane Said About The Chelsea And Manchester City Target?
In an interview with the Sport Bild, he insisted Alaba stay at Bayern, "I really hope David stays! I would like to play with him. He is a good guy, great footballer, and we like each other privately.
"David has proven that he is not only one of the world's best left-backs, but also exceptional in the centre."
However, David Alaba's stay at Bayern could be in doubt. He is wanted by Chelsea, who are on a signing-spree. They are adding players left, right and centre.
The free-kick specialist only slotted into a less familiar centre-back role only because due to injuries and no preferred choice in that role available to the club. Nicolas Sule and Lucas Hernandez's injury also allowed Alphonso Davies to get more minutes on the pitch than expected this season. While both of them became a star in their respective duties it seems the returnees will dent a blow to their hopes of doing much of the same in the new season.
What Next For The Player?
This is a matter of fact that Bayern has a good reputation to hold on to their long-serving players. Plus, Alaba is an integral part of the Bayern squad. The same squad that decorated themselves with so many silverware over the course of the season. Requests from players like Leroy Sane may consult him to stay at the club after all. After all, Flick and Bayern will use him in plans knowing that Alphonso Davies is raw and young. He will receive more game time in the future.
Whatever it is, City will be victimized for not securing a valuable player in the ranks. If Sane plays a big part in convincing Alaba to stay, Man City will be forced to look for other possibilities. Chelsea will be hoping to make the most out of this situation for sure.