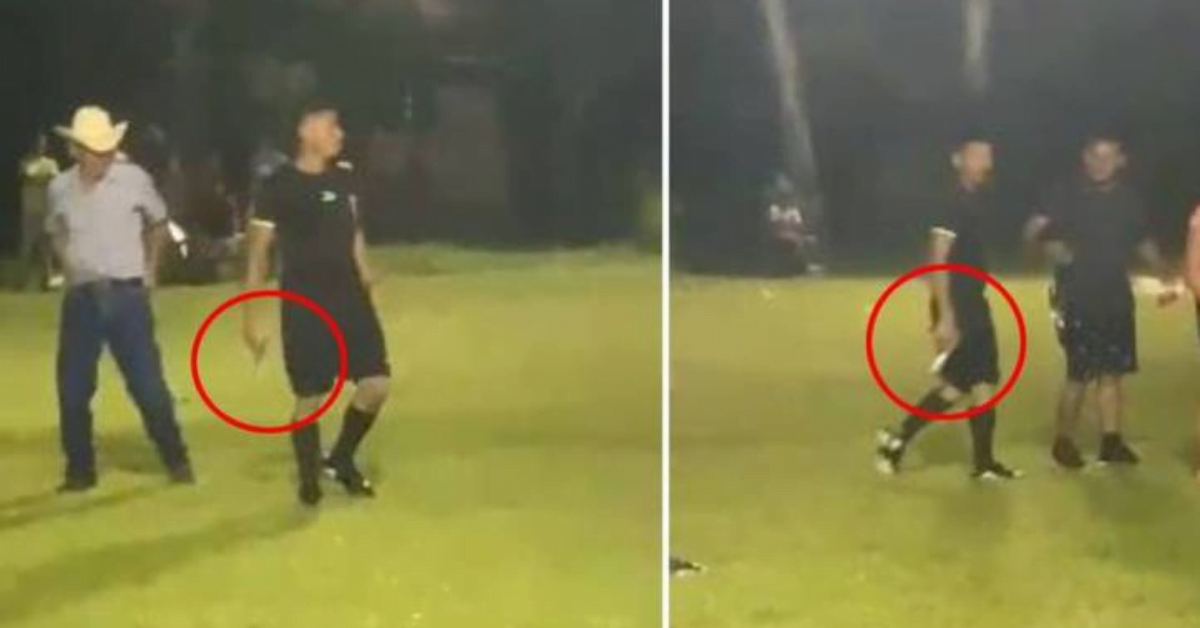 A live football match in the Island country of Honduras saw a crazy turn of events when the referee had to pull out his gun to save his life !

According to spanish news and media outlet Marca, an amateur football match in Honduras came to a standstill when the fans and the crowd in general intruded the field to attack the referee in-charge of the match. They were seemingly upset by a certain decision of the referee that went against their team and therefore they came inside the field in huge masses to attack the referee.
Also Read:- Cristiano Ronaldo addresses Real Madrid transfer Rumours: Makes Big revelation about his future !

However, the referee knew how to defend himself and as it turned out, he was carrying a gun with him. When the crowd reached too close to him, the referee pulled out his gun and pointed at the fans to scare them. The referee says that he had to do that to avoid getting lynched by the mob. The video of the same has now gone crazily viral on social media.

According to Televicentro's TN5 channel, the incident occured last weekend in La Jigua, Copan.
Also Read:- Chelsea's Emerson Palmieri completes year-long Loan move to Serie A side Olympique Lyonnais

In the video, a man in the crowd can be seen shouting: "He was a gun !" as soon as he saw the referee carrying the weapon. The other members of the crowd immediately retracted and moved away from the referee. Luckily there was no harm done to anyone and the situation was soon brought under control.

Honduras is one of the few countries in the world that is known for the aggressiveness of it's fans. Crazy place Honduras huh ! The incident reminds us of the time when the Owner of a Greek football club walked up to the referee on the field with a gun in his hand. However, the situation was exactly the opposite in this case.
Also Read:- Antoine Griezmann debunks transfer rumours on reaching 100 appearances for FC Barcelona