Fantasy Cricket Tips
HRO vs AF Dream11 Prediction Today – FanCode ECS T10 Malmo – Live Score Team News Top Picks, 4 August 2021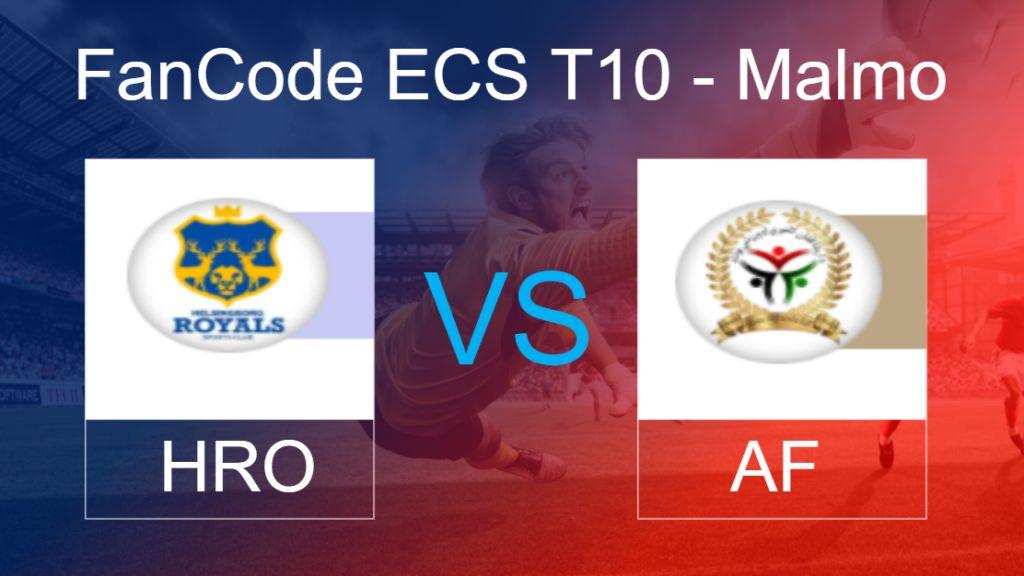 HRO vs AF Dream11
Ariana AKIF will continue their campaign as they meet Helsingborg Royals in their next two matches of the ECS T10 Malmo. The Royals have had a dismal start to the competition and struggled to get going so far. They sit 4th in the Group A points table with a single win and 3 losses in 4 matches.
Ariana AKIF, on the other hand, began on the positive foot. They sit 2nd in the points tally with 2 wins in 2 matches. They will be eyeing another couple of wins to assert themselves in the competition. Let's take a look at HRO vs AF Dream11 Match Prediction for this ECS T10 Malmo fixture.
HRO vs AF Dream11 Today Match Prediction Details
Fancode ECS T10 Malmo – Match 9 & 10
Helsingborg Royals vs Ariana AKIF
Date: Wednesday, 4 August 2021
Time: 12:00 PM & 2:00 PM
Venue: Landskrona Cricket Club
Check the Live Scores – CLICK HERE
HRO vs AF Live Streaming: Fancode
HRO vs AF Dream11 Tips & Prediction – Team News
Helsingborg Royals Squad:
Abhinash Panda (C), Avinash Kumar, Gour Sadashiv, Santosh Marathe, Suhas Shetty, Chandru Ganesan, Rohit Saproo, Advait Gujagarkar, Kirthan Duttulur, Davinder Singh, Prasanjit Behera, Pramod Kompella, Satish Kori, Sachin Shetty, Deepu Krishnan, Satish Kunjir, and Madhan Prabhu
HRO Playing 11 (Probable):
Phani Pramod Komplella, Satish Kunjir, Sachin Shetty, Prasanjit Behera, Madhan Prabu Raman, Abinash Panda, Chandru Ganesan, Davinder Singh, Santosh Marathe, Sadashiv Gour, and Rohit Saproo
Ariana AKIF Squad:
Dharmender Singh (C), Yousaf Babak, Sedik Sahak, Hazrat Omed, Imran Khan, Farid Mohammad, Zabiullah Waradak, Karan Singh, Khaled Mohammad, Rahatullah, Sreekanth Medavarapu, Mahmood Hijazi, Javid Khan, Krishna Digumurthi, Qaiser Mahmood, Mazhar Khan, Pawan Kumar, and Ihsan Shirzad
AF Playing 11 (Probable):
Delawar Khan, Sedik Sahak, Mahmood Hijazi, Rahatullah, Dharmender Singh, Imran Khan, Khaled Mohammad, Ihsanullah Sherzad, Hazrat Omed, Yousaf Babak, and Badar Munir II
HRO vs AF Dream11 Top Picks & Key Players
Helsingborg Royals –
Prasanjit Behera – 55 runs and 6 wickets in 4 matches
Abinash Panda – 41 runs and 3 wickets in 4 matches
Gour Sadashiv – 6 wickets in 4 matches
Ariana AKIF–
Delawar Khan – 59 runs and 3 wickets in 2 matches
Khaled Mohammad – 57 runs in 2 matches
Yousaf Babak – 3 wickets in 1 match
HRO vs AF who will win today match?
As per our HRO vs AF Today Match Prediction, Ariana AKIF are expected to win both matches.
HRO vs AF Dream11 Team for Today Match
WK: A Panda, I Ullah Sherzad
BAT: K Mohammad, D Singh, D Singh
AR: D Khan (C), P Behera
BOWL: S Sahak, R Saproo, S Gour, Y Babak