Ivan Toney is an English professional footballer who plays as a striker for Premier League club Brentford. Toney became the youngest player to represent Northampton town when he made his first-team debut in 2012, and scored 13 goals in 60 matches across all competitions before joining Newcastle United in 2015. In his first season at Newcastle, he had two loans at Barnsley, winning the Football League Trophy and the League one playoffs. In 2018, he joined Peterborough United for an undisclosed fee, and was League One top scorer and Player of the Season in 2019/20. He then signed for Brentford, where he set the record for most goals scored in a Championship season, with 31 in the 2020/21 season, in which the team were promoted to the Premier League.
Also Read:- "Messi's move to PSG doesn't affect Cristiano's future": Leonardo Bonucci throws light on the recent rumours
Ivan Toney Stats: Championship 2020-21
Brentford have finally achieved promotion through the playoffs and will be playing in the Premier League for the first time in their history. Their talismanic striker Ivan Toney is without a doubt one of the key reasons for their ascent to the top division of English football. Toney bagged an audacious and record-breaking 31 goals in the Championship while also setting up 10 goals last season.
The 25-year-old is a great finisher who has shown his ability to be clinical time and time again; he is brilliant in the air and is a great header of the ball and also holds up the ball really well. He has almost all the major attributes you would want in a striker and scores all types of goals. Ivan Toney is also a great penalty taker, his penalty technique is superb and even though it's hard to execute, it's effective and gets the job done. He is undoubtedly a man with an abundance of talent, his mentality is also what makes him stand out from the rest and is something that suggests he could thrive in the Premier League. 
Also Read:- Real Madrid initiate legal battle against La Liga and Javier Tebas
Ivan Toney's thoughts on playing in the Premier League
"It feels like a long time coming, to be honest," Toney said in an interview with Sky Sports. "It has been a crazy journey with some emotional moments along the way. I am finally here now. It is up to me whether I continue to stay a Premier League player or just get caught up in the lights and fall back but I am sure that will not be the case."
"I am more physically ready. Mentally as well, which is important. Going on all those loan spells helped me massively. They turned me into a man quicker than I should have. I adapted to men's football a lot quicker and I feel like it has made me the player I am today. I am back in the Premier League and I cannot wait to get started."
Brentford are making their Premier League debut and were last in England's top tier in 1947. That has not stopped the former Newcastle striker from dreaming big.
When asked about the club's ambitions for the season, Ivan Toney told talkSport: "For the club, to win the league.
"We're not going into the league to try and finish just above the relegation zone; we want to finish as high as possible which is obviously first place.
"But we know it's going to be a massive ask; it's going to be a tough one. We're going to come up against the best players in the world but we've just got to focus on what we do best and that's aggressive football. We have a strong squad so who knows what we can achieve?
"Personally, I just want to remain healthy throughout the season, stay focused, get a fair number of goals and do well for my team."
What to expect from Brentford this season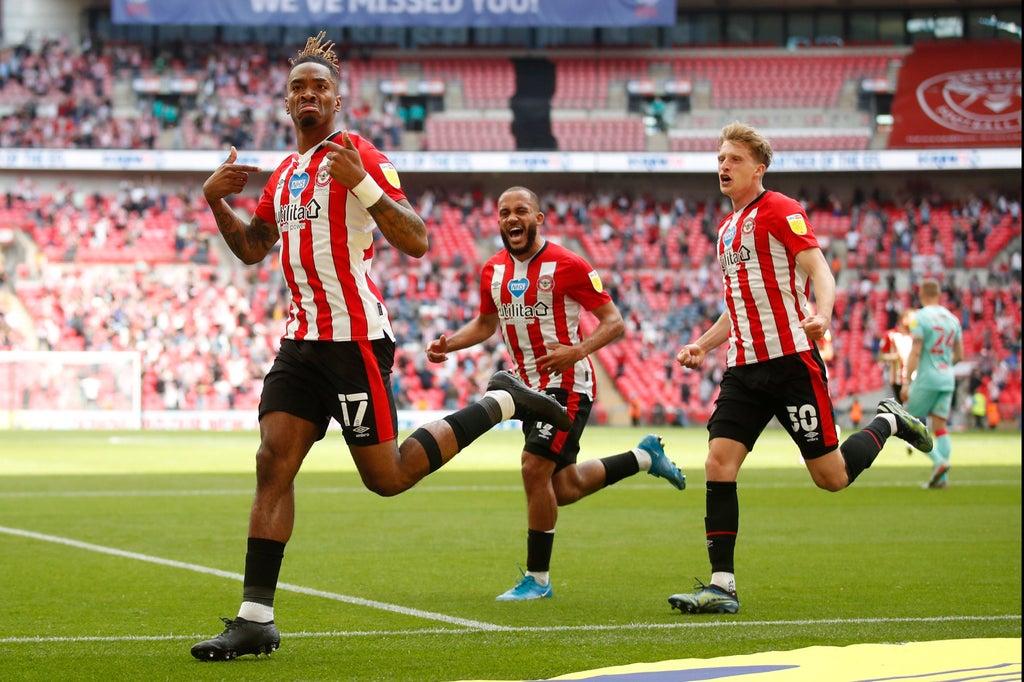 Toney is far from convinced that his side will be relegation fodder this year.
"There are always going to be people who expect you to go straight back down just because we've never been there," he said.
"But we're hungrier than ever to remain a Premier League club. There are people that will always doubt us but we don't listen to the haters."
Brentford will take on Arsenal at the Brentford Community Stadium on Friday evening to open the new Premier League season.
Toney said: "It's going to be exciting. We shouldn't get caught in the occasion; we have to concentrate.
"It will be tough and a bit surreal for some players, if not the majority of us, but I feel like we have to stay calm and do what we've been working on throughout pre-season.
"I'm sure we'll be alright. Not just this game but throughout the season."
Also Read:- Injury Update: Trent Alexander-Arnold throws light on the injuries of himself and Liverpool teammate Andrew Robertson