UFC
Jake Paul wants to face this 'Prime' UFC Fighter next ! Says it would be his toughest fight till date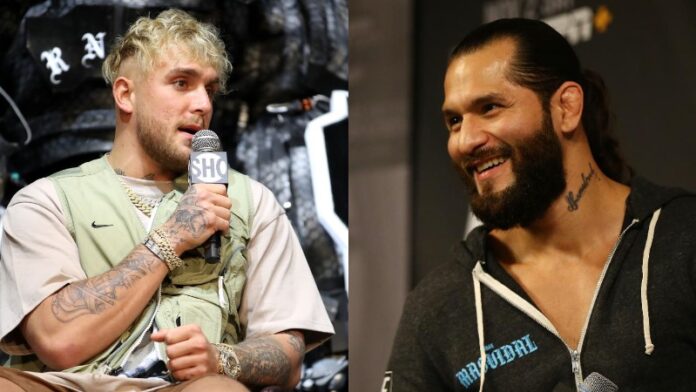 Youtuber turned professional boxer Jake Paul has turned his attention to UFC star Jorge Masvidal after defeating Tyron Woodley last week and might look to challenge the 36-year old once he is done with Tommy Fury in his upcoming fight.

Jake admitted having a 'lot of personal beef' with the Gamebred and said that he would love to fight him next. However, it must be noted that Jake Paul has to fight 22-year old professional boxer Tommy Fury before he could look for his next opponent and there is also a possible Tyron Woodley rematch on the card. Moreover, a fight with Jorge Masvidal seems highly unlikely given the UFC star is in his prime now and it will probably be a clean sweep for him. And by what we have learnt by now, Jake Paul picks his opponents 'very wisely'.

Jake Paul has a tempting offer from another UFC legend Vitor Belfort at the moment but the fact that Masvidal had backed Tyron Woodley in the match against him ,has heated up things between the two and caused the youtuber to turn his attention towards Masvidal.
You may also like:–
What Jake Paul Said
Talking to Ariel Helwani in an interview with MMA Hour, Jake Paul said he would love his next big fight to be Jorge Masvidal.

"I mean, honestly, just from a personal standpoint, I would love for it to be Masvidal."

"Just cause of the s**t talk. Just cause of his name. Just cause he's still in his prime era and there's a lot of personal beef there. I just took out his boy Tyron.

"But hopefully Dana [White] would let him out of his contract, but we're not sure if that can happen. But for me personally, I think that would be the toughest challenge, the toughest guy and the biggest name. The most relevant currently.

"I think that's the one to make. I think it will happen at some point regardless, but that's at the top of my list for sure."
However, Jake Paul ended the conversation by taking a dig at Dana White, saying that the fight would probably never take place in the first place as it would require his permission.

"We'll see," he said, before adding: "His dad Dana White just has to let him. That's what it comes down to.

"Dana wouldn't let [Georges St-Pierre] fight in that Triller Fight Club that he was trying to do. Dana blocked him from doing that, so Dana's just blocking everyone, being greedy.

"I think he's starting to realise I'm embarrassing a lot of his UFC fighters. It's a bad look for him but there is money to be made, so we'll see what ends up happening for sure."
It must be noted that Jake Paul was trained by Jorge Masvidal ahead of his fight against Ben Askren. Seeing the two turn against each other now will thus add to the excitement.

Jorge Masvidal has a 35-15-0 record in UFC. His last fight was against Kamaru Usman in the UFC welterweight division back in April, which marked his second consecutive defeat against the champion. However, he has just signed a new contract with UFC and is expected to make a comeback soon.