Fantasy Cricket Tips
JKP vs AF Dream11 Prediction Today – FanCode ECS T10 Malmo – Live Score Team News Top Picks, 5 August 2021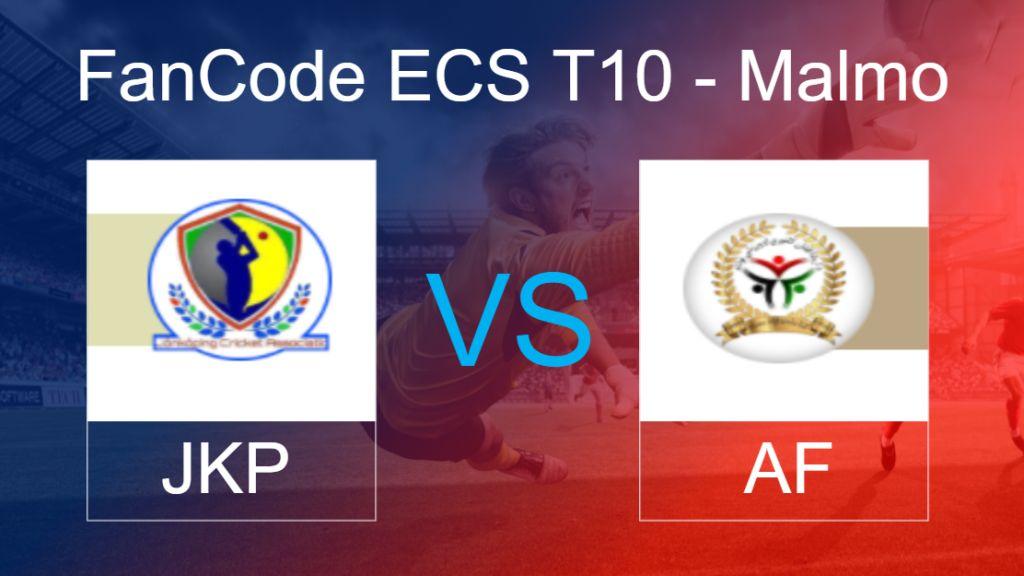 JKP vs AF Dream11
Jonkoping will face Ariana AKIF in their next two matches of the ECS T10 Malmo on Thursday. Ariana AKIF have been in brilliant form so far and they already have qualified for the quarterfinals. They sit 2nd in the Group A points table with 4 wins in 4 matches. They will be looking to continue marching ahead on their winning bandwagon.
Jonkoping, on the other hand, are having a mixed run so far. They are 3rd in the same group with 2 wins and 2 losses in 4 matches. They just need a single win in the remaining games to seal their berth in the knockouts. Let's take a look at JKP vs AF Dream11 Match Prediction for this ECS T10 Malmo fixture.
JKP vs AF Dream11 Today Match Prediction Details
Fancode ECS T10 Malmo – Match 15 & 16
Jonkoping vs Ariana AKIF
Date: Thursday, 4 August 2021
Time: 4:00 PM & 6:00 PM
Venue: Landskrona Cricket Club
Check the Live Scores – CLICK HERE
JKP vs AF Live Streaming: Fancode
JKP vs AF Dream11 Tips & Prediction – Team News
Jonkoping Squad:
Bilal Munir (C), Sami Ibrahimkhil, Talha Omer, Umar Zaidi, Usman Ali, Riaz Khan, Zabiullah Zadran, Sheikh Asad, Muhammad Tanveer, Sahargul Shirzad, Rehman Babar, Sai Rao, Sohail Wattoo, Muhammad Ismail, Bhavya Patel, Mujahid Siddique, Shubham Kadam, Subhan Arshad, Zubari Zia, Adil Javiad, Ahmed Sajjad, and Sohail Mosazai
JKP Playing 11 (Probable):
Ahmed Sajjad, Muhammad Ismail, Muhammad Tanveer, Bhavya Patel, Bilal Munir (C & WK), Sami Ibrahimkhil, Sohail Mosazai, Rehman Babar, Sahargul Shirzad, Talha Omer, and Zabiullah Zadran
Ariana AKIF Squad:
Dharmender Singh (C), Imran Khan, Farid Mohammad, Zabiullah Waradak, Yousaf Babak, Sedik Sahak, Hazrat Omed, Karan Singh, Khaled Mohammad, Rahatullah, Javid Khan, Krishna Digumurthi, Qaiser Mahmood, Sreekanth Medavarapu, Mahmood Hijazi, Mazhar Khan, Pawan Kumar, and Ihsan Shirzad
AF Playing 11 (Probable):
Dharmender Singh (C), Ihsan Shirzad (WK), Imran Khan, Javid Khan, Khaled Mohammad, Krishna Digumurthi, Mahmood Hijazi, Maly Gholam, Rahatullah Rahatullah, Sreekanth Medavarapu, and Yousaf Babak
JKP vs AF Dream11 Top Picks & Key Players
Jonkoping –
Zabiullah Zadran – 55 runs and 4 wickets in 4 matches
Muhammad Ismail – 43 runs in 2 matches
Rehman Babar – 4 wickets in 4 matches
Ariana AKIF –
Delawar Khan – 59 runs and 3 wickets in 2 matches
Ihsan Shirzad – 58 runs in 3 matches
Dharmender Singh – 4 wickets in 4 matches
JKP vs AF who will win today match?
As per our JKP vs AF Today Match Prediction, Ariana AKIF are likely to win both matches.
JKP vs AF Dream11 Team for Today Match
WK: I Ullah Sherzad
BAT: S Ibrahimkhil, Z Zadran (VC), K Mohammed, D Singh
AR: S Shirzad, K Digumurthi, J Khan (C)
BOWL: B Patel, B Rehman, Y Babak