Fantasy Cricket Tips
JKP vs ARI Dream11 Prediction Today – FanCode ECS T10 Malmo – Live Score Team News Top Picks, 4 August 2021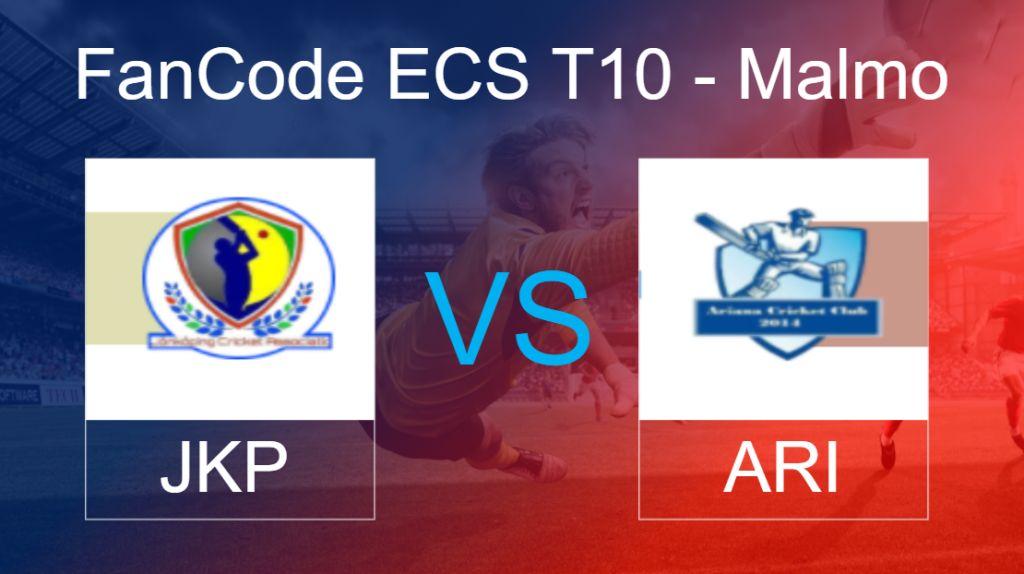 JKP vs ARI Dream11
Jonkoping will face Ariana CC in their next pair of the fixtures of the ECS T10 Malmo on Wednesday. Both sides made a positive start in the competition and they will now look to consolidate their position in Group A. Ariana CC have played 4 matches so far and registered 3 wins alongside one loss.
Jonkoping, on the other hand, also made a dominating start to their respective campaign. They won both of their first two matches and will look to keep moving forward on their winning bandwagon. Let's take a look at JKP vs ARI Dream11 Match Prediction for this ECS T10 Malmo fixture.
JKP vs ARI Dream11 Today Match Prediction Details
Fancode ECS T10 Malmo – Match 11 & 12
Jonkoping vs Ariana CC
Date: Wednesday, 4 August 2021
Time: 4:00 PM & 6:00 PM
Venue: Landskrona Cricket Club
Check the Live Scores – CLICK HERE
JKP vs ARI Live Streaming: Fancode
JKP vs ARI Dream11 Tips & Prediction – Team News
Jonkoping Squad:
Sami Ibrahimkhil, Sai Rao, Sohail Wattoo, Bilal Munir, Talha Omer, Umar Zaidi, Usman Ali, Shubham Kadam, Subhan Arshad, Zubari Zia, Adil Javiad, Ahmed Sajjad, Zabiullah Zadran, Muhammad Ismail, Bhavya Patel, Mujahid Siddique, Sheikh Asad, Muhammad Tanveer, Riaz Khan, Sahargul Shirzad, Rehman Babar, and Sohail Mosazai
JKP Playing 11 (Probable):
Riaz Khan, Zabiullah Zadran, Sahargul Shirzad, Samiullah Ibrahimkhil, Muhammad Ismail, Sohail Mosazai, Muhammad Tanveer, Talha Omer, Bilal Munir, Babar Rehman, and Bhavya Patel
Ariana CC Squad:
Adam Ahmadzay, Wali Muhammad, Absar Khan, Ahmed Zadran, Bashir Ahmed, Noor Zadran, Nusuratullah Sultan, Dawood Shirzad, Norullah Mohammad, Baz Ayubi, Hamed Arabzai, Mahmood Babar, Omar Zadran, Aryan Sarweri, Asif Meer, Atif Mohammad, Wahid Sharifi, Yusuf Sahak, Zamin Zazai, and Qader Khan
ARI Playing 11 (Probable):
Mahmood Babar, Mohammad Ayubi, Absar Khan, Zamin Zazai, Aryan Sarweri, Bashir Ahmed, Nusratullah Sultan, Qader Khan-I, Hamed Arabzai, Baz Dawood Shirzad, and Yusuf Sahak
JKP vs ARI Dream11 Top Picks & Key Players
Jonkoping –
Zabiullah Zadran – 55 runs and 3 wickets in 2 matches
Muhammad Ismail – 43 runs in 2 matches
Bhavya Patel – 2 wickets in 2 matches
Ariana CC –
Nusratullah Sultan – 114 runs and 3 wickets in 4 matches
Yousuf Sahak – 27 runs and 9 wickets in 4 matches
Dawood Shirzad – 9 wickets in 4 matches
JKP vs ARI who will win today match?
As per our JKP vs ARI Today Match Prediction, Both teams could win one game each.
JKP vs ARI Dream11 Team for Today Match
WK: N Sultan (C)
BAT: S Ibrahimkhil, Z Zadran (VC), B Ahmed
AR: M Ismail, S Shirzad, B Mohammad
BOWL: B Patel, D Shirzad, A Khan, Y Sahak