Football Transfer News
"Lionel Messi's Transfer does not break the rules of FFP": PSG President Nasser El Khelaifi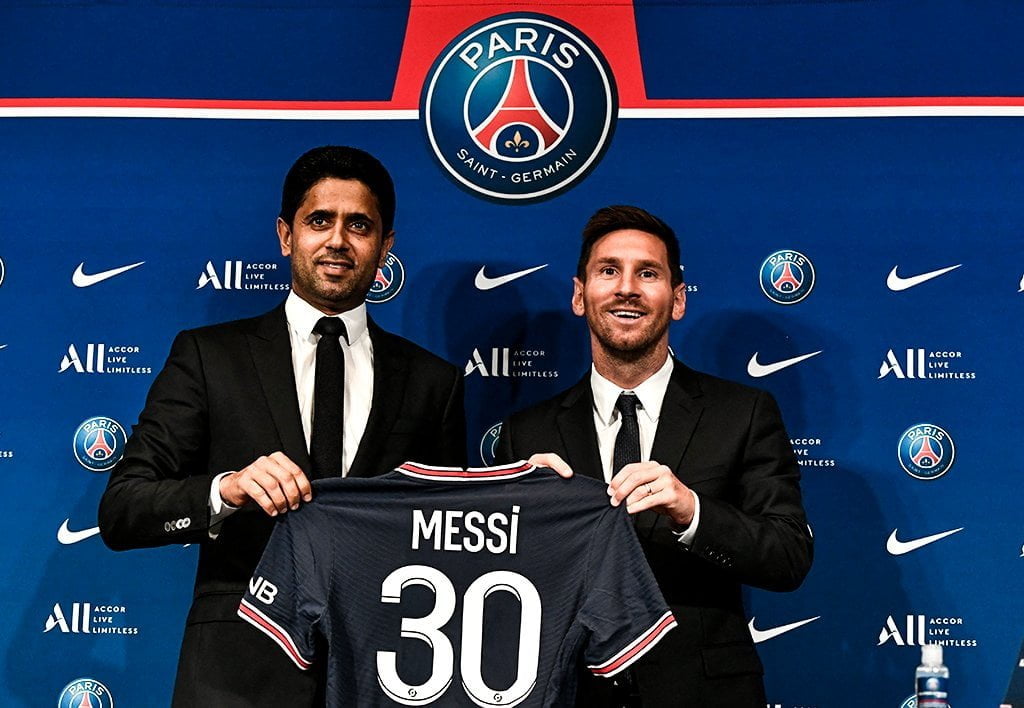 Paris Saint German's president Nasser Al-Khelaifi on Wednesday said that Lionel Messi's signing is in line with European Financial Fair Play (FPP) rules. The club's wage bill has reached new heights this summer after Georgino Wijnaldum, Sergio Ramos, Achraf Hakimi, Gianluigi Donnarumma and now Lionel Messi joined the club this summer.

Meanwhile, big-earners Neymar and Kylian Mbappe are still on the books, raising questions about how PSG can add Messi to the wage bill without breaking the rules. But the club's president is confident that they can afford the wages without breaking UEFA's Financial Fair Play rules.
Also Read:- Ivan Toney: Brentford's Hero has big plans for Premier League 2021-22
Nasser El Khelaifi's claims about Lionel Messi's signing
"We follow the financial fair play rules," Nasser al-Khelaifi told a news conference alongside Messi.

Al-Khelaifi says the French giants can justify the addition of the 34-year-old, telling reporters: "Regarding the financial aspect, I will make it clear: we know the rules of Financial Fair Play and we will always follow the regulations.

"Before we do anything, we check with our commercial, financial and legal people.

"We have the capacity to sign him. If we sign Leo, it's because we can, otherwise we would not have done it.

"What Leo brings to the club is huge, which you can see just outside. He is a big asset for the club.

"I hope Leo will not ask for a raise, but what we have is fantastic!"

Although the Ligue 1 side did not have to pay a transfer fee to land the six-time Ballon d'Or winner, Messi's arrival will cost the club a lot of money. Al-Khelaifi says the world will be "shocked" by the financial revenues generated by the club's signing of global soccer superstar Lionel Messi.

Lionel Messi signed a two-year deal with an option for a third, which is said to be worth around €35m per season. Messi signed a two-year deal with PSG, with an option for a third, that will net him an annual salary of $41 million plus bonuses. Al-Khelaifi says the other presidents in the French top-flight are grateful to the club for bringing Messi to the country as they expect the rest of the league to benefit from his presence.
Also Read:- "Messi's move to PSG doesn't affect Cristiano's future": Leonardo Bonucci throws light on the recent rumours

"In terms of the impact on Ligue 1, I think the championship is going up a level. In TV rights, too, I hope, or in commercial partnerships," he added.

"Everyone now wants to see Messi's PSG, which increases the value of other clubs.
"The other presidents thanked me for the arrival of Leo. We are not only doing this for the club, but also for France and Ligue 1."

Kieran Maguire, lecturer in football finance at the University of Liverpool, told CNBC on Wednesday that while the deal may not have a huge commercial impact on France's ailing Ligue 1, it will further bolster the already dominant PSG.

"They put 150,000 shirts on sale on their website last night at 10 p.m. U.K. time and they had sold out within seven minutes, so there are certainly opportunities from commercializing and monetizing the Messi name, and that will have allowed the club to have funded his salary," Maguire said.

Along with looking to regain the French Ligue 1 title, PSG is seeking an elusive first UEFA Champions League crown, having fallen to Manchester City in the semi-final last year. Owners Qatar Sports Investment have spent extravagantly to build a star-studded squad in the hopes of dominating European football.

"I'm really looking forward to getting out there in the field, and my hopes of winning remain intact, and that is the reason why I am here," Lionel Messi told in the press conference.
"I want to win another Champions League and I think I'm in the right place to do that."
Also Read:- Real Madrid initiate legal battle against La Liga and Javier Tebas