Fantasy Cricket Tips
LND vs GOC Dream11 Prediction Today – FanCode ECS T10 Malmo – Live Score Team News Top Picks, 11 August 2021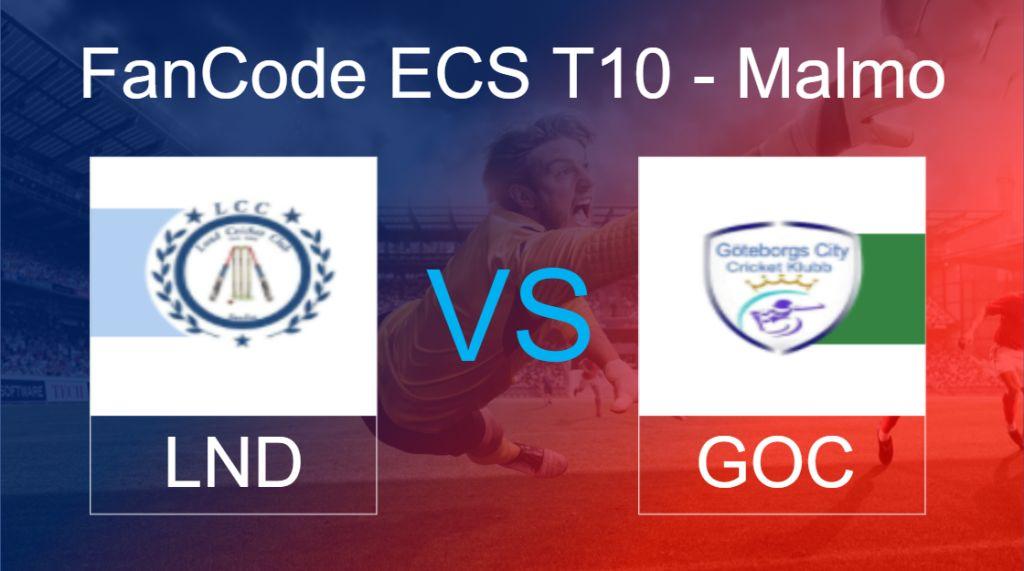 LND vs GOC Dream11
With a target of reaching the quarterfinals, Lund and Goteborg City will lock horns in the next two fixtures of the ECS T10 Malmo on Wednesday. Lund have been in a rampant form so far as they are yet to lose a game in the competition. They sit at the top of the Group B points table with 3 wins and one abandoned game in 4 matches.
Goteborg City, on the other hand, have also done well in their space. After 4 matches, they sit 3rd in the same group with 3 wins and a single loss. While both teams have already booked their berth in the knockouts stage, they will be aiming to finish at the top. Let's take a look at LND vs GOC Dream11 Match Prediction for this ECS T10 Malmo fixture.
LND vs GOC Dream11 Today Match Prediction Details
Fancode ECS T10 Malmo – Match 35 & 36
Lund vs Goteborg City
Date: Wednesday, 11 August 2021
Time: 4:00 PM & 6:00 PM
Venue: Landskrona Cricket Club
Check the Live Scores – CLICK HERE
LND vs GOC Live Streaming: Fancode
LND vs GOC Dream11 Tips & Prediction – Team News
Lund Squad:
Javed Mohammad, Liji George, Shashank Bhanuprakash, Happy Singh, Praveen Papareddy, Inder Singh, Fainaz Inamdeen, Farhad Hemat, Priyesh Ranjan, Nabeel Sayed, Chinthan Rai, Debarchan Dash, Ashfar Ali, Puneeth Shivarudrappa, Sunny Beerla, Jerome Jeevanandham, Ovais Syed, Ali Ihsan, Usman Zia, Wahab Hassan, Revanth Thiruvallur, and Oktai Gholami
LND Playing 11 (Probable):
Debarchan Dash, Oktai Gholami, Ashfaq Ali, Hardeep Virk (C & WK), Wahab Ul Hassan, Shashank Bhanuprakash, Praveen Papareddy, Puneeth Shivarudrappa, Chandan Reddy/Inder Singh, Priyesh Ranjan, and Haroon Malik
Goteborg City Squad:
Abu Zar, Shadin Mahmud, Mohammad Rahat, Raheem Khan, Ashad Ali, Joseph Pasam, Asghar Khan, Rejin Balachandran, Vikas Dixit, Manoj Revanth, Qasir Mahmood, Sachin Patkar, Harinder Singh, Hasibur Rahman, Mahib Shahin, Vimal Kumar, Aslam Adnan, Dinesh Raju, Avinash Ketty, Danyal Siddiqui, Dharmendra Challapalli, Shehzad Aslam, and Umar Usman
GOC Playing 11 (Probable):
Rahim Safi, Mahib Shahin, Qasir Mahmood, Abu Zar (C), Umar Usman (WK), Danyal Siddiqui, Sachin Patkar, Ashad Ali, Asghar Khan, Hasibur Rahman, and Vikas Dixit
LND vs GOC Dream11 Top Picks & Key Players
Lund –
Wahab Hassan – 78 runs and 4 wickets in 4 matches
Debarchan Dash – 67 runs and 2 wickets in 4 matches
Haroon Malik – 3 wickets in 2 matches
Goteborg City –
Abu Zar – 86 runs in 4 matches
Rahim Safi – 83 runs and 4 wickets in 4 matches
Mahib Shahin – 6 wickets in 4 matches
LND vs GOC who will win today match?
As per our LND vs GOC Today Match Prediction, both sides are expected to win one game each.
LND vs GOC Dream11 Team for Today Match
WK: H Virk, O Gholami
BAT: S Bhanuprakash, S Siddqui, A Zar
AR: D Dash, M Shahin (C), R Safi (VC)
BOWL: W Ul Hassan, A Ali, H Malik