Fantasy Cricket Tips
MAM vs HSG Dream11 Prediction Today – FanCode ECS T10 Malmo – Live Score Team News Top Picks, 11 August 2021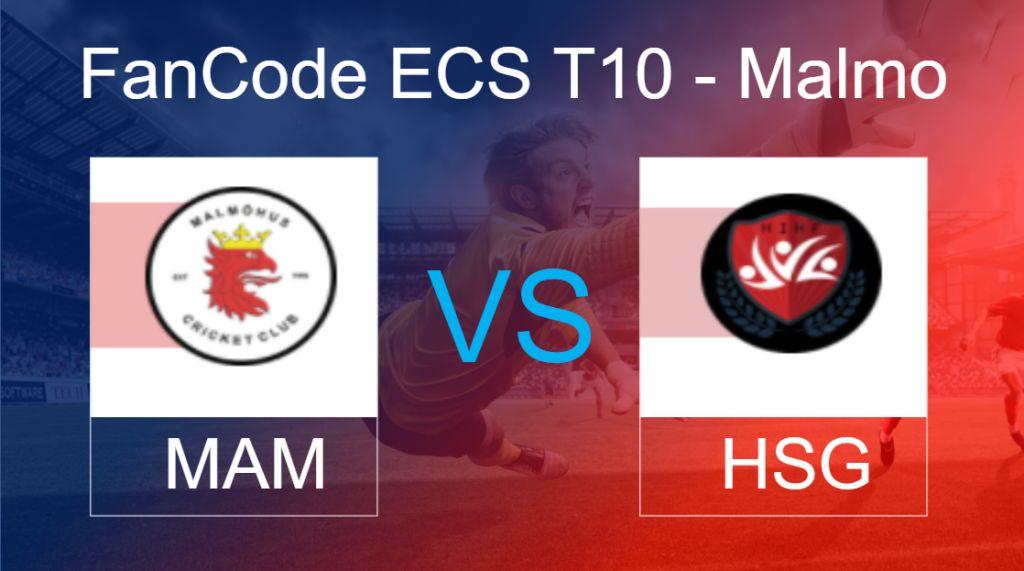 MAM vs HSG Dream11
In their quest to reach the knockouts stage, Malmohus will face Hisingens in their next two games of the ECS T10 Malmo. Hisingens have had a horrible run in the competition so far as they are yet to open their account. They have lost all of the 4 matches they have played and they must win these two matches to stay alive in the competition.
Malmohus, on the other hand, have had mixed run with 2 wins and 3 losses in 6 matches, alongside one abandoned game. They just need a single win in the remaining 2 matches to book their berth in the quarterfinals. Let's take a look at MAM vs HSG Dream11 Match Prediction for this ECS T10 Malmo fixture.
MAM vs HSG Dream11 Today Match Prediction Details
Fancode ECS T10 Malmo – Match 33 & 34
Malmohus vs Hisingens
Date: Wednesday, 11 August 2021
Time: 12:00 PM & 2:00 PM
Venue: Landskrona Cricket Club
Check the Live Scores – CLICK HERE
MAM vs HSG Live Streaming: Fancode
MAM vs HSG Dream11 Tips & Prediction – Team News
Malmohus Squad:
Rizwan Tarar, Sundaram Srivastava, Hari Krishna, Usman Safi, Ankit Gupta, Ben Tew, Nooryaleh Anwari, Shailesh Kachhi, Sheron Nord, Mahesh Kunapuli, Faraz Muneer, Khurram Shahzad, Shahbaz Hussain, Naz Maddy, Ashish Rajput, Dheeraj Malhotra, Gopi Devulapally, Sambit Pattanaik, Sardar Ibrahimkhel, and Raseka Danasekera.
MAM Playing 11 (Probable):
Raseka Danasekara (WK), N Madhavan, Adam Sarten, Ankit Gupta (C), Sheron Nord, Faraz Muneer, Dheeraj Malhotra, N Anwari, S Hussain, G Krishna, and R Ashraf
Hisingens Squad:
Abdul Ismail, Shankar Padmanabhan, Sriram Sridhar, Joracin John, Rakesh Srikanth, Srikannan Selvaraj, Sri Vakkalanka, Rajeev Swain, Shashan Singh, Sukavanesh Mathisekaran, Teja Darisipudi, Abhinav Kamma, Nijamudeen Hameed, Mohammed Mubarak Ali, Chaitanya Kilari, Gokul Seenivasan, Janardhana Kakarla, Naresh Reddy, Raja Mavuduru, and Sudheer Kavala
HSG Playing 11 (Probable):
Sriram Sridhar, Srikannan Selvaraj, Gokul Seenivasan (C), Abhinav Kamma, Joracin John, Sudheer Kavala, Sri Vakkalanka (WK), Raja Mavuduru, Teja Darisipudi, Chaitanya Kilari, and Mohammed Mubarak Ali
MAM vs HSG Dream11 Top Picks & Key Players
Malmohus –
Dheeraj Malhotra – 165 runs and 8 wickets in 6 matches
Ankit Gupta – 173 runs in 6 matches
Ashish Rajput – 4 wickets in 4 matches
Hisingens –
Gokul Seenivasan – 61 runs and 7 wickets in 4 matches
Raja Mavuduru – 3 wickets in 4 matches
Sriram Sridhar – 3 wickets in 4 matches
MAM vs HSG who will win today match?
As per our MAM vs HSG Today Match Prediction, Malmohus are expected to win both matches.
MAM vs HSG Dream11 Team for Today Match
WK: A Gupta
BAT: S Pattnaik, D Malhotra (C), A Ismail
AR: G Seenivasan (VC), A Rajput, N Shahul H
BOWL: F Muneer, A Sarten, R Mavuduru, S Sridhar