Fantasy Cricket Tips
MAM vs LAN Dream11 Prediction Today – FanCode ECS T10 Malmo – Live Score Team News Top Picks, 9 August 2021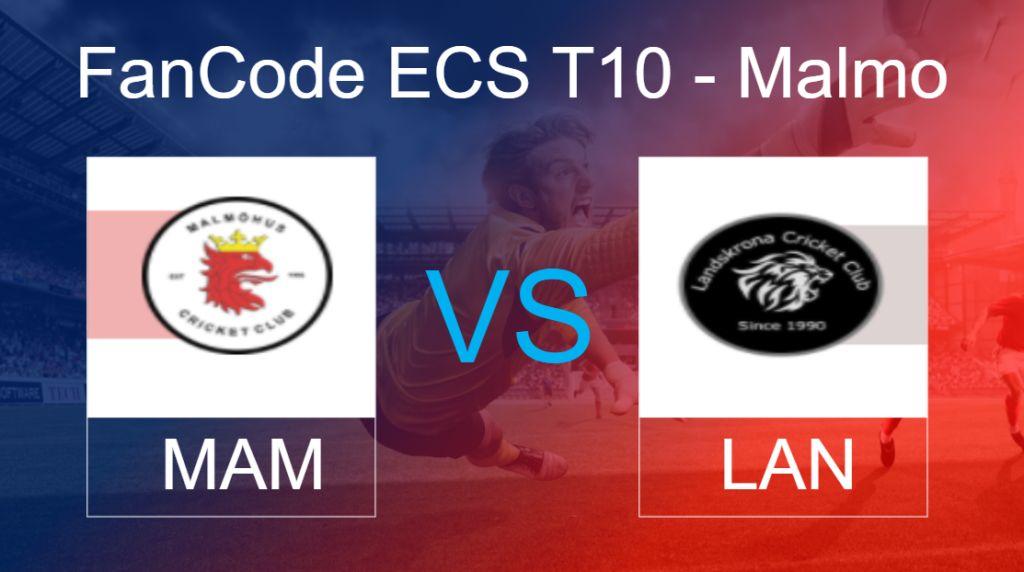 MAM vs LAN Dream11
Malmohus will take on Landskrona in their next pair of fixtures in the ongoing ECS T10 Malmo. Both sides had a difficult start to their respective runs in the competition. Landskrona lost both of their first two matches and now languishing at the bottom of the points table.
Malmohus, on the other hand, lost one game while another game was washed out because of rain. Both teams now will try to notch up their first victory in the competition. Let's take a look at MAM vs LAN Dream11 Match Prediction for this ECS T10 Malmo fixture.
MAM vs LAN Dream11 Today Match Prediction Details
Fancode ECS T10 Malmo – Match 25 & 26
Malmohus vs Landskrona
Date: Monday, 9 August 2021
Time: 12:00 PM & 2:00 PM
Venue: Landskrona Cricket Club
Check the Live Scores – CLICK HERE
GOC vs LAN Live Streaming: Fancode
MAM vs LAN Dream11 Tips & Prediction – Team News
Malmohus Squad:
Rizwan Tarar, Usman Safi, Ankit Gupta, Ben Tew, Mahesh Kunapuli, Nooryaleh Anwari, Shailesh Kachhi, Sheron Nord, Faraz Muneer, Ashish Rajput, Dheeraj Malhotra, Naz Maddy, Sambit Pattanaik, Sardar Ibrahimkhel, Gopi Devulapally, Khurram Shahzad, Shahbaz Hussain, Sundaram Srivastava, Hari Krishna, and Raseka Danasekera.
MAM Playing 11 (Probable):
Ankit Gupta, Raseka Danasekara, N Madhavan, Sheron Nord, Faraz Muneer, Dheeraj Malhotra, N Anwari, S Hussain, G Krishna, R Ashraf, and M Kunapali
Landskrona Squad:
Nadeem Khan, Aniket Kharade, Imran Kiyani, Qaiser Zaman, Rameez Dalvi, Saghar Hanif, Amritanshu Singh, Austin Moses, Sushant Devata, Mayank Chauhan, Varun Dhingra, Sai Krishna, Palash Jha, Javid Khan, Sumanth Raghavendra, Tuseef Walayat, Deepak Nayak, Anuj Gautam, and Nishant Raj
LAN Playing 11 (Probable):
Nadeem Tariq Khan, Nishant Raj, Sushant Kumar Devata, Sushant Kumar Devata, Javid Khan Shenwari, Mayank Chauhan, Imran Razzaq Kiyani, Saghar Muhammad Hanif, Palash Jha, Rameez Abdulghani Dalvi, and Varun Dhingra
MAM vs LAN Dream11 Top Picks & Key Players
Malmohus –
Dheeraj Malhotra – 56 runs and 2 wickets in 2 matches
Faraz Muneer – 1 wicket in 2 games
Ankit Gupta – 30 runs in 2 matches
Landskrona –
Imran Kiyani – 68 runs and 4 wickets in 2 matches
Ramiz Dalvi – 36 runs in 2 matches
Varun Dhingra – 3 wickets in 2 matches
MAM vs LAN who will win today match?
As per our MAM vs LAN Today Match Prediction, Malmohus are expected to win both matches.
MAM vs LAN Dream11 Team for Today Match
WK: A Gupta
BAT: R Ashraf, D Malhotra (VC), I Razzaq Kiyani (C), S Muhammad
AR: A Rajput, R Abdulghani D
BOWL: F Muneer, A Sarten, A Singh, V Dhingra