Neeraj Kumar is a national volleyball player, who plays as a universal in the Delhi team and is also vice-captain of the Delhi Team. He worked hard and practiced daily to fulfill his dreams to play on the Indian Volleyball team.
He was born on 12-08-1990 in Delhi. His father's name is Awadhesh Singh, & mother's name is Indu Devi. Bihar (District- Siwan) is the hometown of this Volleyball legend. His interest has been in sports since childhood, and he started playing volleyball at the age of 12. Neeraj Kumar once said that his family and parents always supported his passion for Volleyball.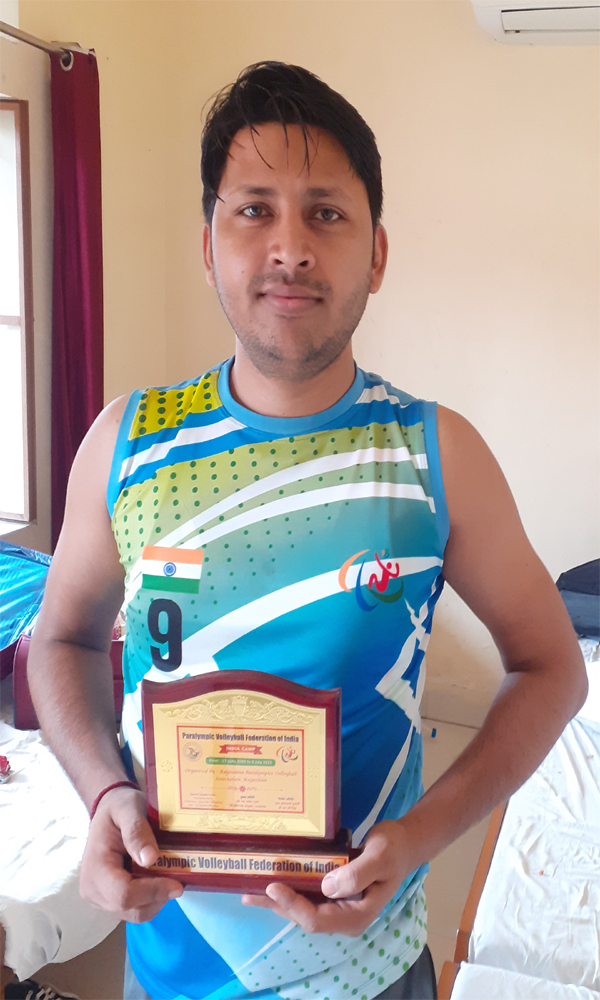 His coach Pawan Khokhar guided him and Neeraj Kumar took training under him. Even after being disabled with one leg, He practiced & played with physically fit players and, his fellow players always motivated him, especially Santosh Rai was always confident in him. He played zonal and state in his domestic career and & also played regional tournaments where he was awarded the Man of the match.
He got married to Shweta Kumari Singh on 20th November 2017 after that in 2020 his son Astitva was born.
Profile-
Date of Birth – Aug 12, 1990
Nationality – Indian
Weight – 62
Height – 5,6″
Position – Universal
Team Played for
Delhi – 8th Senior Sitting para Volleyball National Championship, 26 Jul 2019 – 28 Jul 2019, Venue Chennai, Tamilnadu, India
Delhi – 9th Senior Sitting Para Volleyball National Championship, 26 Mar 2021-28 Mar 2021, Venue Bhiwani, Haryana, India
On 27th June to 5th July 2022 participated in the India camp of Para Volleyball