Nick Heidfeld Biography: Nick Lars Heidfeld is a professional racing driver from Germany. Despite often being on the podium with Williams in 2005 and BMW Sauber in 2007 and 2008, Heidfeld never won a race after making his Formula One debut in 2000.
Nick Heidfeld Biography
Nick Heidfeld Biography: Nick Heidfeld was born on May 10, 1977, in Mönchengladbach, West Germany, and began racing karts when he was 11 years old in 1988. In 1994, he went into the German Formula Ford series, where he won 8 of the nine races to win the championship that year. He won the German International Formula Ford 1800 Championship in 1995 and finished second in the Zetec Cup. This led to a drive in the 1996 German Formula Three Championship, where he finished third after three victories. He competed in the season-ending Macau Grand Prix and won the first heat, catching the eye of compatriot Norbert Haug, who eventually signed him up for the West Competition team.
Nick Heidfeld Wiki
| | |
| --- | --- |
| Name | Nick Heidfeld |
| Date Of Birth | May 10, 1977 |
| Birth Place | Mönchengladbach, West Germany |
| Height | 5′ 6″ |
| Weight | 59Kg |
| Zodiac Sign | Taurus |
| Profession | Racing Driver |
| Net Worth | $18 Million |
| Car Collection | N/A |
Also Read: Alessandro Zanardi Biography, Wiki, Height, Weight, Racing Career& Net Worth
Nick Heidfeld Career
Alongside Formula One veteran Jean Alesi, Heidfeld was recruited to drive for the Prost Grand Prix F1 team during the 2000 season. Heidfeld struggled with his new car and suffered a series of retirements and multiple crashes with his teammate.
He left Prost after that season and signed a three-year deal with Sauber for 2001. He had been teamed with beginner driver Kimi Raikkonen at the time. Heidfeld's third-place result in the Brazilian Grand Prix was his first podium. After Mika Hakkinen's retirement announcement, many believed that Nick Heidfeld would replace him in the McLaren-Mercedes team, as he was backed by Mercedes and had scored three more points than the much less experienced Kimi Raikkonen. However, the McLaren seat was awarded to Raikkonen, and Heidfeld remained with Sauber for 2002 and 2003, gaining some points finishes. In 2002, he outperformed another rookie colleague, Felipe Massa, but in 2003, he was defeated by his more seasoned compatriot, Heinz-Harald Frentzen.
Heidfeld was replaced at the Sauber team by Jordan's Giancarlo Fisichella after the 2003 season and appeared to be without a race seat for the 2004 season. However, after several impressive preseason tests, it was announced that Heidfeld would race alongside rookie Giorgio Pantano for the financially struggling Jordan team. The EJ14, an improvement over the uncompetitive EJ13 from the previous season, proved slow. Despite this, Heidfeld frequently outperformed the vehicle and finished ahead of more competitive cars. He concluded the season with three points after finishing seventh at the Monaco Grand Prix and eighth at the Canadian Grand Prix.
During the winter of 2004–2005, Heidfeld tested with the Williams team in a shootout with Antônio Pizzonia for the second race seat alongside Mark Webber. At the 31 January 2005 launch of the Williams team, it was declared that Heidfeld would replace Juan Pablo Montoya as the team's race driver in 2005.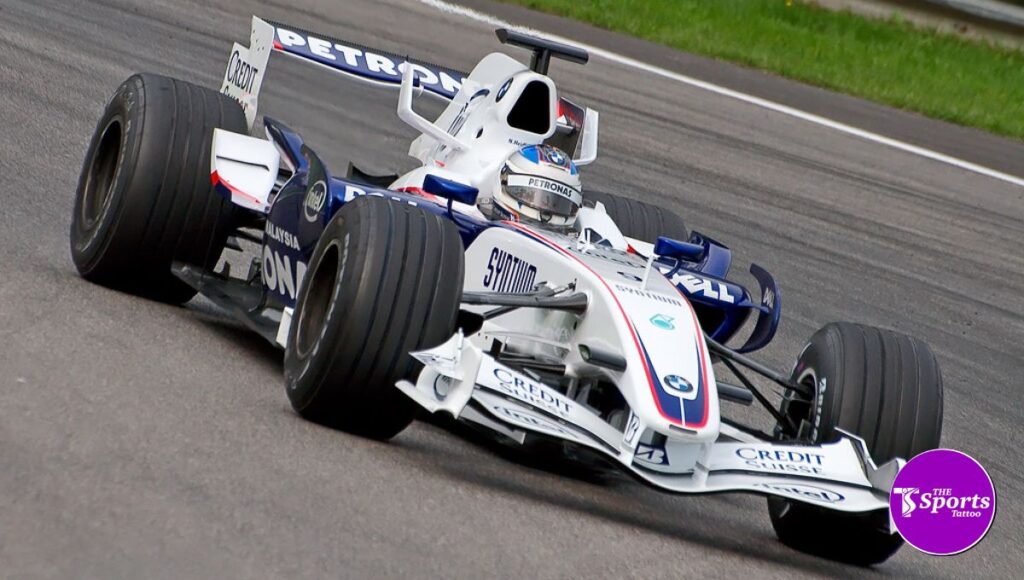 Throughout the season, he consistently finished clear of teammate Webber. At his native Grand Prix, the seventh race of the 2005 season at the Nürburgring circuit, Heidfeld earned his first and only pole position. In the same season, he finished second in Monaco and the Nürburgring.
Due to injuries sustained during testing, Heidfeld missed the Italian and Belgian Grands Prix. Scheduled to return for Brazil, he was struck by a motorcycle while cycling and later forced to miss the remainder of the season. Heidfeld obtained a contract with BMW, the engine supplier for his then-team Williams, when BMW purchased the Sauber team and entered F1 as BMW Sauber for the 2006 season, replacing Felipe Massa, who was headed to Ferrari.
Heidfeld returned to Formula One in September 2010, replacing Pedro de la Rosa at Sauber for the remainder of the 2010 season. This was his third time with the organization. On 4 October 2010, Sauber announced Kamui Kobayashi and Sergio Pérez as their 2011 drivers, leaving Heidfeld allegedly without a drive for 2011 before replacing Robert Kubica, injured in a rally accident on 6 February 2011.