Fantasy Cricket Tips
RGC vs ETR Dream11 Prediction, Fantasy Cricket Tips, Dream11 Team, My11 Circle, Pitch Report, News, Top Picks, and Injury Update – FanCode ECS T10 Gibraltar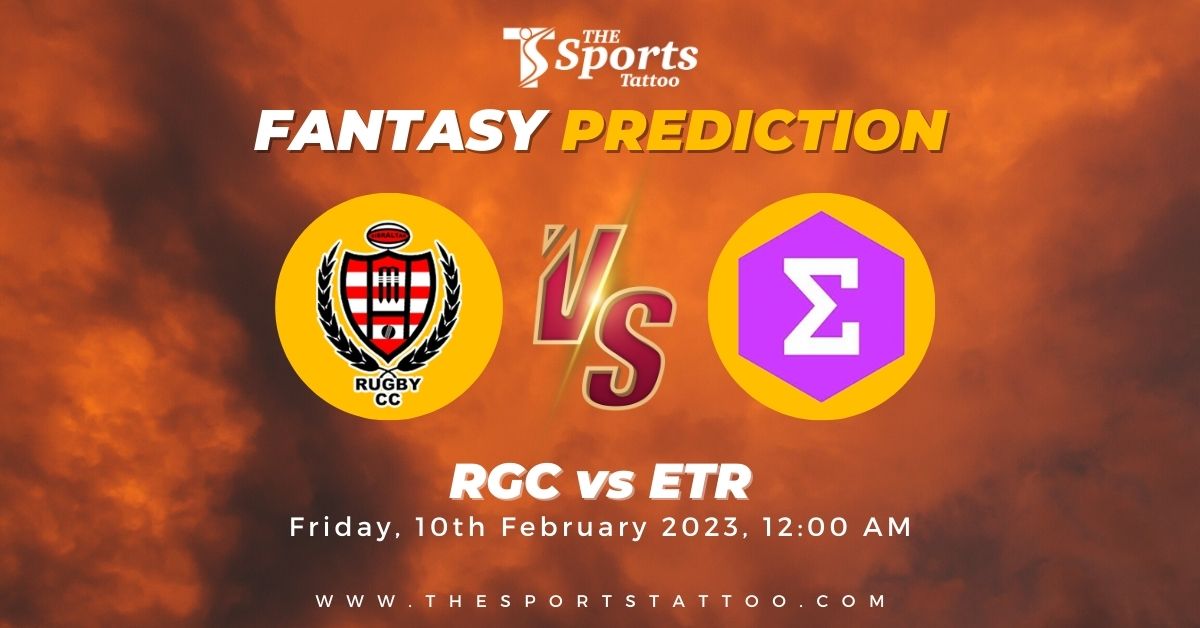 RGC vs ETR Dream11 Prediction: Rugby CC will take on Entainers in the 41st and 42nd matches of today's FanCode ECS T10 Gibraltar fixtures. Both teams have already played plenty of games in this tournament and are well aware of the pitch conditions.
Rugby CC has managed to register 9 wins out of the 18 games they had played this season. They lost their last two games back to back and their previous defeat came against Entainers by 4 runs. They are now placed in the third position in the league standings with 18 points in their account.
On the other hand, Entainers is the strongest team among all four. They have managed to register 15 wins out of the 20 games they played. They registered back-to-back wins in their last 13 games and their previous win came over Pirates by 9 wickets. They are now placed at the top of the league standings with 30 points in their account. Let's take a look at the RGC vs ETR Dream11 Match Prediction and Dream11 team for today match.
RGC vs ETR Dream11 Today Match Prediction Details
FanCode ECS T10 Gibraltar
Rugby CC vs Entainers
Date: Friday, 10th February 2023
Time: 12:00 AM
Venue: Europa Sports Complex, Gibraltar
Follow the Live Cricket Scores on the Sports Tattoo
Rugby CC vs Entainers match will be streamed online on the Dream11-sponsored FanCode app. Viewers can also watch live scores on The Sports Tattoo.
RGC vs ETR Dream11 Prediction Today – Team News
Rugby CC (RGC):
Iain Latin(C), Jack Milner, Robert Azopardi, David Quach, Matthew Warner, John Mathews, Ali Nurse, Chris Watkins(WK), Kamran Chaudhary, Samarth Bodha, Russ Williams, Anthony Murto, Atoloye Adetayo, Steve McEwan, Bjorn Smith(WK), James Munden, Benjamin Jones(WK), Jamie Templeton, Greg Davies, Alan Buchanan, Matt Axon, Damian White, Euan Strathearn, Matthew Alaxander, Sebastian Suarez, Kian Ronan, Dave Barley(WK), Rohit Shukla, Harry Pile(WK), Jeremy Chirat, Jon Tricker, Steve Cary, Nikhil Advani, Vipul Surti, Dheeray Punjabi, Zachary Simpson, Christopher Gomila, Mohamed Roshan, Thomas Ramagge, Richard Hatchman.
Entainers (ETR):
Paddy Hatchman, Thomas Phillips, Myles Goodfellow(WK)(C), Tom Bedson, Louis Bruce, Avinash Pai, Lee Sims, Steven Gonzalez, Charles Borastero(WK), Gideon Crichton, Jack Horrocks, Andrew Bruce, Amit Malhotra, Timothy Anderson(WK), Shafeer Mohammad, Shazmeer Ranjin, Andrew Cromb(WK), Mohamed Faizan, Scott Blake, David Powers, Joe Waine, Carlos Espinosa, Muaz Ahmed, Jaime Riley, Matthew Whelan, James Riley, Harshdeep Singh, Egan Dantis, Ashesh Jani.
RGC Probable11:
Iain Latin©, Nikhil Advani, Atoloye Adetayo, Ali Nurse, Harry Pile(wk), Zachary Simpson, Matthew Warner, Matthew Osment, John Mathews, Thomas Ramagge, Christopher Gomila.
ETR Probable11:
Louis Bruce, Avinash Pai, Myles Goodfellow©(wk), Ashesh Jani, Matthew Whelan, Charles Borastero, Lee Sims, Harshdeep Singh, Gideon Crichton, Joe Waine, Carlos Espinosa.
RGC vs ETR Team News:
Rugby CC Team News – No injury updates are available
Entainers Team News – No injury updates are available
RGC vs ETR Dream11 Top Picks & Key Players
Rugby CC–
David Quach
Chris Watkins
Samarth Bodha
John Mathews
Iain Latin
Entainers –
Thomas Phillips
Paddy Hatchman
Gideon Crichton
Avinash Pai
Louis Bruce
RGC vs ETR who will win today match?
As per our Dream11 expert today, Entainers is expected to win this game. However, the results can be different as both teams are equally good.
Also Check: INW vs CHA Dream11 Prediction, Fantasy Cricket Tips, Dream11 Team, My11 Circle, Pitch Report, News, Top Picks, and Injury Update – ICCA Arabian T20 League
RGC vs ETR Dream11 Team for Today
Wicketkeeper:
1) M Goodfellow
Batsman:
2) N Advani
3) L Bruce
4) D Quach
All-rounder:
5) A Pai
6) D Barley
7) I Latin
Bowler:
8) Z Simpson
9) J Mathews
10) M Whelan
11) H Singh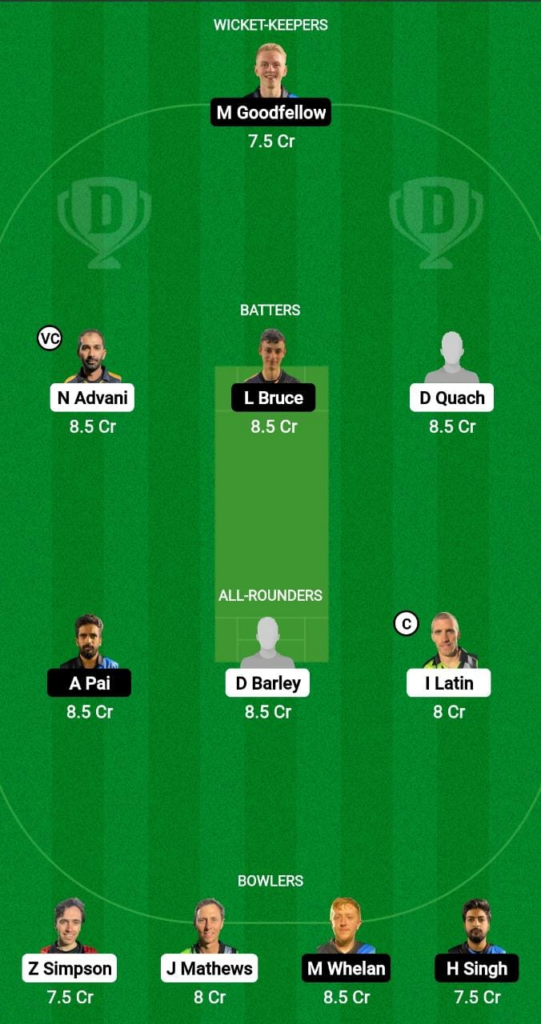 Dream11 team shown here is only a match before the team and the original team can be different after the release of lineups.