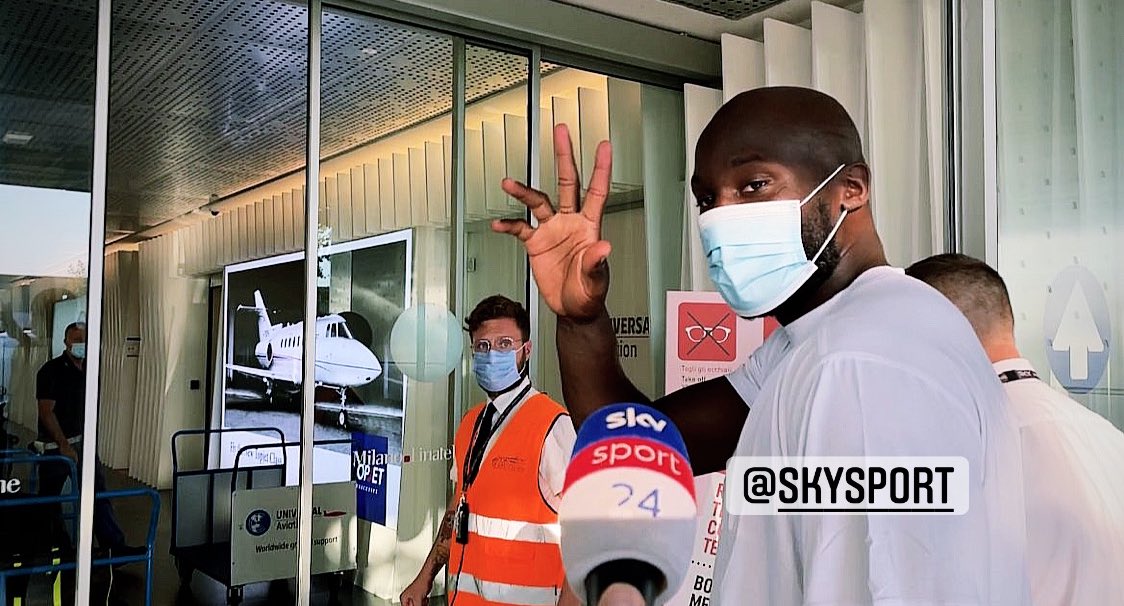 Romelu Lukaku is flying to London to complete his €115m transfer to Chelsea from Inter Milan. The 28-year-old underwent the first part of his medical in Milan after the Italian champions agreed in principle a club-record deal to re-sign the striker. The paperwork is now with club lawyers, and once that is formalised Lukaku is expected to sign a five-year contract.

An official announcement from the club could come as early as Monday evening, with the 28-year-old set to to sign a five-year contract with the European champions. It has been mentioned that the ex-West Bromwich Albion starlet will earn €12-13 million-per-year (£195,000-per-week after tax) at Chelsea, which will make him the highest earner in west London.
Also Read:- Samuel Umtiti skips Barca's Joan Gamper Trophy celebrations after being booed by fans

According to Paul Brown, Romelu Lukaku is expected to complete the rest of his medical after he arrives in London on Tuesday, after the Belgium international was pictured holding a Chelsea shirt after completing the first part of his medical on Monday.

Lukaku was asked whether he had a message for Inter fans as he heads into the airport on Monday evening, Lukaku told Sky Italia: "Greetings to the Inter fans who wanted me to stay. I'll send a message in a few days."

It has further been stated that the striker will not be involved his Chelsea's UEFA Super Cup tie against Villarreal on Wednesday evening, but the transfer will be announced by the Blues this week. It has been reported recently that a final agreement for Lukaku was struck during a call between members of the two clubs boards that took place at 2:50PM[UK] on Saturday.

The striker is set to become the club's most expensive signing, a record previously held by Kepa Arrizabalaga, who signed for the Blues for £71.6 million from Athletic Bilbao in 2018. The 28-year-old is on the verge of sealing a return to the club he left back in 2014 to Everton before having spells at Manchester United and Inter Milan. Chelsea have been in hot pursuit of a centre-forward this summer and negotiations have been going on with Inter to bring Romelu Lukaku back to Stamford Bridge. Personal terms had been previously agreed after Lukaku expressed his desire to return to London. But on Saturday a breakthrough was made when the two club agreed a fee of €115m.
Also Read:- "You disappointed me": Joan Laporta's board member criticises him for Lionel Messi's Departure – Pens down an emotional resignation letter

Chelsea hope to unveil Lukaku as their new club-record signing before Wednesday's UEFA Super Cup clash against Europa League holders Villarreal. Lukaku struggled during his first spell at Chelsea but returns to West London as one of the best strikers in Europe.
Can Romelu Lukaku replicate his Serie A form at Chelsea?
Graeme Souness believes Romelu Lukaku has 'unfinished business' at Chelsea and will flourish at his former club under Thomas Tuchel, who led the Blues to Champions League glory last term. Souness wrote in The Times: "Romelu Lukaku may still have unfinished business at Chelsea, who sold him to Everton seven years ago. I am an enormous fan of him."

"I used to say he was the centre forward that Premier League centre halves would least like to play against because of his speed and strength."

"He appears to have a different focus to his game from going to Italy. Whether that is down to losing weight and a different training regime, I do not know, but he appears a more energised player."

"He has won the league in Italy at Inter Milan and everybody is raving about him there, so does he want to come back to England and show people the real Lukaku?"

Romelu Lukaku scored 87 goals in 166 games for Everton between 2014 and 2017 and found the net 42 times in 96 appearances during his two years at Manchester United before signing for Inter in 2019. He scored 24 goals in Serie A last season, helping Inter to their first Scudetto in 11 years as the club put an end to Juventus' nine-year reign as Italian top-flight champions.
Also Read:- Cesc Fabregas recalls the first time he met Lionel Messi at La Masia: Bids Goodbye in emotional tweet