IPL
Twitterati calls "RR vs RCB match fixed" as a series of incident happens in the 10th over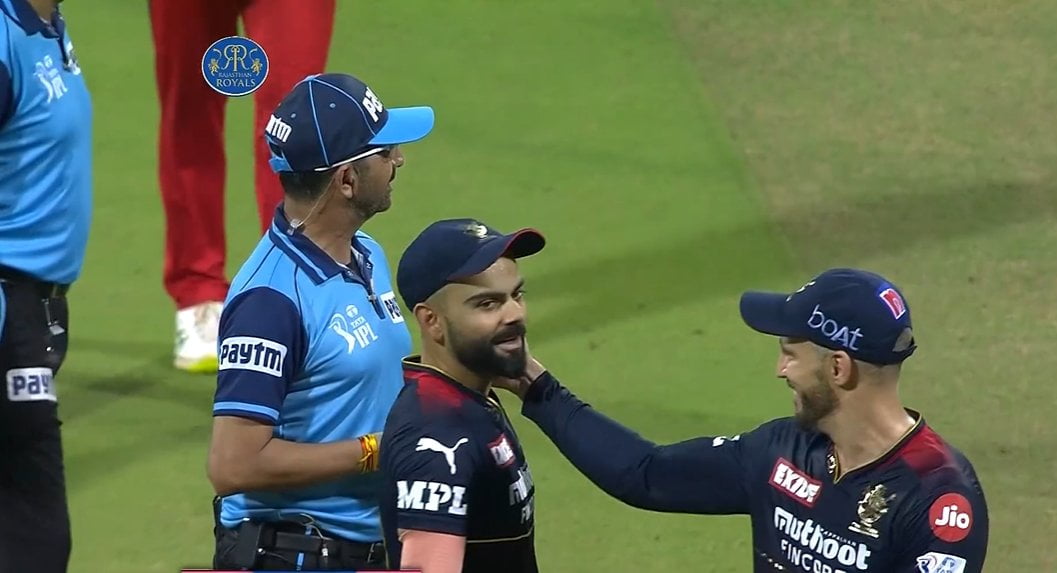 RR vs RCB: Today's match of IPL 2022 is being played between Rajasthan Royals and Royal Challengers Banglore. Both teams are performing really well in the match and it's difficult to say who is going to win this game. However, a series of events that happened in the 10th over of the match forced Twitter users to call the 'RR vs RCB match fixed'.
Devdutt Padikkal was on the strike at the last ball of Harshal Patel's over. Harshal bowled a slower bouncer as the last ball of the over but umpires announced it as wide. However, the bowl was totally good and the commentators also addressed that the decision was bad umpiring. However, this was not the end of the drama as Harshal Patel took the wicket of Padikkal on the next ball. Padikkal tried to score a boundary on this ball and Virat Kohli took the catch.
Padikkal went out of the ground and Rajasthan Royals captain Sanju Samson arrived as the new batsman. But, suddenly the third umpire came to the field and tried to bring Padikkal inside the field again. Then they started checking the catch taken by Virat Kohli that was taken purely in the air. However, the third umpire, in the end, declared Padikkal out, and the match continued. But, Twitter users couldn't stop themselves from criticizing poor umpiring and called RR vs RCB match fixed.
That was more difficult for 3rd umpire who is still thinking they are in same team RCB so how is it possible? ??

— AlJalJeera (@Poseidonuncle) April 5, 2022
Umpire bhawdo jinda gaad dunga Rajasthan me

— K  (@osiris_ded) April 5, 2022
Kohli to umpires after they went to third umpire to check the catch #RCBvsRR pic.twitter.com/khJuGDhxA8

— Vishal Deshmukh (@vishald1290) April 5, 2022
Harshal gets Padikkal ??? what a catch king kohli ??❤?? Thank you umpire ?? #RRvRCB #IPL2022

— _deepak.jain1827 (@Deepakjain1827) April 5, 2022
Out nhi hota toh Kohli umpire ka sarr phodd deta

— Riya (@justmessyy) April 5, 2022
So 3rd umpire checking whether the catch was taken clearly or not.

And it's Out. #RRvsRCB

— Anupam Choudhary (@Akkaler) April 5, 2022
So 3rd umpire checking whether the catch was taken clearly or not.

And it's Out. #RRvsRCB

— Anupam Choudhary (@Akkaler) April 5, 2022
Umpire Kya Kar Rahe Bc ?

— Chirag Jain (@beingchirag_) April 5, 2022
but the way umpire dragged dev back to the ground ??

— ? (@hrishikesque) April 5, 2022
Umpire ne pii hui h ?

— badboy (@coolbuddy_2) April 5, 2022
Umpire bc sharam karo sharam

— ✨ (@Kourageous7) April 5, 2022
Umpire wtf ?
Checking catch

— Nilesh P (@nileshvirat18) April 5, 2022
What has gone into the umpire to check that catch ..

— danishhayat (@hayatdanish02) April 5, 2022
Aaj Umpire lag rha RR se paise khaa k baitha h ??

— Preeti ? (@IHateLuvStorys_) April 5, 2022
Than people say IPL isn't fixed?
Harshal Patel' last bowl of the over, shoulder height, umpire gave it a wide and the re ball does it's game. Padikal caught by Kohli??#IPL2022 #padikal #RCB #RCBvsRR

— Gautam Batra (@batrajiiii) April 5, 2022
Catch dekh raha hai 3rd Umpire. He is also King Kohli Fan. Making everyone see Virat kohli's Brilliant Catching

— Peaceful Indian (@Peacefulndian) April 5, 2022
Ye bkl umpires ko khde hone k pese dete hai kya inko dikhta hi nahi kuch saale andhe hr cheez third umpire#tataipl #IPL #RCB#TATAIPL #RRvsRCB #ViratKohli #RCBvRR #RCB #RRvsRCB #ipl2022

— RCB (@rcbeliever) April 5, 2022
Umpire mc doubting him

— Vishnu ? (@MasterVKohli) April 5, 2022
Thank you Umpire for giving the last ball wide.!What a catch King Kohli.!

— Deep Point (@ittzz_spidey) April 5, 2022
Ye umpire ??

— ivi (@LetsGoVirat) April 5, 2022
#RCBvsRR
Mtlb umpire puri koshish kr rahe hai wicket bachaane ki??
Pehle wide ball nahi tha wide ball de diya lekin jab wo decision backfire kr gayaa to ab ye draama?
worst umpires

— Muzahid Khan (@MuzahidKhan42) April 5, 2022
Let's laugh at dotikal and clown umpire??????????????????????????????????????????

— ? (@Ajith18_) April 5, 2022
correct me if im wrong, but once you cross the boundary, can't walk back in even if it's not out right? why tf was the referee/umpire getting devdutt back in?

— anshita (@zouissstan) April 5, 2022
Also Check: NW vs SS Dream11, MPL, My11Circle Fantasy Cricket Prediction, Team News, and Top Picks