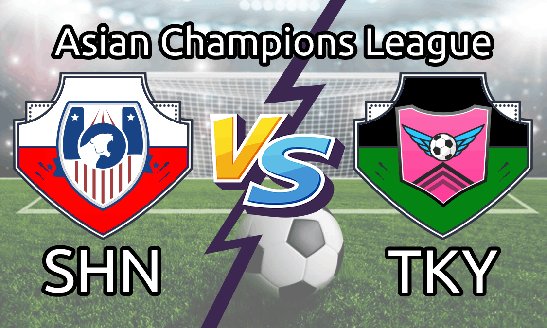 SHN vs TKY Dream11 Prediction | Shanghai Shenhua will take on FC Tokyo in the last match of today's AFC Champions League fixtures.
Match Details:
Date: November 27, 2020
Time: 6:30 PM IST
Venue: Education City Stadium
SHN vs TKY Broadcast Details:
Broadcasts for this match in India are not yet available, but you can watch live scores on many websites across the internet.
New kits for the new season pic.twitter.com/k35JNqGGO1

— Shanghai Shenhua FC (@shanghaishenhua) April 3, 2020
SHN vs TKY Key Players:
Shanghai Shenhua: Wang Weicheng, Li Shuai.
FC Tokyo: Leandro Moura, Diego Oliveira.
SHN vs TKY Squads:
Shanghai Shenhua (SHN):
Ma Zhen, Li Shuai, Zhu Chenjie, Sun Kai, Kim Shin-Wook, Baojie Zhu, Bsi Jiajun, Yue Zhu, Fulang Aidi, Feng Xiaoting, Wen Jiabao, Giovanni Moreno, Yu Hanchao, Liao Haochuan, Cao Yunding, Stéphane M'bia, Wang Weicheng, Wang Haijian, Pinto Luisinho, Yang Xu, Liu Ruofan, Sun Shilin, Qian Jiegei, Fidel Martínez, Bi JinHao, Zhao Mingjian, Zhu Jianrong, Gao Di, Xinli Peng, Qin Sheng, Zhou Junchen, Miller Bolaños.
FC Tokyo (TKY):
Tsuyoshi Kodama, Go Hatano, Akihiro Hayashi, Taishi Nozawa, Masato Morishige, Tsuyoshi Watanabe, Daiki Niwa, Ryoya Ogawa, Takumi Nakamura, Sodai Hasukawa, Makoto Okazaki, Joan Oumari, Hotaka Nakamura, Seiji Kimura, Kashifu Bangunagande, Hitotaka Mita, Yojiro Takahagi, Keigo Higashi, Kiwara Miyazaki, Takuya Uchida, Shuto Abe, Kazuya Konno, Rei Hirakawa, Manato Shinada, Arthur Silva Feitoza, Diego Oliveira, Kensuke Nagai, Adailton Dos-Santos, Leandro moura, Kiichi Yajima, Taichi Hara, Kyosuke Tagawa.
SHN vs TKY Predicted XI:
Shanghai Shenhua: Li Shuai, Feng Xiaoting, Stéphane M'bia, Wang Weicheng, Yue Zhu, Sun Shilin, Qin Sheng, Qian Jiegei, Yu Hanchao, Zhang Lu, Gao Di.
FC Tokyo: Go Hatano, Joan Oumari, Masato Morishige, Ryoya Ogawa, Hotaka Nakamura, Keigo Higashi, Shuto Abe, Yojiro Takahagi, Kensuke Nagai, Leandro, Diego Oliveira.
SHN vs TKY Dream11 Fantasy XI:
Goal-Keeper
1) L Shuai
Defender
2) W Wei
3) B Jinhao
4) Z Mingjian
5) M Okazaki
Mid-Fielder
6) C Yunding
7) Y Hanchao
8) K Miyazaki
9) L Moura
Forward
10) G Moreno
11) D Oliveira