Fantasy Cricket Tips
STK vs WAS Dream11 Prediction Today Match – MCA T20 Super Series, 2022 – Team News, Top Picks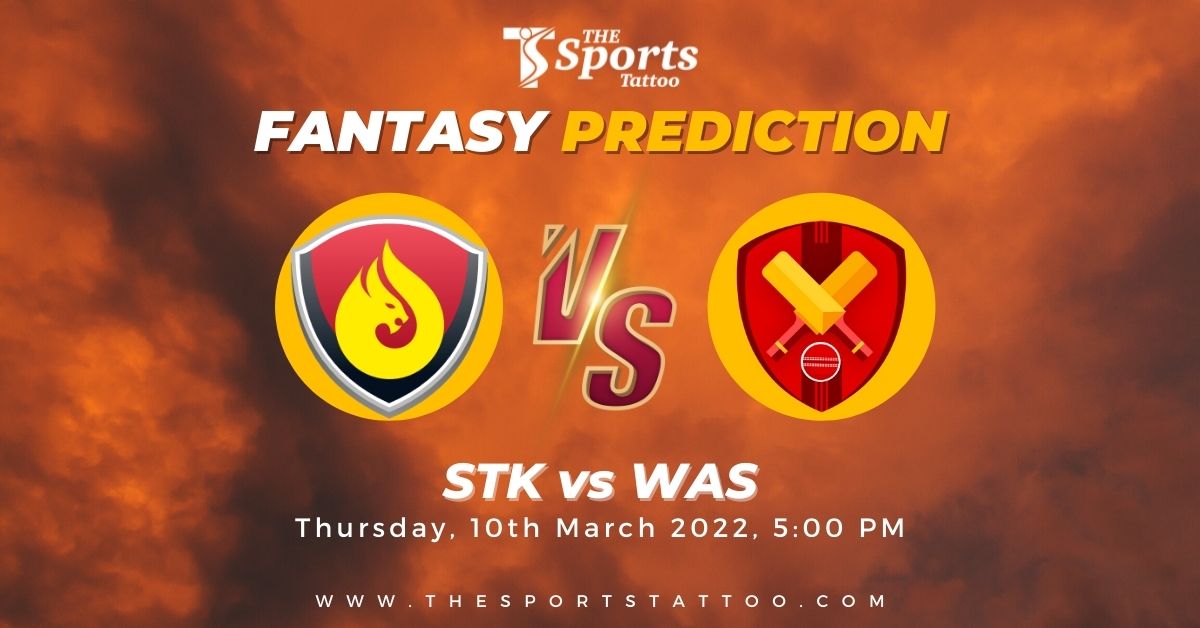 STK vs WAS Dream11 Prediction: Northern Strikers will take on Western Warriors in the 4th match of today's MCA T20 Super Series, 2022 fixtures. Both teams have already played their first game of the tournament and are well aware of the pitch conditions.
Northern Strikers started this tournament with a 6 wickets victory over Western Warriors with DLS method. They are now placed at the top of the points table with 2 points in their account and are now looking forward to making a strong comeback in today's game as well.
On the other hand, Western Warriors lost their previous game against Northern Strikers by 6 wickets. They are now placed at the bottom of the points table with 1 point in their account. Let's take a look at the STK vs WAS Dream11 Match Prediction and Dream11 team for today match.
STK vs WAS Dream11 Today Match Prediction Details
MCA T20 Super Series, 2022
Northern Strikers vs Western Warriors
Date: Thursday, March 10th, 2022
Time: 5:00 PM
Venue: Kinrara Academy Oval, Kuala Lumpur
Follow the Live Cricket Scores on the Sports Tattoo
Northern Strikers vs Western Warriors match will be streamed online on the Dream11 sponsored FanCode app. Viewers can also watch live scores on the Sports Tattoo.
STK vs WAS Dream11 Prediction Today – Team News
Northern Strikers Squad (STK):
Anwar Rahman (c), Sharveen Surendran, Virandeep Singh (Wk), Ainool Hafizs, Santosh Kumar Nair, Suharril Fetri, Ammar Uzair Fikri, Anas Malik, Dhivendran Mogan, Michael Masih, Fitri Sham, Kevin Perera (Wk), Aidan Savarimuthu, Aimal Khan, Shankar Sathish, Syahir Syamael Shaari, Sumit Potbhare.
Western Warriors Squad (WAS):
Ammar Hazalan, Amir Azim Abd Shukor, Zubaidi Zulkifle, Wan Muhammad, Muhammad Wafiq Irfan Zarbani, Sidarth Karthik, Sharvin Muniandy, Saleh Shadman, Abdul Rashid Ahad, Akbar Ali, Wahib Zada, Sachinu HettigeMohammad Afiq Syaqir, Vijay Unni, Rizwan Haider, Muhammad Rifqi Iman Khamis, Mohd Nazril Rahman, Ishaq Muzamil.
STK Probable11:
Devin Sehar, Aimal Khan, Ainool Haqqiem (wk), Shivnarin Rajaratnam, Sharveen Surendran, Ezzulhadif Ezzulcafi, Wahib Zada, Mohammad Hakim Harisan, Syazrul Ezat Idrus, Roshan Singh, Pavandeep Singh (c).
WAS Probable11:
Muhammad Nur Ainol, Amir Azim, Amirul Syahmi Rahmat Shah., Sharvin Muniandy (C), Vijay Unni, Abdul Rashid, Wan Muhammad (WK), Amir Khan, Aslam Khan, Mohammad Haziq Aiman, Daniyal Hashmi.
STK vs WAS Team News:
Northern Strikers Team News – Not Available
Western Warriors Team News – Not Available
STK vs WAS Dream11 Top Picks & Key Players
Northern Strikers-
Virandeep Singh
Aimal Khan
Anwar Rahman
Santosh Kumar Nair
Western Warriors-
Ahmad Zubaidi
Amir Azim
Wahib Zada
Vijay Unni
STK vs WAS who will win today match?
As per our Dream11 expert today, the Northern Strikers are expected to win this game. However, the results can be different as both teams are equally good.
STK vs WAS Dream11 Team for Today
Wicketkeeper:
1) W Muhammad
Batsman:
2) V Singh
3) Z Zulkifle
4) S Sathish
All-rounder:
5) A Khan
6) W Zada
7) M Masih
Bowler:
8) A Azim Ab…
9) V Unni
10) D Mogan
11) A Rahman
Dream11 team shown here is only a match before the team and the original team can be different after the release of lineups.