Cricket
BREAKING NEWS: SRH pacer T Natarajan tests positive for COVID-19 ahead of Delhi Capitals clash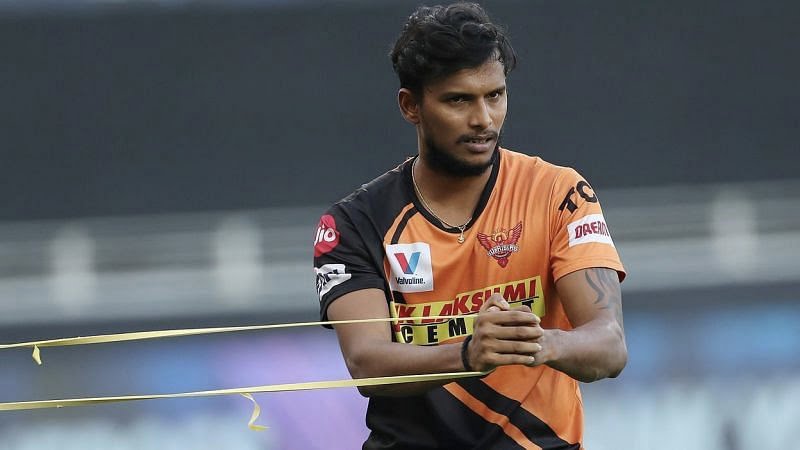 T Natarajan tests positive: In the biggest news of the hour, Sunrisers Hyderabad pacer Thangarasu Natarajan has tested positive for COVID-19 ahead of their opening match of the second phase of IPL 2021 and with that, the fate of the ongoing edition of the Indian Premier League is once again under a cloud of confusion. However, as of now, it has been decided that the match will continue despite the positive test but some of the members of the SRH contingent will have to be isolated.

The first edition of the Indian Premier League was halted due in a similar fashion when the number of COVID-19 cases in India grew to be too much. So much so that despite maintaining all the strict protocols and remaining inside the secure bio-bubble, the virus entered into the KKR camp through their mystery spinner Varun Chakravarthy. He was the first player to contract the virus but it was later found out that a few players of SRH and CSK were also positive. Ultimately the BCCI had to take the big decision of postponing the tournament indefinitely.
T Natarajan tests positive for COVID-19
After a lot of anticipation, the IPL has finally resumed in UAE just 3 days ago but the tournament has already been re-subjected to the COVID scare with the positive report of T Natarajan. However, the BCCI and the IPL administration are more than ready this time to deal with the situation and it is because of the same reason that the match between Sunrisers Hyderabad and Delhi Capitals has not been postponed yet.
Unfortunately SRH has to receive the short end of the stick and they will now have to play without their key players. After Natarajan tested positive, another player Vijay Shankar was almost immediately put under isolation as the two had been in close contact. Reportedly, 5 other members of Sunrisers Hyderabad (not players) have also been asked to isolate. Two of their main players – T Natarajan and Vijay Shankar will thus be missing tonight's match against Delhi Capitals and the Capitals will thus have an unfair advantage. All the other players of Sunrisers Hyderabad have tested negative.
You may also like: