USCM vs BRI Dream11 Prediction: USC Magdeburg vs Britannia CC in the 31st and 32nd match of ECS T10 Dresden. Both teams have already played plenty of gams in the league and established themselves.
USC Magdeburg played their first two games of the season against Berlin International Cricket Academy and lost both games by 8 wickets and 10 wickets respectively. The only player able to score some runs from their side is Sreekanth Kunchapu. They are now looking to register their first win of the season.
On the other hand, Britannia CC also started this tournament with a defeat against USG Chemnitz. However, they made a comeback in the second match and registered a 5 wickets victory over them. Britannia CC lost their previous game against Berlin CC with the DLS method.
They are now looking to make a comeback again and register a win. It will be interesting to see, which team will register a victory today. Let's take a look at USCM vs BRI Dream11 Match Prediction for this ECS T10 Dresden fixture.
USCM vs BRI Dream11 Today Match Prediction Details
Fancode ECS T10 Dresden – Match 31 and 32
USC Magdeburg vs Britannia CC
Date: Tuesday, 24 August 2021
Time: 4:30 PM, 6:30 PM
Venue: Rugby Cricket Dresden eV, Dresden
?? Day 8 ? PREVIEWS ? https://t.co/aDXybaEXqd @FanCode ECS Germany Dresden ?? @Dream11 @Cricket_Germany

— European Cricket (@EuropeanCricket) August 23, 2021
Follow the Live Cricket Scores on the Sports Tattoo
USC Magdeburg vs Britannia CC match will be streamed online on the Dream11 Sponsored FanCode app. Viewers can also watch live scores on the Sports Tattoo.
USCM vs BRI Dream11 Prediction Today – Team News
USC Magdeburg (USCM):
Krishna Budireddy, SaiVivek Jeevangekar, Girish Tangirala, Raj Kumar, Hari Patel, Maqsood Mohammed, Shafiq Gulzai, Sahil Sethi, Farhad Billimoria, Rahul Movva, Sreekanth Kunchapu, Veer Akula, Rakesh Jogi, Vinod Reddy Budati, Taimoor Khalid, Ranadheer Podishetti.
Britannia CC (BRI):
Kash Mahmood, Sanish Goyal, Waleed Ahme, Gaurav Lohia, Janpreet Sing, Kumar Shouradh, Waqas Virk, Faisal Qasim, MD Nizamul Isla, Sagar Katari, Arjun Redd, Rohit Singh, Himanshu Himan, Sourabh Krishnatrey, Vishal Panjwa, Athul Sundaresa, Gurpreet Sing, Richard O'Gra.
USCM Probable 11:
Sahil Sethi, Veer Akula, Rakesh Jogi, Raj Kumar, Sreekanth Kunchapu, Rahul Movva, Maqsood Mohammed, Krishna Budireddy, Taimoor Khalid, Girish Tangirala, Hari Patel.
BRI Probable11:
Janpreet Sing, Waleed Ahme, Waqas Virk, Rohit Singh, Kumar Shouradh, Faisal Qasim, Sagar Katari, Himanshu Himan, Sanish Goyal, Gaurav Lohia, MD Nizamul Isla.
USCM vs BRI Dream11 Top Picks & Key Players
USC Magdeburg-
Sreekanth Kunchapu – 49 runs in two games
Sahil Sethi – 11 runs and 1 wicket in two games
Britannia CC-
Vishal Panjwani – 4 wickets in 3 games
Rohit Singh – 96 runs in 3 games
Faisal Qasim – 3 wickets in 3 games
USCM vs BRI who will win today match?
As per our USCM vs BRI Today Match Prediction, Britannia CC is expected to win both games.
BER vs BRI Dream11 Team for Today
Wicketkeeper:
1) S Kataria
Batsman:
2) S Kunchapu
3) V Panjwani
4) K Mahmood
All-rounder:
5) R Singh
6) F Khan
7) K Budireddy
Bowler:
8) W Virk
9) H Patel
10) S Sethi
11) H Himansh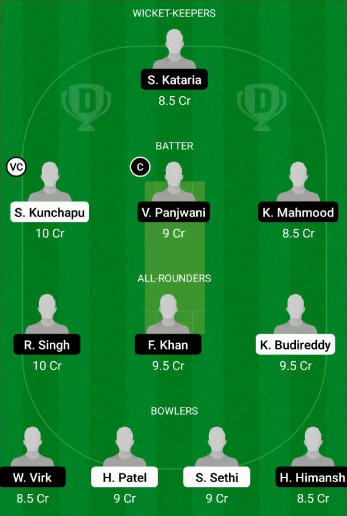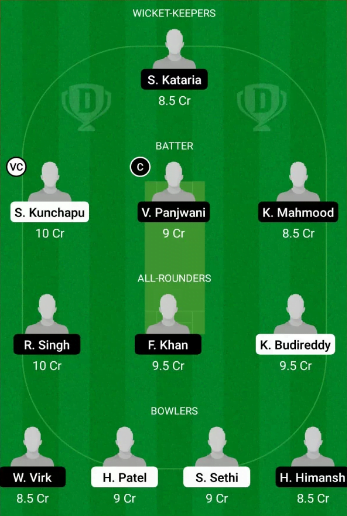 Dream11 team shown here is only a match before the team and the original team can be different after the release of lineups.