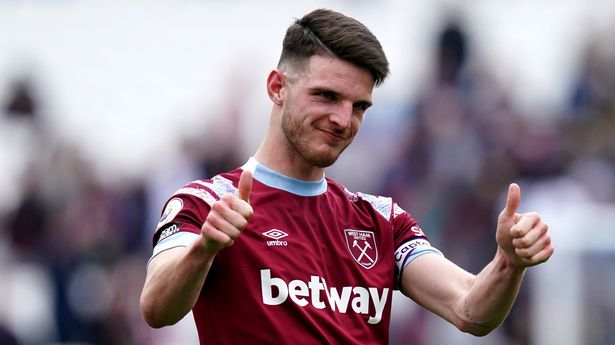 This season in the Premier League, Declan Rice has been outstanding. The likes of Arsenal and Chelsea are quite interested in signing him. Rumor has it that his pursuers will try to pull off a player-plus-cash deal for him this summer. However, according to Football Insider, West Ham United is not keen on a merger of this kind.
The Hammers will insist that the offer for the England international match their asking price of £100 million. Both Arsenal and Chelsea would be wise to pursue Rice since he is currently one of the league's top midfielders. Now that they have qualified for the UEFA Champions League, the Gunners need to improve their roster by adding additional depth and quality players.
Arsenal has to find Thomas Partey a dependable teammate, and Declan Rice seems to be such a player. The 24-year-old will provide Arsenal's midfield with more energy, work ethic, and defensive coverage.
Chelsea, meanwhile, is interested in having him return to the club. The former Chelsea youth star may feel as if he has unfinished business at Stamford Bridge since he was dismissed from the club when he was a teenager.
Arsenal and Chelsea have both been mentioned as possible destinations for Declan Rice should he leave West Ham United this summer
Chelsea's elimination from the UEFA Champions League gives Arsenal a distinct advantage in the transfer market. The 24-year-old midfielder has shown interest in playing for the team during the next Champions League season.
The prospect of playing for a top club like Arsenal is sure to pique his interest. He might take a giant leap forward in his career and show off his skills in the Champions League.
The Gunners are presently battling Manchester City for the Premier League championship and are expected to be a popular transfer destination this coming summer. Whether or not they are prepared to spend £100 million to sign an England defensive midfielder at the conclusion of the season will be a fascinating story.
In other news Joao Palhinha of Fulham has been linked to a summer transfer to Aston Villa for a fee of up to £60 million