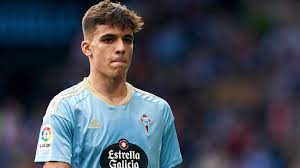 Fichajes, a Spanish news website, said that Real Madrid is no longer interested in signing Gabri Veiga. The current La Liga winners backed out of an agreement to acquire the Spanish midfielder. The Celta Vigo wonderkid is still on Barcelona and Liverpool's radar as the summer transfer window approaches.
Since joining Celta Vigo several years ago, Gabri Veiga's career has flourished. The 20-year-old worked his way through the ranks of the Galician club and made his debut the following year, at the tender age of 18. He has been a mainstay in the Celta Vigo lineup ever since.
The Spaniard's midfield production has been key for Celta Vigo this year. Veiga has contributed nine goals and four assists in 31 La Liga games this season. The likes of Real Madrid, Barcelona, and Liverpool have taken notice of his development.
According to recent rumours, Real Madrid is considering having Pini Zahavi negotiate a transfer for Veiga. The Merengues are eager to establish Luka Modric and Toni Kroos' successors. The Santiago Bernabeu has several key pieces in place now, but they still need one more acquisition. Veiga was once of interest, but with Jude Bellingham so close to signing with Real Madrid, they have moved on.
Barcelona, the Catalan giants, are looking to strengthen their midfield for the second summer in a row. That's because Franck Kessie's future at Spotify Camp Nou is cloudy at best. Signing a striker like Veiga may be a wise move considering Frenkie de Jong's promising future as a holding midfielder.
Gabri Veiga will not be a transfer target for Real Madrid this summer, opening the door for Liverpool and Barcelona to sign him
However, Barcelona may not have €40 million lying around to sign the 20-year-old. So Liverpool has a good chance of signing Veiga. When it comes to the midfield, the Reds have numerous targets for the next transfer window. The arrival of Veiga comes at a good time for the Merseyside club, since numerous players are nearing the end of their useful careers.
Liverpool might become the frontrunner to sign the Celta Vigo midfielder now that Real Madrid has cooled interest in the Spaniard. It remains to be seen, though, if the Reds will be able to sign him before any other team does.
In other news "Gautam Gambhir played with the ego of MS Dhoni", Irfan Pathan recalls an incident when captain Gautam Gambhir outclassed MS Dhoni