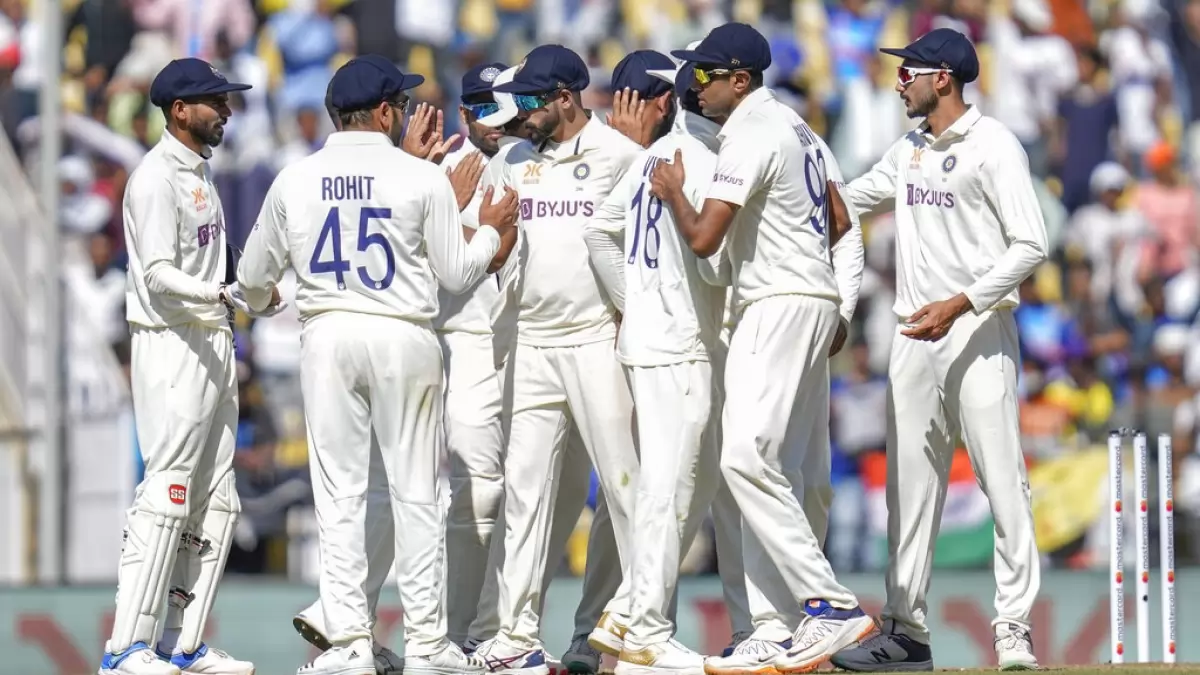 In the latest ICC Men's Test Team Rankings, which include all series played since May 2020 but exclude data from the 2019-20 season, India has surpassed Australia to take the top spot.
Due to the fact that series played before May 2022 are weighted at 50% and subsequent series are weighted at 100%, India's rating has increased from 119 to 121. This is because their 2-0 loss to New Zealand in March 2020 no longer factors into the rankings. India dominated the rankings for a whole calendar month in December of 2021.
Australia's rating has dropped from 122 to 116 since their 2-0 and 3-0 series victories over Pakistan and New Zealand at home in 2019–20 no longer count, and their 4-0 series victory over England in 2021–22 has had its weighting reduced from 100% to 50%.
The 4-0 series victory against England propelled them beyond New Zealand. England is still ranked third, but they have closed the distance to the second-place team from 13 to 2 rating points because of their steady play over the last several months and the lowered weighting of their 4-0 Ashes loss and 1-0 loss in the West Indies.
Zimbabwe moved up five spots to 10th place despite no other changes in the standings. Both Afghanistan and Ireland lack sufficient test experience to be included in the rankings.
India's advantage over second-placed England in the Men's T20I Team Rankings has grown from six to eight points as a result of this week's results. New Zealand is now in third place, ahead of Pakistan and South Africa.
The United States of America and Hong Kong each jumped three spots in the ratings to take 18th and 22nd, respectively. Singapore has fallen six spots to 36th, while Oman and Papua New Guinea have both dropped two spots to 20th and 21st, respectively.
After participating in at least six Twenty20 Internationals (T20Is) over the course of the last three years, 84 nations are currently rated.
After failing to meet the minimum requirement of six matches, Turkey is eliminated from the rankings, joining Brazil, Chile, Iran, Mexico, and Peru, all of which have seen their ratings plummet due to a lack of activity since May 2020.
After the current Pakistan-New Zealand series concludes on May 10, the yearly update to the ODI team rankings will be implemented.
In other news IPL 2023: Iceland Cricket trolls after Gautam Gambhir-Virat Kohli fight
ICC Men's Test Team Rankings (as of 2nd May):
Rating
Ranking
Country
Old
New
Change
Old
New
Change
India
119
121
2
2
1
1
Australia
122
116
-6
1
2
-1
England
106
114
8
3
3
0
South Africa
104
104
0
4
4
0
New Zealand
103
100
-3
5
5
0
Pakistan
88
86
-2
6
6
0
Sri Lanka
85
84
-1
7
7
0
West Indies
76
76
0
8
8
0
Bangladesh
47
45
-2
9
9
0
Zimbabwe
27
32
5
10
10
0
ICC Men's T20I Team Rankings (as of 2 May, following the annual update):
| | | | | | | | |
| --- | --- | --- | --- | --- | --- | --- | --- |
| Ranking | Country | Old Rating | New Rating | Change | Old Ranking | New Ranking | Change |
| 1 | India | 267 | 267 | 0 | 1 | 1 | 0 |
| 2 | England | 261 | 259 | -2 | 2 | 2 | 0 |
| 3 | New Zealand | 253 | 256 | 3 | 5 | 3 | 2 |
| 4 | Pakistan | 255 | 254 | -1 | 3 | 4 | -1 |
| 5 | South Africa | 254 | 253 | -1 | 4 | 5 | -1 |
| 6 | Australia | 251 | 248 | -3 | 6 | 6 | 0 |
| 7 | West Indies | 238 | 238 | 0 | 7 | 7 | 0 |
| 8 | Sri Lanka | 236 | 237 | 1 | 8 | 8 | 0 |
| 9 | Bangladesh | 226 | 222 | -4 | 9 | 9 | 0 |
| 10 | Afghanistan | 220 | 219 | -1 | 10 | 10 | 0 |
| 11 | Zimbabwe | 196 | 197 | 1 | 11 | 11 | 0 |
| 12 | Ireland | 191 | 194 | 3 | 12 | 12 | 0 |
| 13 | Namibia | 183 | 190 | 7 | 14 | 13 | 1 |
| 14 | Scotland | 182 | 183 | 1 | 15 | 14 | 1 |
| 15 | Netherlands | 177 | 181 | 4 | 17 | 15 | |