Fantasy Cricket Tips
GHF vs SHGP Dream11 Football Prediction Today Match – Chinese Super League – Fantasy Football, Top Picks, Predicted XI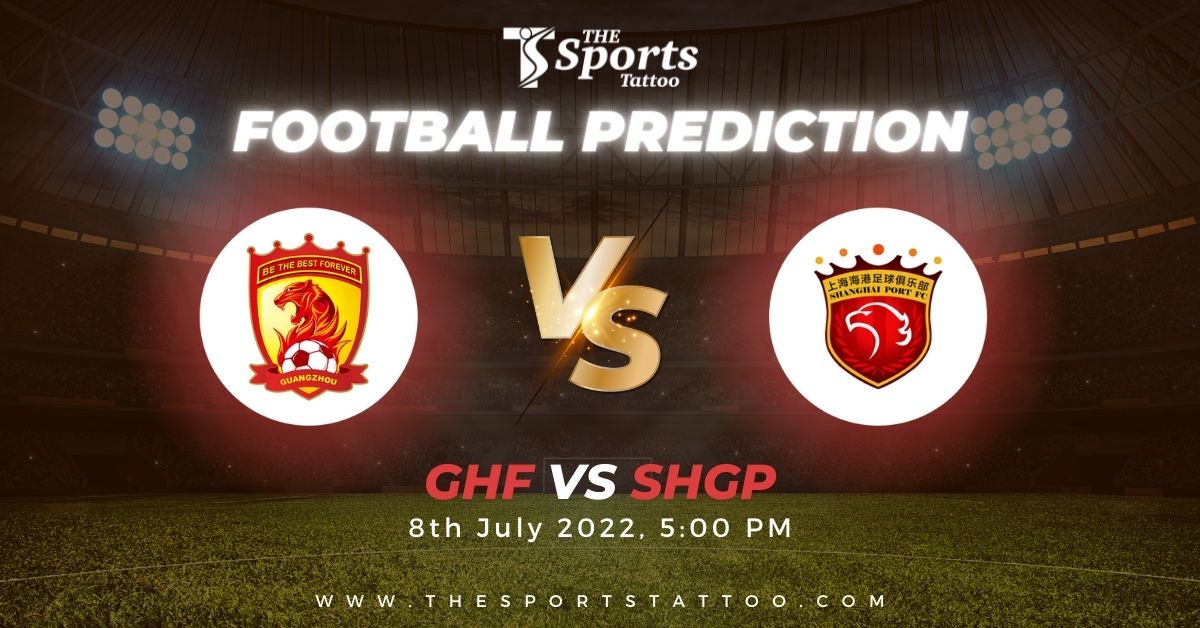 GHF vs SHGP Dream11 Prediction for Today match | Guangzhou FC will take on Shanghai Port in the last match of today's Chinese Super League fixtures. Both teams have already played plenty of games in the tournament.
Guangzhou FC has managed to register only one win out of the 8 games they had played this season. Their previous defeat came against Wuhan Yangtze by 2-1 and are now placed at the 16th position in the league standings with 3 points in their account. They are now looking forward to making a strong comeback in today's game.
On the other hand, Shanghai Port has managed to register 4 wins and 1 draw out of the 8 games they had played this season. They registered a 2-1 victory over Hebei FC. They are now placed at the 7th position in the league standings with 13 points in their account. Take a look at GHF vs SHGP Dream11 Football Prediction we have discussed here.
GHF vs SHGP Match Details:
Chinese Super League
Guangzhou FC vs Shanghai Port
Date: Friday, July 08, 2022
Time: 5:00 PM
Venue: Tianhe Stadium, Guangzhou
GHF vs SHGP Broadcast Details:
Live streamings for the Shanghai Port vs Shanghai Port match are not available in India. However, you can watch live scores on the Sports Tattoo.
GHF vs SHGP Key Players:
Guangzhou FC-
Wei Shihao
Wu Shaocong
Jiang Guangtai
Yang Li-I
Yang Liyu
Dinghao Yan
Shanghai Port-
Mirahmetjan Muzepper
Wang Shenchao
Lu-Wenjun
Yan Junling
Feng Jing
Zhang Linpeng
GHF vs SHGP – Recent Form
Guangzhou FC: W D W D L
Shanghai Port: D L D L W
GHF vs SHGP Squads:
Guangzhou FC (GHF):
Roberto Siucho, Zhi Zheng, Zhang Jianzhi, Shi Tang, Liang Guanhong, Deng Shiyu, Chenglin Zhang, Ling Jie, Cheng Shilin, Shibo Liu, Bowen Huang, Su Tianshi, Chen Jinyu, Wenzhao Zhang, Zhunyi Gao, Dianzuo Liu, Chao He, Dinghao Yan, Li Dongcheng, Yu Hou, Ye Runbiao, Afrden Asqer, Tyias Browning, Jing Guo, Xuepeng Li, Yiming Liu, Kaiyuan Tan, Guan Haojin, Sihakejiang Shadeer, Peng Jiahao, Yang Shifu, Yihao Zhong, Xiuwei Zhang, Yang Dejiang, Shilong Wang, Yubiao Deng, Tu Menghan, Yang Chen, Shaocong Wu, Liyu Yang, Boxuan Feng, Parmanjan Kyum, Guo Shuai, Ye Guochen, Feng Yifan, Shihao Wei.
Shanghai Port (SHGP):
Zhenfei Huang, Mirahmetjan Muzepper, Xi Anjie, Junling Yan, Huachen Zhang, Shiyuan Yang, Chen Chunxin, Linpeng Zhang, Shenchao Wang, Shenyuan Li, Liu Zhurun, Cherif Ndiaye, Ang Li, Paulinho, Kun Lü, Wei Chen, Wenjun Lyu, Shenglong Li, Huikang Cai, Xin Xu, Geng Xin, Wei Zhen, Oscar, Jin Feng, Guan He, Huan Fu, Hai Yu, Liu Baiyang, Binbin Chen, Abraham Halik, Aaron Mooy, Jia Du, Meng Jingchao, Zhang Huiyu.
GHF vs SHGP Predicted XI
Guangzhou FC: Roberto Siucho, Chen Jinyu, Guo Shuai, Li Dongcheng, Dinghao Yan, Ye Guochen, Boxuan Feng, Yiming Liu, Zhunyi Gao, Kaiyuan Tan, Shihao Wei, Feng Yifan.
Shanghai Port: Paulinho, Cherif Ndiaye, Aaron Mooy, Mirahmetjan Muzepper, Liu Zhurun, Wenjun Lyu, Liu Baiyang, Oscar, Shenglong Li, Zhenfei Huang, Xin Xu.
GHF vs SHGP: Today Match Prediction
On the basis of the current performance of players and head-to-head records, Shanghai Port will win this match by 1-0. However, both teams are equally good and the results can be totally different.
Also Check: JEJ vs SEGN Dream11 Football Prediction Today Match – K League 2022 – Fantasy Football, Top Picks, Predicted XI
Dream11 Team for today's match:
Goal-Keeper
1) Y Junling
Defender
2) J Guangtai
3) Z Linpeng
4) L Ang
5) Y Li-I
Mid-Fielder
6) Oscar
7) F Jing
8) D Yan
9) Y Liyu
Forward
10) W Shihao
11) F Hengbo
The dream11 team shown here is only a match before the team and the original team can be different after the release of lineups.