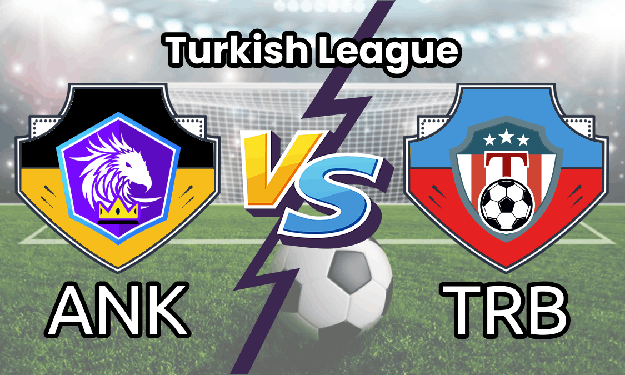 ANK vs TRB Dream11 Prediction | Ankaragucu will take on Trabzonspor in the only match of today's Turkish Super Lig fixture. Ankaragucu has obtained the last position in the league standings with just 2 points scored in their account. On the other hand, Trabzonspor has obtained the 15th position in the league standings with 9 points in their account.
ANK vs TRB Match Details:
Date: November 27, 2020
Time: 10:00 PM IST
Venue: Eryaman Stadyumu
ANK vs TRB Broadcast Details:
Ankaragucu vs Trabzonspor match live streamings are available on BT Sport, and can also watch live scores on various websites across the internet.
Takımımız, Trabzonspor karşılaşması hazırlıklarını Beştepe Tesislerimizde gerçekleştirdiği antrenmanla tamamladı.#Ankaragücü pic.twitter.com/0casMHTzAk

— MKE Ankaragücü (@Ankaragucu) November 26, 2020
ANK vs TRB Key Players:
Ankaragucu: Torgeir Borven, Emre Gural.
Trabzonspor: Benik Afobe, Abdulkadir Omur.
ANK vs TRB Squads:
Ankaragucu (ANK):
Korcan Celikay, Ricardo Henrique, Furkan Beklevic, Michal Pazdan, Erdi Dikmen, Tiago Pinto, Orkan Cinar, Ante Kulusic, Cebrail Karayel, Idriz Voca, Zvonimir Sarlija, Yusuf Göktas, Mert Topuz, Anil Dikmen, Atakan Ridvan Cankaya, Luka Adzic, Saba Lobzhanidze, Assane Dioussé, Ender Aygören, Sahverdi Cetin, Alper Potuk, Joseph Paintsil, Daniel Lukasik, Mehmet Ali Akin, Murat Sipahioglu, Stelios Kitsiou, Endri Cekici, Atila Turan, Jonathan Bolingi, Berke Gurbuz, Torgeir Børven, Mücahit Can Akcay, Emre Güral.
Trabzonspor (TRB):
Ugurcan Cakir, Erce Kardesler, Muhammet Taha Tepe, Arda Akbulut, Marlon, Huseyin Turkmen, Majid Hosseini, Vitor Hugo, Gastón Campi, Edgar Ié, Atakan Gunduz, João Pereira, Ahmetcan Kaplan, Faruk Can Genc, Lewis Baker, Abdulkadir Omur, Anders Trondsen, Fousseni Diabate, Safa Kinali, Kamil Ahmet Corekci, Flávio, Ahmet Canbaz, Abdulkadir Parmak, Taha Tunç, Suleyman Cebeci, Kerem Baykus, Serkan Asan, Yusuf Sari, Tony Nwakaeme, Caleb Ekuban, Djaniny, Salih Kavrazi, Bilal Basacikoglu, Stiven Plaza, Benik Afobe.
ANK vs TRB Predicted XI:
Ankaragucu: Mert Topuz, Zvonimir Sarlija, Saba Lobzhanidze, Torgeir Børven, Joseph Paintsil, Jonathan Bolingi, Stelios Kitsiou, Berke Gurbuz, Murat Sipahioglu, Mücahit Can Akcay, Ante Kulusic.
Trabzonspor: Ugurcan Cakir, Serkan Asan, Lewis Baker, A Nwakaeme, M Xaier, Abdulkadir Omur, Vitor Hugo, Safa Kinali, Stiven Plaza, Benik Afobe, Anders Trondsen.
ANK vs TRB Dream11 Fantasy XI:
Goal-Keeper
1) U Cakir
Defender
2) V Hugo
3) M Xavier
4) S Asan
5) E le
Mid-Fielder
6) L Baker
7) J Paintsil
8) S Lobzhanidze
Forward
9) A Nwakaeme
10) J Bolingi
11) T Borven