Fantasy Cricket Tips
ARI vs HRO Dream11 Prediction Today – FanCode ECS T10 Malmo – Live Score Team News Top Picks, 2 August 2021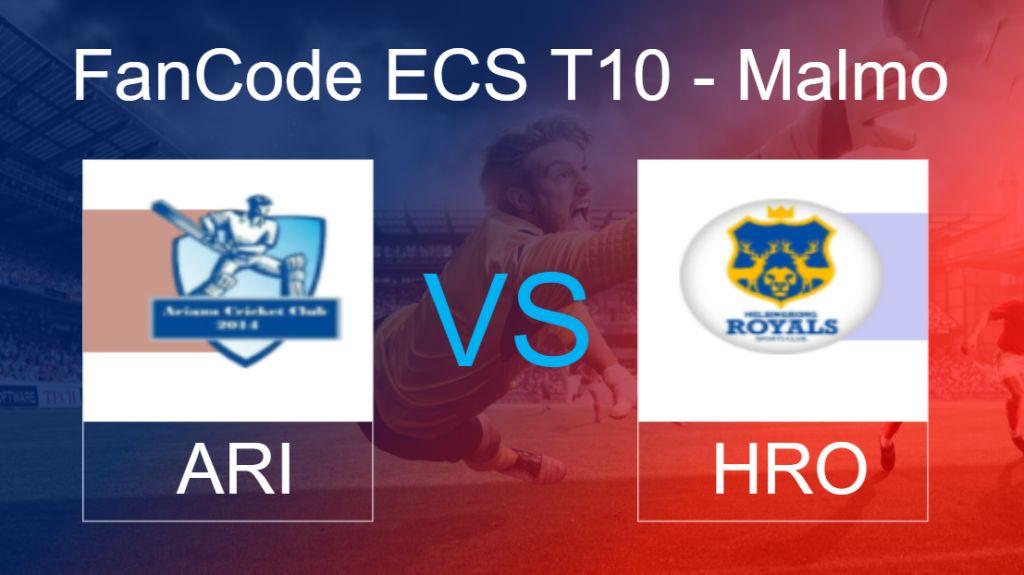 ARI vs HRO Dream11
Ariana CC will begin their campaign as they face Helsingborg Royals in their first two games of the ECS T10 Malmo. Ariana CC had a great run last season but unfortunately, they lost the final to Ariana AKIF by 7 wickets. They will be fired up once again to get all the way in the tournament and get their hands on the champions trophy.
Helsingborg Royals, on the other hand, had a horrible run last season. They failed to open their account after losing all of their 4 matches. The Royals will be looking to try to open their account in the ECS books. Let's take a look at ARI vs HRO Dream11 Match Prediction for this ECS T10 Malmo fixture.
ARI vs HRO Dream11 Today Match Prediction Details
Fancode ECS T10 Malmo – Match 3 & 4
Ariana CC vs Helsingborg Royals
Date: Monday, 2 August 2021
Time: 4:00 PM & 6:00 PM
Venue: Landskrona Cricket Club
Check the Live Scores – CLICK HERE
ARI vs HRO Live Streaming: Fancode
ARI vs HRO Dream11 Tips & Prediction – Team News
Ariana CC Squad:
Nusuratullah Sultan, Wahid Sharifi, Yusuf Sahak, Zamin Zazai, Wali Muhammad, Adam Ahmadzay, Bashir Ahmed, Noor Zadran, Absar Khan, Ahmed Zadran, Dawood Shirzad, Atif Mohammad, Baz Ayubi, Hamed Arabzai, Norullah Mohammad, Aryan Sarweri, Asif Meer, Mahmood Babar, Omar Zadran, and Qader Khan
ARI Playing 11 (Probable):
Ahmed Zadran, Aryan Sarweri, Asif Meer, Dawood Shirzad, Wali Muhammad, Bashir Ahmed, Absar Khan, Norullah Mohammad, Adam Ahmadzai, Zamin Zazai, and Nusratullah Sultan
Helsingborg Royals Squad:
Avinash Kumar, Abhinash Panda, Gour Sadashiv, Rohit Saproo, Advait Gujagarkar, Kirthan Duttulur, Santosh Marathe, Suhas Shetty, Chandru Ganesan, Davinder Singh, Prasanjit Behera, Sachin Shetty, Deepu Krishnan, Pramod Kompella, Satish Kori, Satish Kunjir, and Madhan Prabhu
HRO Playing 11 (Probable):
Madhan Prabu, Abinash Panda, Pramod Kompella, Davinder Singh, Rohit Saproo, Sachin Shetty, Satish Kunjir, Gour Sadashiv, Kirthan Duttulur, Prasanjit Behera, and Advait Guhagarkar
ARI vs HRO Dream11 Top Picks & Key Players
Ariana CC –
Nusratullah Sultan – 155 runs in 4 matches last season
Hamed Arabzai – 8 wickets last season
Adam Ahmedzai
Helsingborg Royals –
Abhinash Panda – 92 runs and 3 wickets in 4 matches last season
Pramod Kompella
Kirthan Duttulur
ARI vs HRO who will win today match?
As per our ARI vs HRO Today Match Prediction, Ariana CC are expected to win both matches.
ARI vs HRO Dream11 Team for Today Match
WK: A Panda, N Sultan (C)
BAT: A Ahmedzai, A Sarweri, K Duttulur
AR: P Pramod K, M Babar, H Arabzai (VC)
BOWL: P Behera, R Saproo, A Khan