Fantasy Cricket Tips
AZA vs RUR Dream11 Prediction, Fantasy Cricket Tips, Dream11 Team, My11 Circle, Pitch Report, News, Top Picks, and Injury Update – Oman D20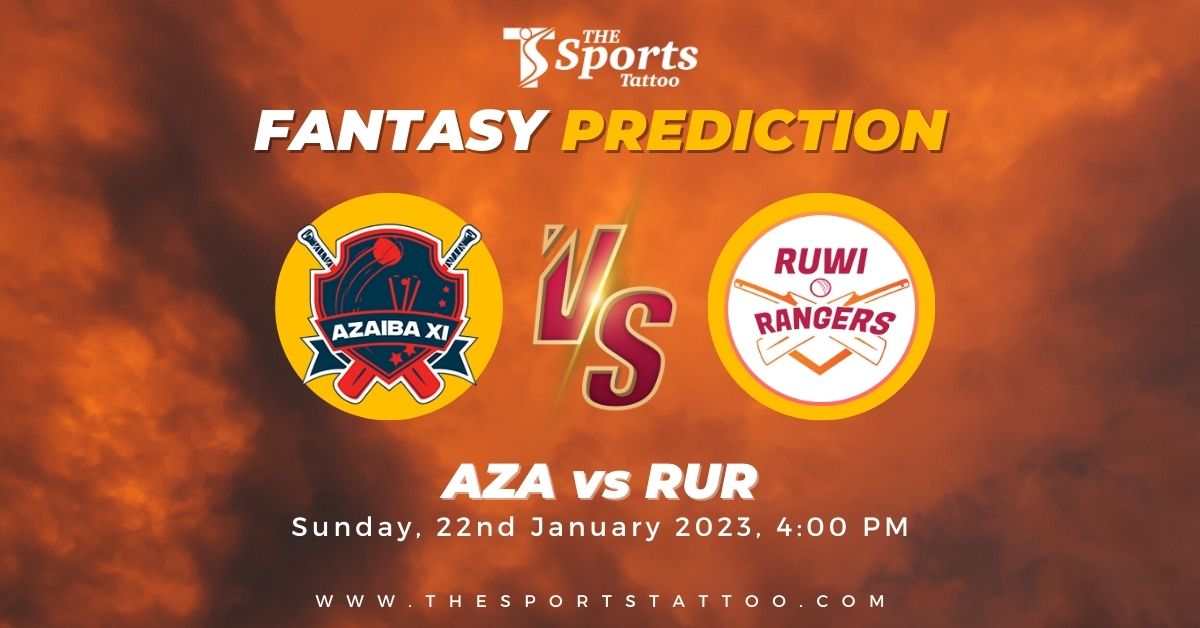 AZA vs RUR Dream11 Prediction: Azaiba XI will take on Ruwi Rangers in the 27th match of today's Oman D20 fixtures. Both teams have already played their first game of the tournament and are well aware of the pitch conditions.
Azaiba XI has managed to register only 2 wins out of the 6 games they played this season. They lost their last game against Khuwair Warriors by 17 runs and they are now placed in the 7th position in the league standings with 4 points in their account. They are now looking forward to making a strong comeback in today's game.
On the other hand, Ruwi Rangers has managed to register back-to-back wins in all 6 games they had played this season. They registered a 45 runs victory over Darsait Titans and they are now placed at the top of the league standings with 12 points in their account. Let's take a look at the AZA vs RUR Dream11 Match Prediction and Dream11 team for today match.
AZA vs RUR Dream11 Today Match Prediction Details
Oman D20, 2023
Azaiba XI vs Ruwi Rangers
Date: Sunday, 22nd January 2023
Time: 4:00 PM
Venue: Al Amerat Cricket Ground Oman Cricket
Follow the Live Cricket Scores on the Sports Tattoo
Azaiba XI vs Ruwi Rangers match will be streamed online on the Dream11-sponsored FanCode app. Viewers can also watch live scores on The Sports Tattoo.
AZA vs RUR Dream11 Prediction Today – Team News
Azaiba XI (AZA):
Rana Naeem, Sufyan Yousuf(WK), Mansoor Ali, Rao Waqar Ahmed, Mehedi Hassan, Haythim Bahar, Waseem Akhtar, Hammal Abdul Wahab, Akmal Shahzad, Sagheer Ahmed, Imran Muhammed, Sami Al Balushi, Imam Hussain, Muhammad Waqas-I, Usman Haider, Yasir Dur, Jasim Illahi Nasir Ali, Shezad Ikhtiyar, Asif Al Balushi(C), Aqeel Muhammad(WK).
Ruwi Rangers (RUR):
Hannan Rizwan(WK), Nestor Dhamba, Imran Ali, Zohaib Amanat, Muhammad Nadeem, Mehran Khan, Mohammed Naseem Kushi(WK)(C), Wasim Ali, Khalid Kail, Kaleemullah, Mohammed Rafi, Hasnain Ali, Mohamed Mubarak, Muhammad Zahid-II, Imran Alam, Shakeel Ahmad, Zikria Islam, Khafid Un Nabi Siddiqui, Mohamed Rasfas, Hasnain Ul Wahab.
AZA Probable11:
Akmal Shahzad, Hammal Abdul Wahab, Haythim Bahar, Mansoor Ali, Mehedi Hassan, Imran Muhammed, Rana Naeem Anwar, Rao Waqar, Sagheer Ahmed©, Sufyan Yousuf(wk), Waseem Akhtar.
RUR Probable11:
Hannan Rizwan, Kaleemullah, Khalid Kail, Mehran Khan, Naseem Khushi©(wk), Mohammed Rafi, Mohammad Nadeem, Mujibur Imran Ali, Nestor Dhamba, Wasim Ali, Zohaib Amanat.
AZA vs RUR Team News:
Azaiba XI Team News – No injury updates are available
Ruwi Rangers Team News – No injury updates are available
AZA vs RUR Dream11 Top Picks & Key Players
Azaiba XI–
Mehedi Hassan
Akmal Shahzad
Haythim Bahar
Imran Muhammed
Waseem Akhtar
Sagheer Ahmed
Hammal Abdul Wahab
Rana Naeem
Mansoor Ali
Ruwi Rangers –
Mehran Khan
Khalid Kail
Mohammed Rafi
Zohaib Amanat
Wasim Ali
Muhammad Nadeem
AZA vs RUR who will win today match?
As per our Dream11 expert today, Ruwi Rangers is expected to win this game. However, the results can be different as both teams are equally good.
Also Check: VIP vs GUL Dream11 Prediction, Fantasy Cricket Tips, Dream11 Team, My11 Circle, Pitch Report, News, Top Picks, and Injury Update – UAE T20
AZA vs RUR Dream11 Team for Today
Wicketkeeper:
1) M Naseem K…
Batsman:
2) K Kail
3) U Haider
4) Z Amanat
All-rounder:
5) W Ali
6)I Alam
7) M Ali Mazhar
Bowler:
8) Kaleemullah
9) M Nadeem
10) J Illahi Nasir…
11) S Ahmed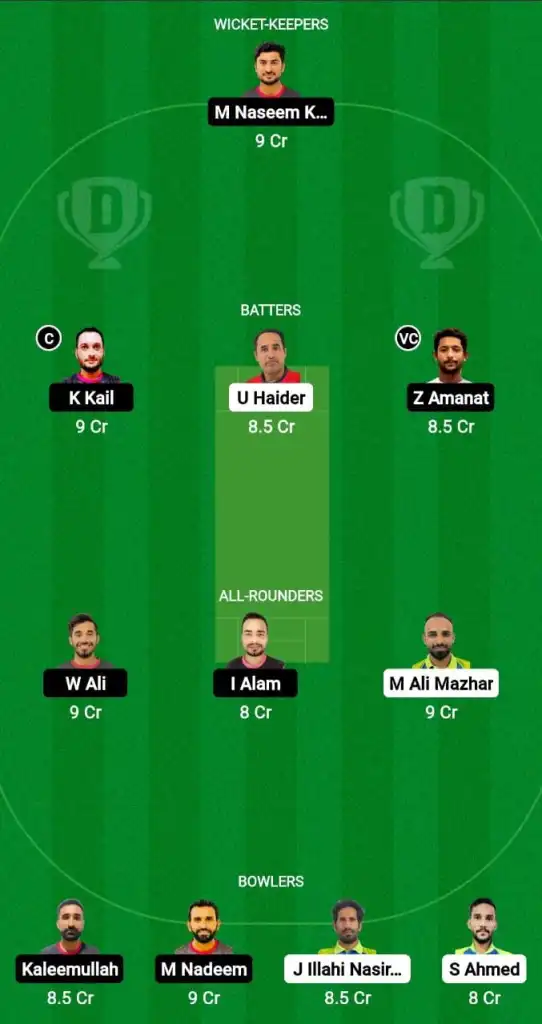 Dream11 team shown here is only a match before the team and the original team can be different after the release of lineups.