Fantasy Cricket Tips
BYB vs DB Dream11 Prediction, Fantasy Cricket Tips, Dream11 Team, My11 Circle, Pitch Report, News, Top Picks, and Injury Update – FanCode ECS T10 Krefeld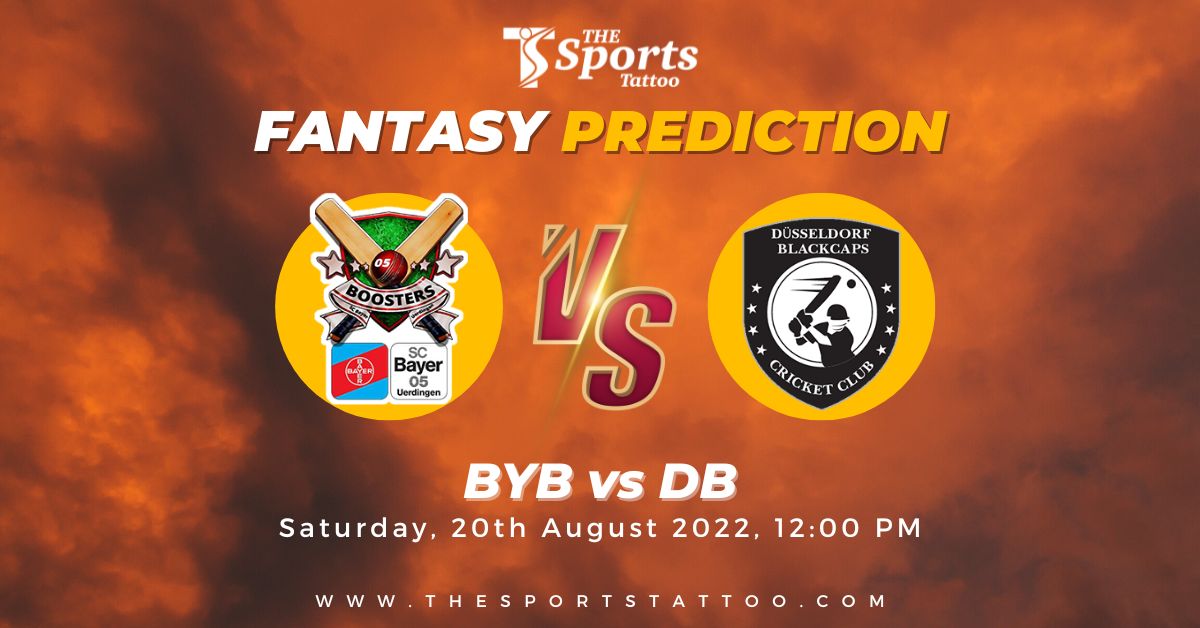 BYB vs DB Dream11 Prediction: Bayer Boosters will take on Dusseldorf Blackcaps in the 25th and 26th matches of today's FanCode ECS T10 Krefeld fixtures. Both teams are going to play their first game of the tournament and are unaware of the pitch conditions.
Bayer Boosters is a strong team and will be led by Pulkit Sharma. Ahilan Ravinthran and Manoj Panthangi are going to open the inning. Ashok Andrew is going to handle the middle order duties along with the skipper while Gobinath Navarathinam and Pakee Praba are going to lead the pace attack of the team.
On the other hand, Dusseldorf Blackcaps is an experienced team as well and will be led by Venkatraman Ganesan. He is also going to open the inning along with Jamshed Khan. Kashif Shahab and Niraj Rasik Patel are going to handle the middle order duties while Neerja Sharma and Majeed Ahmadzai are going to lead the pace attack of the team. Let's take a look at the BYB vs DB Dream11 Match Prediction and Dream11 team for today match.
BYB vs DB Dream11 Today Match Prediction Details
FanCode ECS T10 Krefeld
Bayer Boosters vs Dusseldorf Blackcaps
Date: Saturday, August 20th, 2022
Time: 12:00 PM
Venue: Bayer Uerdingen Cricket Ground, Krefeld
Follow the Live Cricket Scores on the Sports Tattoo
Bayer Boosters vs Dusseldorf Blackcaps match will be streamed online on the Dream11 sponsored FanCode app. Viewers can also watch live scores on The Sports Tattoo.
BYB vs DB Dream11 Prediction Today – Team News
Bayer Boosters (BYB):
Ahilan Ravinthran(WK), Manoj Panthangi, Sameer Varughese, Pulkit Sharma(C), Ashok Andrew, Thinesh Rajakulasingam, Sri Kanth Vaka, Sanjeevan Vignesh, Jishnu Divakaran, Pakee Praba, Gobinath Navarathinam, Aritharan Vaseekaran, Srikanth Thorlikonda, Janarthanam Mani, Kumar Mahendran(WK), Enoch Dayanandan, Thivakaran Aritharan, Jegan Dinushan, Sakeshkanth Indran(WK), Balachandran Atchuthan, Ramsurathkumar Subramanian.
Dusseldorf Blackcaps (DB):
Venkatraman Ganesan(C), Jamshed Khan, Muhammad Raheel, Kashif Shahab, Niraj Rasik Patel(WK), Sudipro Ray, Oascoroni Ahamed, Sanil Bhatia, Abdul Jalili, Neeraj Sharma, Majeed Ahmadzai, Praveen Ganesan, Gaurav Gupta, Nehal Trivedi, Mradul Kumar, Puneet Kumar, Benjamin Das, Karthik Suresh(WK).
BYB Probable11:
Niamat Safi, Zakir Khan (c), Paritosh Bairagi, Gurwinder Singh, Rahib Nawabi, Naeem Khan (wk), Amal Mudappattu, Leela Gurugubelli, Adeeb Asgher, Raju Islam, Simab Walizei.
DB Probable11:
Amey Potale, Rohit Narayanan, Sriram Gurumurthy, Naule Aravind, Srinivas Nareshkumar, Aravind Muthusubramanian, Vijay Rathnavel (wk), Nagendra Donthi, Nikhil Patil, Sabith Raman, Kesava Motati (c).
BYB vs DB Team News:
Bayer Boosters Team News – No injury updates are available
Dusseldorf Blackcaps Team News – No injury updates are available
BYB vs DB Dream11 Top Picks & Key Players
Bayer Boosters–
Ashok Andrew
Pakee Praba
Thinesh Rajakulasingam
Ahilan Ravinthran
Manoj Panthangi
Pulkit Sharma
Dusseldorf Blackcaps –
Sanil Bhatia
Abdul Jalili
Venkatraman Ganesan
Muhammad Raheel
Kashif Shahab
BYB vs DB who will win today match?
As per our Dream11 expert today, Dusseldorf Blackcaps is expected to win this game. However, the results can be different as both teams are equally good.
Also Check: ZIM vs IND 2nd ODI Dream11 Prediction, Fantasy Cricket Tips, Dream11 Team, My11 Circle, Pitch Report, News, Top Picks, and Injury Update
BYB vs DB Dream11 Team for Today
Wicketkeeper:
1) A Ravindran
Batsman:
2) M Raheel
3) O Ahamed
4) A Vaseekaran
All-rounder:
5) V Ganesan
6) K Shahab
7) T Rajakulasingam
Bowler:
8) N Sharma
9) M Ahmadzai
10) G Navarathinam
11) P Praba
Dream11 team shown here is only a match before the team and the original team can be different after the release of lineups.