Fantasy Cricket Tips
CTL vs HAW Dream11 Prediction Today Match – FanCode ECS T10 – Barcelona 2021 – Live Score, Team News, Top Picks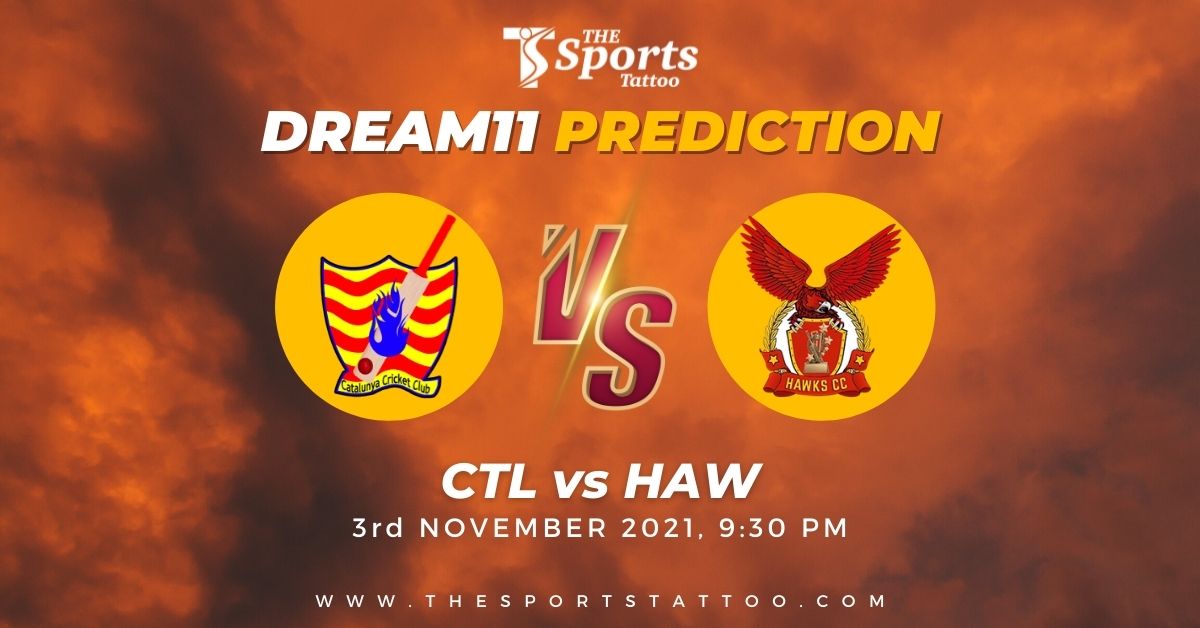 CTL vs HAW Dream11 Prediction: Catalunya CC will take on Hawks in the 10th and 12th matches of today's FanCode ECS T10 – Barcelona 2021 fixtures. Both teams are playing their first game of the tournament and are unaware of the pitch conditions.
Catalunya CC is a strong team with a balanced squad on their side. On the other hand, the Hawks have a whole lot of young players in the squad. Both teams are now looking forward to starting this tournament with a victory in their first game. Let's take a look at the CTL vs HAW Dream11 Match Prediction and Dream11 team for today match.
CTL vs HAW Dream11 Today Match Prediction Details
FanCode ECS T10 – Barcelona 2021
Catalunya CC vs Hawks
Date: Wednesday, November 03, 2021
Time: 9:30 PM
Venue: Ibrahim Videres Cricket Ground, Girona
The direction = ? The destination = ?

Scores, news, previews ? https://t.co/6PLADFbASj

FanCode ECS Spain, L'Alfas del Pi. 1000 matches this year. WELCOME TO #ECS21 @FanCode @Dream11 @Cricket_Espana pic.twitter.com/syllN39q3J

— European Cricket (@EuropeanCricket) November 2, 2021
Follow the Live Cricket Scores on the Sports Tattoo
Catalunya CC vs Hawks match will be streamed online on the Dream11 Sponsored FanCode app. Viewers can also watch live scores on the Sports Tattoo.
CTL vs HAW Dream11 Prediction Today – Team News
Catalunya CC Squad (CTL):
Nawazish Ali, Rauf Zaman, Farrukh Sohail, Ramiz Mehmood, Mujahid Ali Bajwa, Ibrar Hussain, Asim Javeed Raja, Abdul Wadood Awan, Shahzad Nasir, Usman Mushtaq, Prince Dhiman, Khizar Ali, Nisar Ahmed, Tanveer Arshad, Naveed Aslam (WK), Gurwinder Singh, Saqib Latif, Ali Azam, Syed Khawar Raza Sherazi, Syed Rizvi, Yasir Ali, Muhammad Safdar Khan, Shaukat Shahbaz, Raja Adeel, Nadim Hussain Naureen, Sharique Hussain Agha, Ali Hasan Raza, Gurvinder Singj Jr, Muhammad Asif Zia, Ghulam Sabar.
Hawks Squad (HAW):
Muhammad Bilal, Umair Muhammad, Zafar Farhan, Faisal Mahmood, Kamraan Zia, Waheed Elahi, Hamza Meer, Abdul Haseeb, Muhammad Sanaullah, Faisal Aslam, Qamar Razaq, Shakil Ahmed, Aamir Javid, and Khurram Shahzad., Zain Ul Abiddin, Naqash Amhad, Muhammad Sohail, Muhammad Hanzala, Umar Latif, Inzamam Glfam, Mirza Imtiaz Asghar, Muhammad Shahbaz, Hassan Mujtaba.
CTL Probable11:
Farrukh Sohail, Ibrar Hussain, Naveed Aslam (WK), Nawazish Ali, Ali Hasan Raza, Raja Adeel, Yasir Ali, Saqib Latif, Ali Azam, Mujahid Ali Bajwa, Muhammad Asif Zia.
HAW Probable11:
Inzamam Glfam, Hamza Meer, Mirza Imtiaz Asghar, Abdul Haseeb, Hassan Mujtaba, Aamir Javid, Umair Muhammad, Muhammad Bilal, Faisal Aslam, Faisal Mahmood.
CTL vs HAW Dream11 Top Picks & Key Players
Catalunya CC-
Muhammad Asif Zia
Mujahid Ali Bajwa
Ibrar Hussain
Yasir Ali
Ali Hasan Raza
Hawks-
Faisal Aslam
Hassan Mujtaba
Umair Muhammad
Muhammad Bilal
Mirza Imtiaz Asghar
CTL vs HAW who will win today match?
As per our Dream11 expert today, Catalunya CC is expected to win this game. However, the results can be different as both teams are equally good.
CTL vs HAW Dream11 Team for Today
Wicketkeeper:
1) K Shahzad
Batsman:
2) M Armghan…
3) N Aslam
4) M Imtiaz As…
5) A Hamza-I
All-rounder:
6) A Hamzah
7) Y Ali-I
8) M Basit
Bowler:
9) S Sherazi
10) S Ahmed
11) A Raja
The dream11 team shown here is only a match before the team and the original team can be different after the release of lineups.