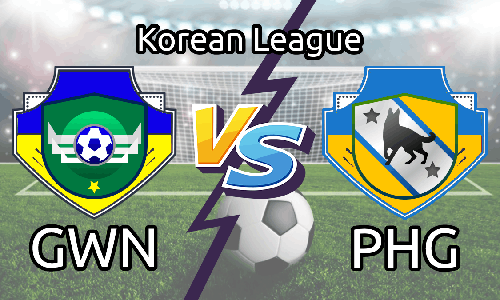 GNGW vs PHG Dream11 Prediction | Gangwon FC will take on Phonag Steelers in the last match of today's Korean League fixtures.
Gangwon FC played their first match of the season against Ulsan Hyundai, where they registered a 5-0 defeat. Gangwon FC is now looking to register the first win of the seaosn.
On the other hand, Pohang Steelers registered a 2-1 victory over Incheon United in their first game of the season. They are now looking to continue the good work in upcoming matches. Here is the Dream11 Prediction for today match.
GNGW vs PHG Match Details:
Date: March 06, 2021
Time: 3:30 PM
Venue: Chuncheon Songam Sports Town, Chuncheon
📊 More #KLeague Milestones in 2⃣0⃣2⃣1⃣

⚽️ Combined goals and assists
👏 All-time appearances
🆆 Club record wins#K리그 | #TheFansGame

— K League (@kleague) March 5, 2021
GNGW vs PHG Broadcast Details:
Gangwon FC vs Pohang Steelers, Korean League match live streamings is not available in India. But you can watch live scores and commentaries on different websites across the internet.
Key Players:
Gangwon FC Key Players
Lee Kwang-Yeon
Lee Beom-Su
Shin Kwang-Hun
Chae Kwang-Hun
Lim Chae-Min
Pohang Steelers Key Players
Kang Hyeon-Mu
Ha Chang-Rae
Aleksandar Palocevic
Manuel Palacios
Song Min-Kyu
GNGW vs PHG Squads:
Gangwon FC (GNGW):
Vladimir Silađi, Dae-won Kim, Mu-yeol Ko, Seok-hwa Jeong, Kyeong-bae Park, Ji-yong Jeong, Min-uh Jeong, Park Sang-Hyeok, Jae-wan Jo, Masatoshi Ishida, Ki, Guk-yeong Han, Dong-hyeon Kim, Kim Soo-Beom, Chang-mu Shin, Min-woo Seo, Gang-han Lee, Eui-su Ji, Kang Jihun, Won-jin Hong, Ahn Kyeong-Chan, Kim Dae-Woo, Yang Hyun-Jun,
Rustamzhon Ashurmatov, Chae-min Im, Chang Woo Rim, Se-gye Sin, Yeong-bin Kim, Seok-yeong Yun, Yun-seong Jo, Seung-jun Song, Jae-uk Shin, Byeong-wook Lee, Kim Ki-hwan, Heo Kang-Jun, Kim Dae-Won, Song Jun-Seok, Kwang-yeon Lee, Beom-su Lee, Jeong-ho Kim, Jae-beom Kwon, Kwang-Seok Moon.
Pohang Steelers (PHG):
Kwang-hyeok Lee, Sang-hyeob Im, Hyeon-il Lee, Dong-bum Kim, Ji-yong Lee, Lee Ho-jae, Lee Seok-kyu, Min-kyu Song, Sang-woo Kang, Manuel Palacios, Mario Kvesić, Jin-ho Sin, Seung-mo Lee, Soo-bin Lee, Young-jun Go, Jae-young Choi, Seong-ju Kim, Seok-joo Yoon, Jin-hyeon Kim, Kyu-pyo Kim, Roh Kyung-ho, Alex Grant, Chang-rae Ha, Kwang-hun Shin,
Min-kwang Jeon, Beom-seok Oh, Ryun-sung Kim, Wan-kyu Kwon, Jae-woo Park, Ju-hwan Kim, Min-gul Uh, Gi-pyo Kwon, Lee Gwang-Joon, Pungi Samuel, An Hae-seong, Choi Do-yun, Kim Jun-ho, Hyeon-mu Kang, Ji-hun No, In-jae Hwang, Sung-hoon Cho, Jun Lee.
GNGW vs PHG Predicted XI:
Gangwon FC: Lee Kwang-Yeon, Lee Beom-Su, Shin Kwang-Hun, Chae Kwang-Hun, Lim Chae-Min, Ko Mu-Yeol, Han Guk-Yeong, Lee Yeong-Jae, Kim Seung-Dae, Jo Jae-Wan, Kim Ji-Hyeon.
Pohang Steelers: Kang Hyeon-Mu, Ha Chang-Rae, Aleksandar Palocevic, Manuel Palacios, Song Min-Kyu, Stanislav Iljutcenko, Kim Kwang-Seok, Lee Seung-Mo, Choi Jae-Young, Kwon Wan-Kyu, Park Jae-Woo.
Fantasy Team:
Goal-Keeper
1) L Kwang-Yeon
Defender
2) H Kang-Jun
3) S Se-Gye
4) K Young-Bin
5) A Grant
Mid-Fielder
6) P Sang-Hyeok-II
7) Y Yhun-Jun
8) K Dong-Hyeok
9) S Jin-Ho
Forward
10) S Min-Kyu
11) M Palacios
Dream11 team shown here is only a match before team and the original team can be different after the release of lineups.