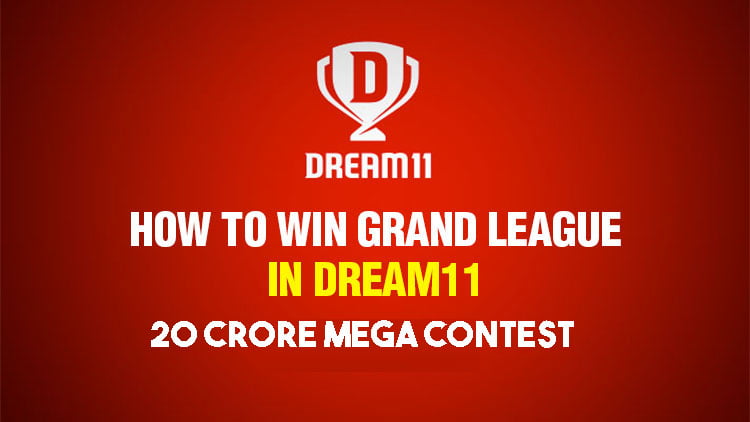 How to win the 20 Crore Mega contest In Dream11: Dream11 is a platform to show your fantasy skills and if you don't have the skills you can't make it 'BIG.' If you are playing dream11 for a long ago and still didn't manage to win a mega contest of 10-20 Crore or more, then you might be thinking what other people are doing differently. Here is what are my suggestions.
So, there are two types of players in Fantasy Cricket. One who loves to play small leagues and tries to make a profit from every match. And another one is, who plays for one shot to win the mega grande league.
Small League Players:
If you are a small league player, then you need to pick your team based on the stats and form of the players. You have to make a safe team that has to make average or more points. Pick those players who are constantly performing, No matter how much.
Make your Captain and Vice-Captain based on the highest percentage of selection. Pick 10 players of your team based on the same strategy. Then pick a player who can be the differential pick in your team from others. If he performs then you might win all of your small leagues.
How to win the 20 Crore Mega contest in Dream11
When it comes to Mega leagues, you have to think differently. Remember, Stats and forms of players don't matter when it comes to the Mega league. You have to pick players who are actually good but not performing from the last few matches. Players with less selection are the only ones who can make you win a 20 Crore mega contest. Try new players or debutants. Choose your C-VC to the lowest selected players. And this is how you can win a 20 Crore mega contest in dream11.
Conclusion:
So whether you are playing a grand league or small league, you can make profits from both. Profits in small leagues are less compared to the grand league or Mega contests, but you grab those profits in almost every match. For the 20 Crore Mega contest, You might have to wait for a month or a year and it completely depends on your luck.