Fantasy Cricket Tips
LND vs LAN Dream11 Prediction Today – FanCode ECS T10 Malmo – Live Score Team News Top Picks, 12 August 2021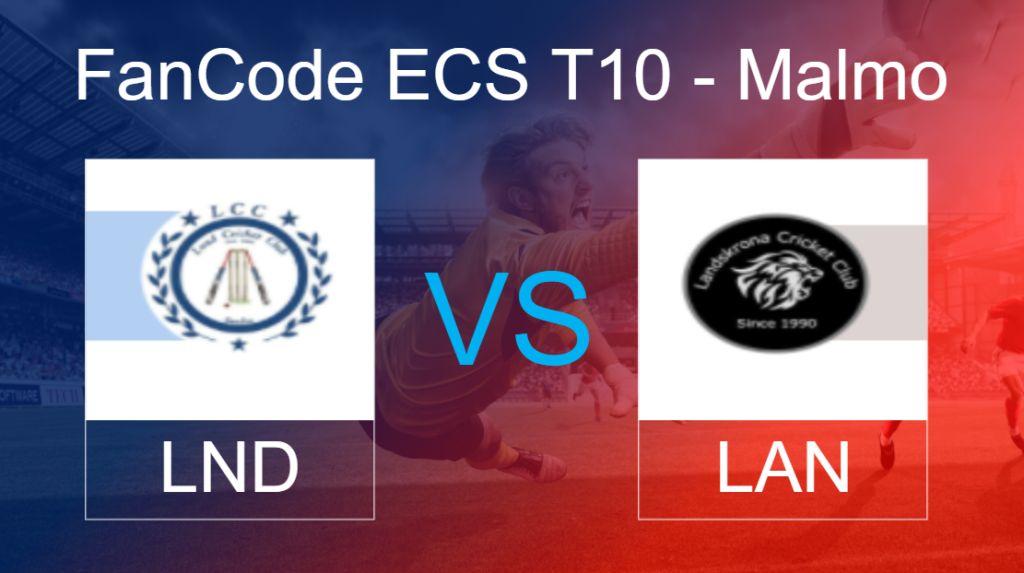 LND vs LAN Dream11
Lund will lock horns with Landskrona as both sides will conclude their respective run in the league stage with the next two matches in the ECS T10 Malmo. Both sides have already qualified for the quarterfinals despite having a mixed run in the competition and they will be eyeing to finish higher in the points tally with 2 vital wins here.
Landskrona are 4th in the Group B points table with 3 wins and 3 losses in 6 matches. Lund, at the same time, sit 3rd with 3 wins, 2 losses, and one abandoned game in their respective 6 games. Let's take a look at LND vs LAN Dream11 Match Prediction for this ECS T10 Malmo fixture.
LND vs LAN Dream11 Today Match Prediction Details
Fancode ECS T10 Malmo – Match 37 & 38
Lund vs Landskrona
Date: Thursday, 12 August 2021
Time: 12:00 PM & 2:00 PM
Venue: Landskrona Cricket Club
Check the Live Scores – CLICK HERE
LND vs LAN Live Streaming: Fancode
LND vs LAN Dream11 Tips & Prediction – Team News
Lund Squad:
Javed Mohammad, Happy Singh, Praveen Papareddy, Liji George, Shashank Bhanuprakash, Inder Singh, Fainaz Inamdeen, Chinthan Rai, Debarchan Dash, Ashfar Ali, Farhad Hemat, Priyesh Ranjan, Nabeel Sayed, Puneeth Shivarudrappa, Sunny Beerla, Usman Zia, Wahab Hassan, Revanth Thiruvallur, Jerome Jeevanandham, Ovais Syed, Ali Ihsan, and Oktai Gholami
LND Playing 11 (Probable):
Hardeep Virk (C), Priyesh Ranjan, Ashfaq Ali, Wahab Hassan, Haroon Malik, Debarchan Dash, Oktai Gholami, Praveen Papareddy, Puneeth Shivarudrappa, Shashank Bhanuprakash, and Chandan Reddy
Landskrona Squad:
Nadeem Khan, Anuj Gautam, Rameez Dalvi, Saghar Hanif, Amritanshu Singh, Aniket Kharade, Imran Kiyani, Qaiser Zaman, Austin Moses, Sushant Devata, Palash Jha, Javid Khan, Sumanth Raghavendra, Mayank Chauhan, Varun Dhingra, Sai Krishna, Tuseef Walayat, Deepak Nayak, and Nishant Raj
LAN Playing 11 (Probable):
Imran Kiyani, Rameez Dalvi, Tuseef Walayat, Qaiser Zaman, Nadeem Khan, Saghar Hanif (C), Amritanshu Singh, Aniket Kharade, Sushant Devata, Javid Khan, and Sai Krishna
LND vs LAN Dream11 Top Picks & Key Players
Lund –
Wahab Hassan – 78 runs and 4 wickets in 4 matches
Debarchan Dash – 92 runs and 3 wickets in 6 matches
Haroon Malik – 4 wickets in 4 matches
Landskrona –
Imran Kiyani – 135 runs and 8 wickets in 6 matches
Ramiz Dalvi – 150 runs in 6 matches
Amritanshu Singh – 8 wickets in 6 matches
LND vs LAN who will win today match?
As per our LND vs LAN Today Match Prediction, Landskrona are expected to win both matches.
LND vs LAN Dream11 Team for Today Match
WK: N Tariq Khan
BAT: S Bhanuprakash, S Muhammad (VC), T Walayat
AR: D Dash, I Razzaq Kiyani (C), R Abdulghani
BOWL: W Ul Hassan, H Malik, A Singh, S Kumar D