NFL
Tom Brady announces shocking retirement via Instagram Post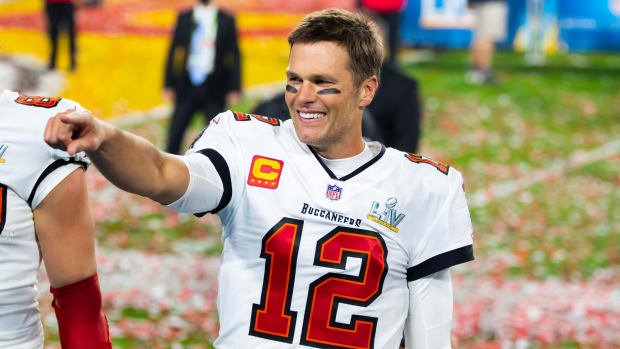 In the most shocking news of the day, Bucs Quarterback Tom Brady announced his retirement from the NFL today on 1st February, 2022. The California Cool is widely regarded as the indisputable best Quarterback in the history of the sport and nobody had expected him to retire so abruptly at the peak of his career.

A few years back, Tom Brady had said in an interview that he would be retiring from the sport when his performances would begin to decline. But here he is today, announcing his retirement at the Age of 44, still in his very best shape and form. And most importantly, still the greatest player in the sport.

Tom Brady's career has been nothing less than a fairytale. From being a sixth round NFL draft to winning a record seven Super Bowl titles, Tom inspires the masses to believe in oneself and is an epitome of the notion that you can achieve anything with hard-work and sheer self belief.
Tom Brady's heartfelt Retirement Message for Fans
Tom Brady announced his 'uncalled for' retirement through his official Instagram handle.

Posting a picture of himself, Tom shared a heartfelt retirement message for his fans broken down into 8 slides.

He wrote, "I have always believed the sport of football is an "all-in" proposition – if a 100% competitive commitment isn't there, you won't succeed, and success is what I love so much about our game. There is a physical, mental, and emotional challenge EVERY single day that has allowed me to maximize my highest potential. And I have tried my very best these past 22 years. There are no shortcuts to success on the field or in life."

"This is difficult for me to write, but here it goes: I am not going to make that competitive commitment anymore. I have loved my NFL career, and now it is time to focus my time and energy on other things that require my attention."

Brady further added, "I've done a lot of reflecting the past week and have asked myself difficult questions. And I am so proud of what we have achieved. My teammates, coaches, fellow competitors, and fans deserve 100% of me, but right now, it's best I leave the field of play to the next generation of dedicated and committed athletes."
"To my Bucs teammates the past two years, I love you guys, and I have loved going to battle with you. You have dug so deep to challenge yourself, and it inspired me to wake up everyday and give you my best. I am always here for you guys and want to see you continue to push yourselves to be your best. I couldn't be happier with what we accomplished together."

He ended his message on a positive note saying that he believes the future is exciting and that he will now probably be running his three companies with more care.

"The future is exciting," he said, "I'm fortunate to have cofounded incredible companies like @autograph.io @bradybrand @tb12sports that I am excited to continue to help build and grow, but exactly what my days will look like will be a work-in-progress. As I said earlier, I am going to take it day by @day. I know for sure I want to spend a lot of time giving to others and trying to enrich other people's lives, just as so many have done for me. With much love, appreciation, and gratitude, Tom"
Also Read:- FCG vs OFC Dream11 Football Prediction Today Match – Indian Super League – Fantasy Football, Team News, Predicted XI