Fantasy Football Tips
NGY vs JBI Dream11 Football Prediction Today Match – J League 2022 – Fantasy Football, Top Picks, Predicted XI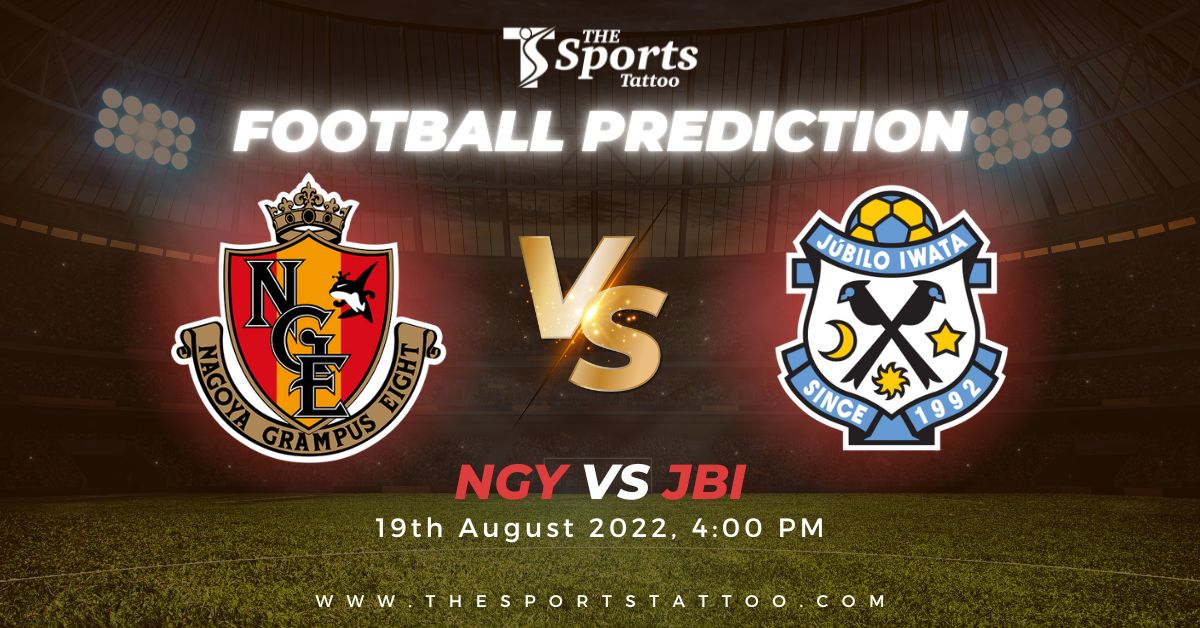 NGY vs JBI Dream11 Prediction for Today match | Nagoya Grampus will take on Jubilo Iwata in the only match of today's J League 2022 fixtures. Both teams have already played plenty of games in the tournament.
Nagoya Grampus has managed to register 7 wins and 9 draws out of the 24 games they had played this season. They drew their last game against Sagan by 0-0 and are now placed at the 10th position in the league standings with 30 points in their account. They are now looking forward to making a strong comeback in today's game.
On the other hand, Jubilo Iwata is the weakest team in the tournament. They have managed to register 5 wins and 7 draws out of the 25 games they had played this season. They are now placed at the bottom of the points table with 22 points in their account. Take a look at NGY vs JBI Dream11 Football Prediction we have discussed here.
NGY vs JBI Match Details:
J League 2022
Nagoya Grampus vs Jubilo Iwata
Date: Friday, August 19th, 2022
Time: 4:00 PM
Venue: Toyota Stadium, Toyota, Japan
?放送予定?

【ジュビロTV】
DF4 松原后
~勝利を届けるプレーを

?8/18(木)22:57~23:00
?SBS静岡放送
(後日YouTubeにて配信予定)

ぜひご覧ください!

▼前回のジュビロTVhttps://t.co/FBBIh3EgyL pic.twitter.com/365FEj6Tqo

— ジュビロ磐田 (@Jubiloiwata_YFC) August 18, 2022
NGY vs JBI Broadcast Details:
Live streamings for the Nagoya Grampus vs Jubilo Iwata match are not available in India. However, you can also watch live scores on the Sports Tattoo.
NGY vs JBI Key Players:
Nagoya Grampus-
Mitchell Langerak
Haruya Fujii
Sho Inagaki
Leo Silva
Shinnosuke Nakatani
Mateus dos-Santos
Jubilo Iwata-
Kosuke Yamamoto
Masaya Matsumoto
Rikiya Uehara
Makito Ito
Yuto Suzuki
NGY vs JBI – Recent Form
Nagoya Grampus Eight: D L W D D
Jubilo Iwata: L L W L L
NGY vs JBI Team News:
Nagoya Grampus Team News: No injury updates are available.
Jubilo Iwata Team News: No injury updates are available.
NGY vs JBI Squads:
Nagoya Grampus Eight (NGY):
Mu Kanazaki, Manabu Saito, Tsubasa Shibuya, Kazuki Nagasawa, Shumpei Naruse, Mateus, Yutaka Yoshida, Leo Silva, Noriyoshi Sakai, Kensuke Nagai, Yohei Takeda, Yuki Soma, Mitchell Langerak, Soma Ota, Ryotaro Ishida, Hidemasa Koda, Keiya Sento, Yoichiro Kakitani, Masaharu Kitahashi, Seiryo Usui, Kyota Sakakibara, Hiroyuki Abe, Shinnosuke Nakatani, Kazuya Miyahara, Naoki Maeda, Ryoya Morishita, Sho Inagaki, Haruto Suzuki, Jakub Świerczok, Takuya Shigehiro, Haruya Fujii, Ryota Nagaki, Koki Toyoda, Takuya Uchida, Tiago Pagnussat, John Higashi, Haruki Yoshida, Akira Yoshida, Naldo, Yuichi Maruyama, Kosuke Uchida, Akinari Kawazura.
Jubilo Iwata (JBI):
Fabián González, Kenyu Sugimoto, Yuki Otsu, Kotaro Omori, Ryo Germain, Mahiro Yoshinaga, Keisuke Goto, Takeshi Ito, Yasuhito Endo, Dudu, Atsushi Kurokawa, Yosuke Furukawa, Yuto Suzuki, Rikiya Uehara, Shota Kaneko, Masaya Matsumoto, Hiroki Yamada, Naoki Kanuma, Kensuke Fujiwara, Kosuke Yamamoto, Ricardo Graça, Ko Matsubara, Ryo Takano, Makito Ito, Yutaro Hakamata, Kentaro Oi, Norimichi Yamamoto, Riku Morioka, Daiki Ogawa, Alexei Koşelev, Yuji Kajikawa, Ryuki Miura, Naoki Hatta.
NGY vs JBI Predicted XI
Nagoya Grampus Eight: Hiroyuki Abe, Ryota Nagaki, Ryoya Morishita, Hidemasa Koda, Takuya Uchida, Ryotaro Ishida, Keiya Sento, Kazuki Nagasawa, Takuya Shigehiro, Haruki Yoshida, Manabu Saito.
Jubilo Iwata: Keisuke Goto, Kotaro Omori, Kenyu Sugimoto, Mahiro Yoshinaga, Ryo Germain, Takeshi Ito, Yosuke Furukawa, Yasuhito Endo, Dudu, Yuki Otsu, Atsushi Kurokawa.
NGY vs JBI: Today Match Prediction
On the basis of the current performance of players and head-to-head records, Nagoya Grampus will win this match by 1-0. However, both teams are equally good and the results can be totally different.
Also Check: BCS vs MAS Dream11 Prediction, Fantasy Basketball Tips, Dream11 Team, My11 Circle, News, Top Picks, and Injury Update – Maharlika Pilipinas Basketball League
Dream11 Team for today's match:
Goal-Keeper
1) M Langerak
Defender
2) S Nakatani
3) Y Maruyama
4) H Fujii
5) N Yamamoto
Mid-Fielder
6) Y Endo
7) L Silva
8) K Sento
9) Y Suzuki
Forward
10) K Nagai
11) F Gonzalez
The dream11 team shown here is only a match before the team and the original team can be different after the release of lineups.