Fantasy Cricket Tips
QUT vs KHW Dream11 Prediction Today Match – FanCode Oman D10 2022 – Team News, Top Picks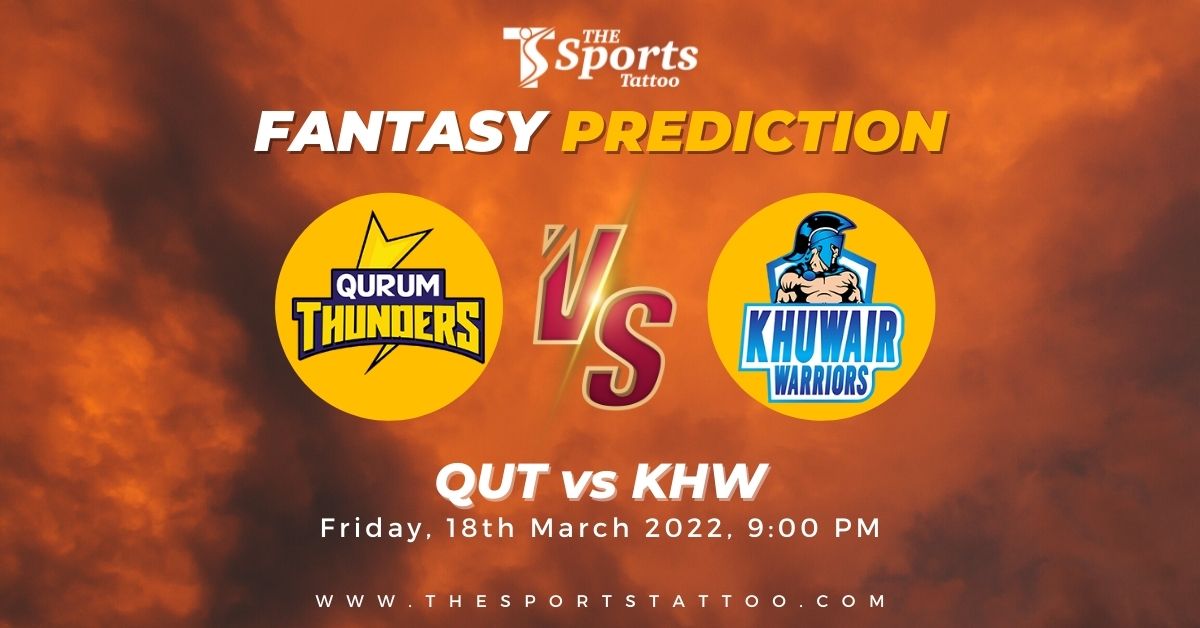 QUT vs KHW Dream11 Prediction: Qurum Thunders will take on Khuwair Warriors in the 19th match of today's FanCode Oman D10 2022 fixtures. Both teams have already played plenty of games in the tournament and are well aware of the pitch conditions.
Qurum Thunders has managed to register three wins out of the four games they had played this season. Their previous win came against Ghubrah Giants by 59 runs. They are now placed at the third position in the league standings with 6 points in their account and are now looking forward to continuing the same performance in today's game as well.
On the other hand, Khuwair Warriors is the weakest team of the tournament. They have lost all four games they had played this season and are now placed at the bottom of the league standings with 0 points in their account. Let's take a look at the QUT vs KHW Dream11 Match Prediction and Dream11 team for today match.
QUT vs KHW Dream11 Today Match Prediction Details
FanCode Oman D10 2022
Qurum Thunders vs Khuwair Warriors
Date: Friday, March 18, 2022
Time: 7:00 PM
Venue: Al Amerat Cricket Ground Oman
Follow the Live Cricket Scores on the Sports Tattoo
Qurum Thunders vs Khuwair Warriors match will be streamed online on the Dream11 sponsored FanCode app. Viewers can also watch live scores on the Sports Tattoo.
QUT vs KHW Dream11 Prediction Today – Team News
Qurum Thunders Squad (QUT):
Hashir Dafedar, Ashish Odedara, Suraj Kumar, Samay Shrivastava, Mithil Kanchan, Munis Ansari, Pranav Athawale, Ganesh Chandrashekhar, Siddharth Bukkapatnam, Jatinder Singh, Adeel Ahmad Shafique (Wk), Ayaan Khan, Shoaib Khan, Aiyappa Chonira Rathan, Swapnil Khadye (Wk), Kashyap Prajapati, Jahanzeb Asghar Ali, Sandeep Goud, Rana Naeem Anwar.
Khuwair Warriors Squad (KHW):
Muqeet Ahmed, Afzal Khan, Zeeshan Siddiqui, Aqib Javeed, Kuttiraja Shanmugrajan, Danish Mohammad, Amir Ali, Bilal Asim, Arjun Dhiman, Rubel Satter, Aditya Parag, Muzaffar Shiralkar (Wk), Allan Gawdya, Sean Nowak, Muzahir Raza, Azam Ali, Sajeed Ahmed, Mahbub Alam (c) & (Wk), Abdul Rehman (Wk), Aamir Kaleem.
QUT Probable11:
Ganesh Chandrashekhar, Sandeep Goud, Hashir Anwar Dafedar, Jatinder Singh, Suraj Kumar, Shoaib Khan, Ayan Khan, Kashyapkumar Prajapati, Munis Ansari, Samay Shrivastava, Siddharth Bukkapatnam.
KHW Probable11:
Aqib Javeed, Aamir Kaleem, Sean Nowak, Kuttiraja Karuthapandian Shanmugrajan, Allan Gawdya, Muzaffar Shiralkar, Rubel Abdus Satter, Bilal Asim, Muzahir Raza, Zeeshan Siddiqui, Syed Amir Ali.
QUT vs KHW Team News:
Qurum Thunders Team News – Not Available
Khuwair Warriors Team News – Not Available
QUT vs KHW Dream11 Top Picks & Key Players
Qurum Thunders-
Shoaib Khan
Jatinder Singh
Munis Ansari
Samay Shrivastava
Aiyappa Chonira Rathan
Kashyapkumar Prajapati
Khuwair Warriors-
Muzahir Raza
Danish Mohammad
Arjun Suresh Dhiman
Aamir Kaleem
Syed Amir Ali
QUT vs KHW who will win today match?
As per our Dream11 expert today, the Qurum Thunders are expected to win this game. However, the results can be different as both teams are equally good.
QUT vs KHW Dream11 Team for Today
Wicketkeeper:
1) Suraj Kumar
Batsman:
2) S Khan
3) J Singh
4) K Prajapati
All-rounder:
5) A Kaleem
6) A Chonira Rat…
7) D Mohammad
8) S Amir Ali
Bowler:
9) M Ansari
10) M Raza
11) S Shrivastava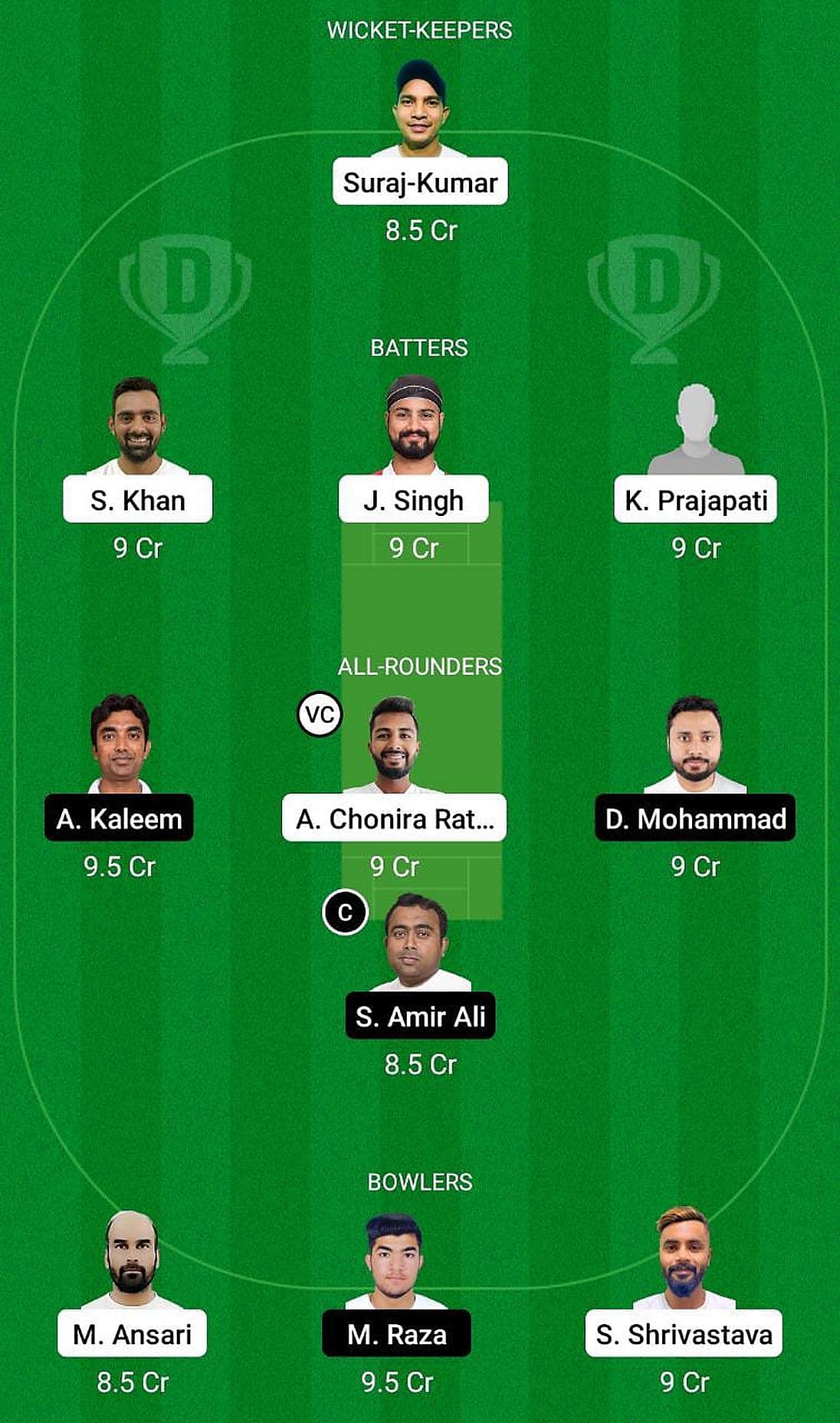 Dream11 team shown here is only a match before the team and the original team can be different after the release of lineups.